Empowering mothers with knowledge
Nashville, known also as Music City, is the birthplace of country music. It also continues to be the Mecca that all aspiring country musicians are drawn to. It's where the country star dream is realized or lost. So, Nashville is the place to visit if you love country music. But what if you specifically want to do some country dancing in Nashville or Middle Tennessee?
If you love country dancing, both two-stepping and line dancing and you either live in Nashville or are visiting, this post is a guide for where to go! There is so much live music going on constantly. It truly is all about the music, both country, and beyond! But what about dancing?
Believe it or not, it isn't obvious and that easy to do the slappin' leather line dance in Nashville. Yes, it's possible, but you'll need a guide, like what I've provided right here!
When it comes to exploring Nashville to go dancing, of course, we will take a stroll down Broadway, also known as "Honky Tonk Highway," but we'll need to drive out and around Nashville as well to find the good spots. But starting with Broadway… There are so many fantastic little famous spots with from 2 to even 5 stories of live music and partying going on. Just look for the neon signs!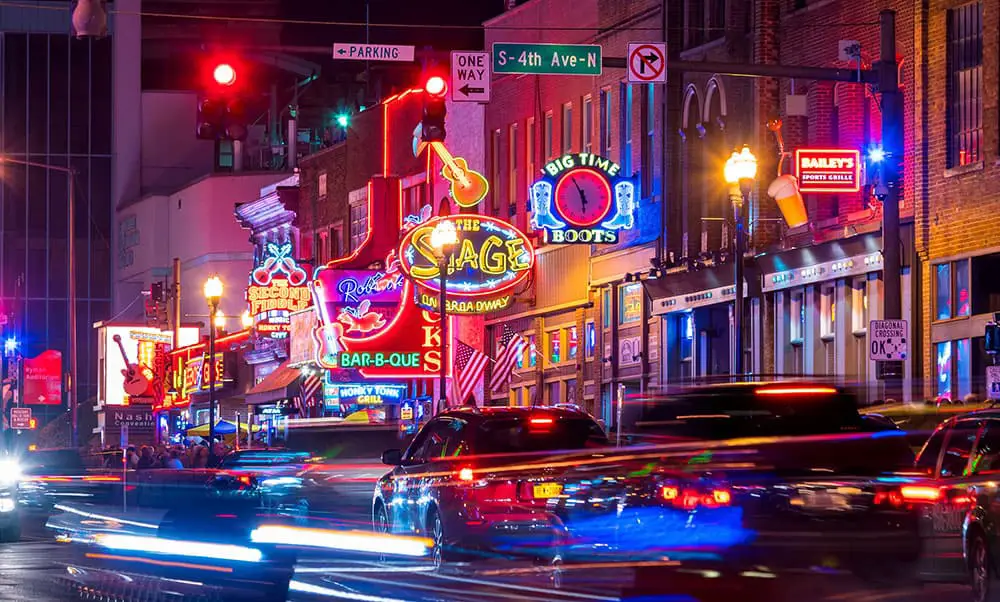 But what if I told you some of these places are actually a little short on the dance floor space? Sorry, but it's true. The charm and magic of these little spots is their history. These tiny little stages, small taverns, and listening rooms were the launchpads for many great singing careers. They continue to be so, but it's really about the music, the songwriters, listening, and drinking with friends (not dancing).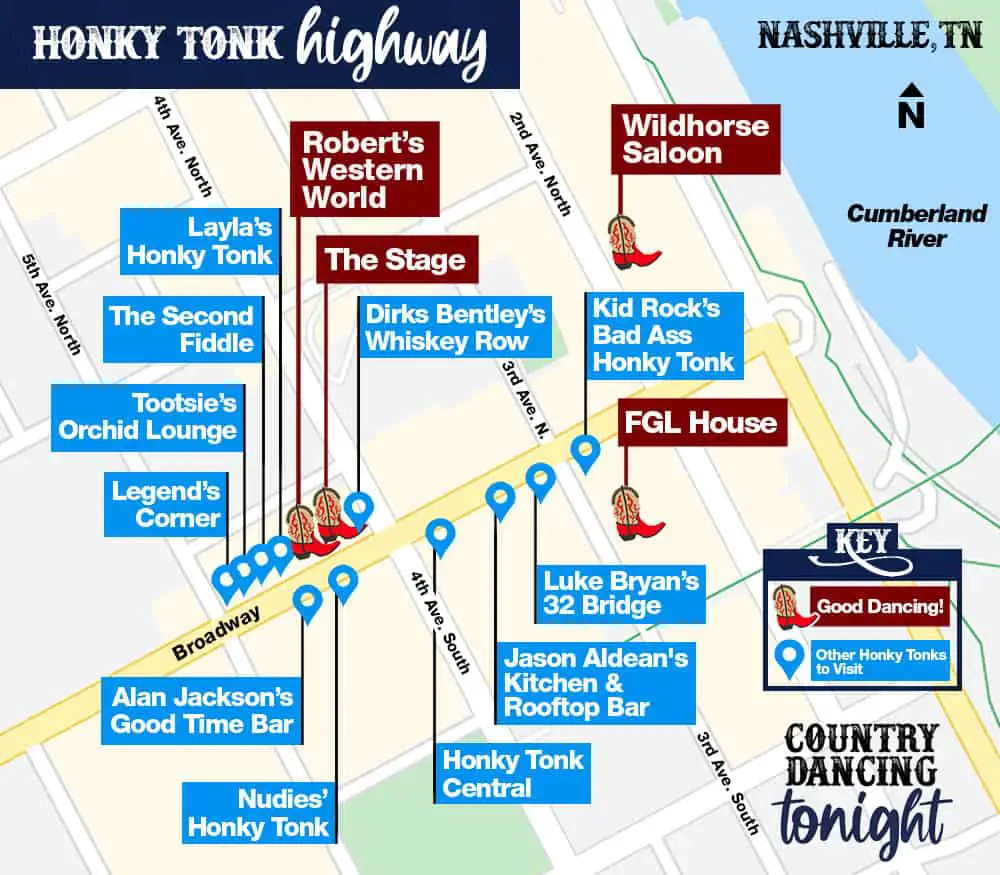 So we'll start with 2nd & 3rd avenue and then continue with a walk down Broadway and find the spots where there's some country dancing happening. But then we'll go on some long drives to explore some obscure but legit dance halls.
15 Best Places around Nashville for Dancing At-A-Glance
Click on any of the pictures to jump down to see specifics about that Nashville or Middle Tennessee dance venue.
1. The Wildhorse Saloon on 2nd Avenue
The world-famous Wildhorse Saloon is located in the heart of downtown Nashville very close to the Cumberland river on 2nd Avenue. While most of the iconic honky tonk bars line Broadway ("Honky Tonk Highway", or "Lower-Broad"), Wildhorse is to the north up 2nd Avenue. It opened in 1994 with a bang! Reba McIntire led a stampede of actual cattle down 2nd street to mark the beginning of now over 2 decades of country music and fun.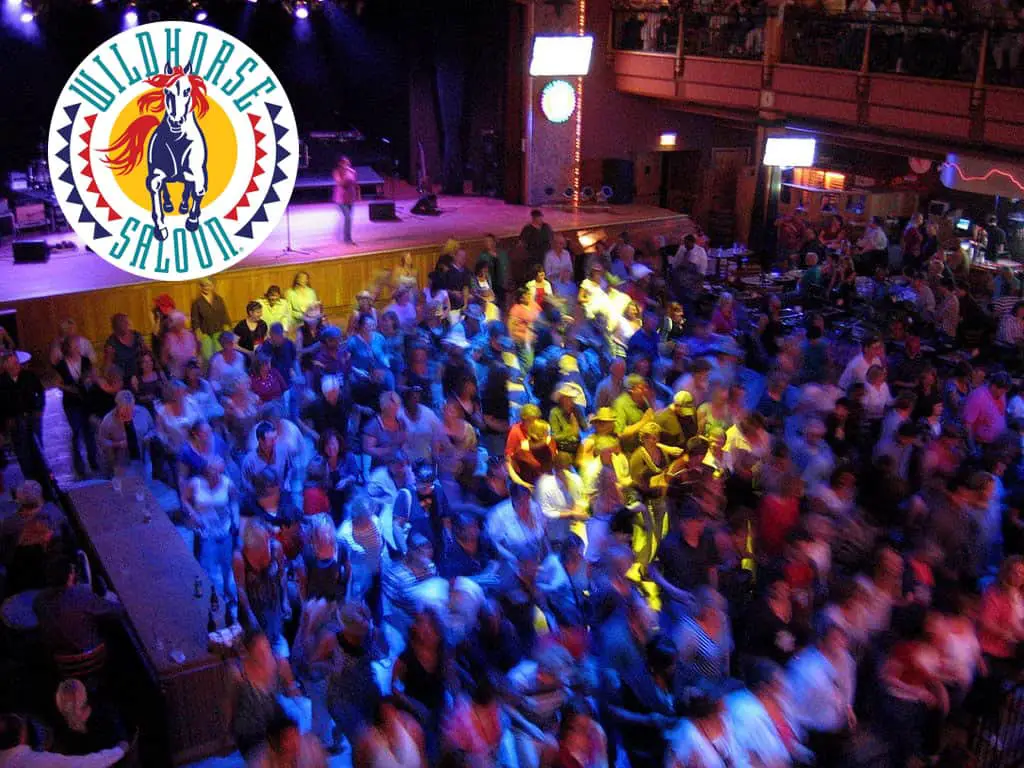 The Wildhorse is a premiere spot for country music entertainment and line dancing. It is 3 stories and the sprawling dance floor is the largest in Nashville. The saloon is open 7 days a week and offers line dancing lessons every day. There is live entertainment every day and the restaurant serves food daily from 11:00am-10:00 pm.
Part of the Wildhorse's history that should be mentioned is the TV show that was broadcast from here. It was called the Wildhorse Saloon Dance Television Series. There was something called a "Daily Dance Segment" that was wildly popular and viewed even internationally. So, yes the Wildhorse is very much a home to country dance and the place to be if you love country dance and you're in Nashville. It was also honored by the Academy of Country Music as Nightclub of the year.
back to top
2. FGL House on 3rd Avenue
FGL House on 3rd Avenue. If you continue reading you'll see I've made a list of some honky tonks that might have some dancing, but they aren't really places to seek out if you want to country dance. FGL House almost got on that list! But I'm including it just because there's so much more room to dance here than most of the crowded honky tonks on Broadway! FGL House has dance floors on the first and third floors. People really wanting some space to dance get excited when they come here!
It's also worth noting there is a mix of music genres being played here. So, if you are looking for a place to dance other than country this is your spot! There's a mix of current radio hits and oldies. Artists include country, hip hop, and rap.
back to top
3. The Stage on Broadway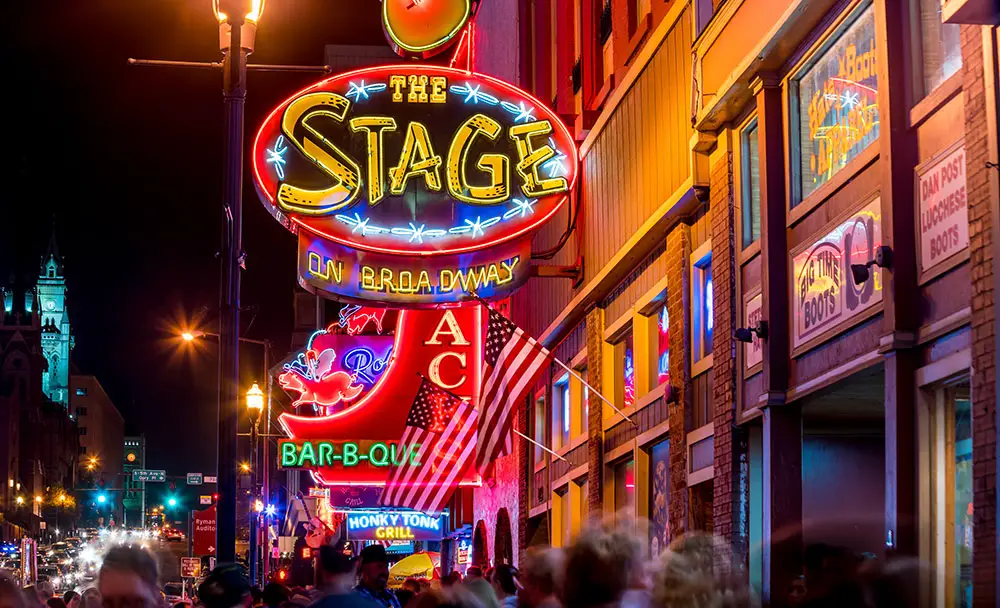 The Stage on Broadway. Besides the Wildhorse Saloon, the next spot to do some actual dancing would be the Stage. The Stage is another multi-level honky tonk roof-top bar with live music on every level .
A couple of things to know about it is for one, the famous mural on the wall featuring the Highway Men (Kris Kristofferson, Willie Nelson, Johnny Cash, Waylon Jennings) and Patsy Cline and Loretta Lynn. There's also the original painting of The Highwaymen over the front door. Another thing that is cool is that many country singers have used the Stage for their music videos. Of particular note is that back in 2010 it was the location for scenes in the movie Country Strong starring Tim McGraw and Gwenyth Paltrow.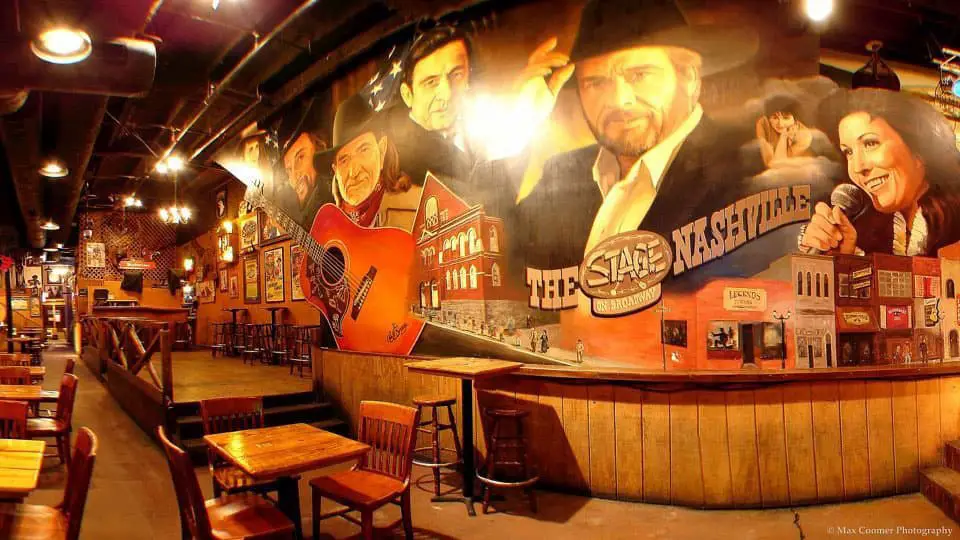 I've listed the Stage as a dance destination because of the large dance floor there. However, you won't find any formal or organized lessons for country dancing. If you want to line dance there you can, but I would recommend going with friends who know some line dances. If there's room and the song is right, break out an Electric Slide or Power Jam! Also if you and your partner are itching to do some two-stepping or country swing you should find enough room here to do so.
back to top
4. Robert's Western World on Broadway
Robert's Western World, on Broadway. There's a lot of country chic in the selection of honky-tonk and rooftop bars you have from which to choose along Broadway. So many bars are modern and filled with the young crowd enjoying modern country music. Robert's Western World is where you go if you want to travel back in time a little and get back to Nashville's roots and traditional country music. Owned by Jesselee Jones, the owner says it is the home of traditional country music in Nashville. "We play the music that made Music City what it is this day." This is so much so that it is regarded as the "last stronghold of country music" in Nashville.
So, as far as dancing goes, it just stands to reason with such a traditional country vibe, some two-stepping is appropriate! The dance floor, like most of these honky tonks is small. It tends to be an older crowd, though all ages are represented. You'll find Robert's Western World just two doors down from The Stage.
back to top
5. New Boots Line Dancing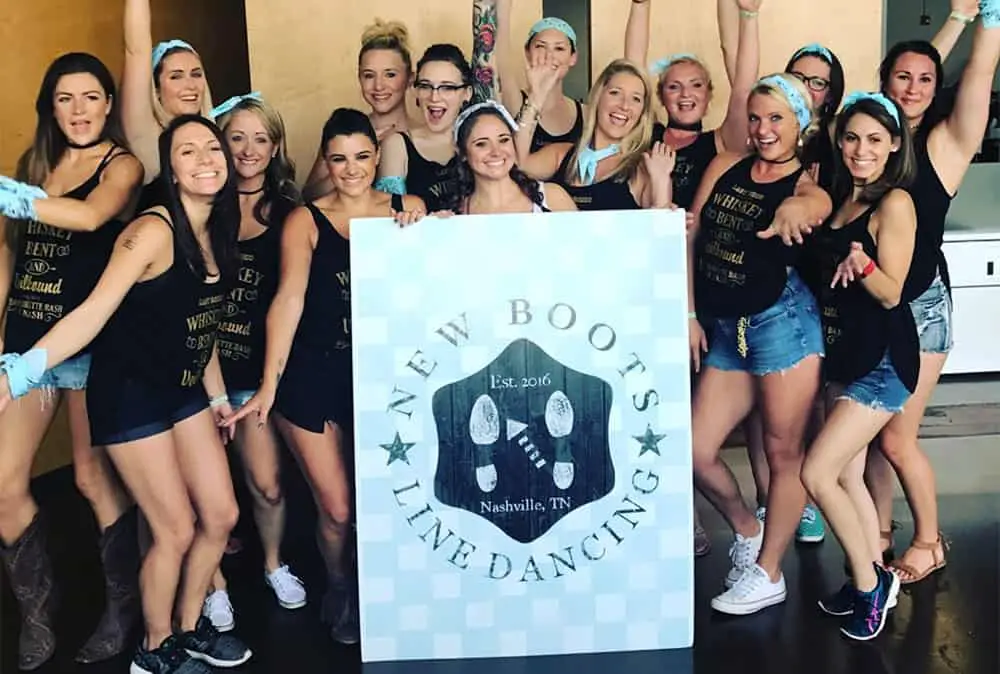 New Boots Line Dancing is very different from the other venues I've listed here! New Boots Line Dancing is not a honky tonk, but rather, a place to take line dance lessons. Their dance studio welcomes small to large groups to come to learn line dancing together. They offer what they call "Private Boutique Line Dance Classes" So, basically private lessons for groups.
I've included New Boots Line Dancing since it's one of the few spots that is a haven for country line dancing in downtown Nashville. They are just open on the weekend and offer group classes in the day to get you ready to go dancing in Nashville that night!
If you are interested in taking a class, whether you be an individual, small group or large group, just go to their website to book a class.http://www.newbootslinedancing.com/book-a-class
back to top
6. The 5 Spot
Another hot spot for dancing in Nashville would be the 5 Spot! Just 2-1/2 miles east of Honky Tonk Highway, just over the Cumberland and east on Main 'til Forrest. You might have seen it featured on ABC's hit show "Nashville." The 5 Spot is a great dive to catch some up-and-coming artists with more of a Rock or Americana Folk sound, as well as country artists playing "secret shows".
The 5 Spot has earned a reputation for being the heart and soul of the city's dance life. On Sunday nights, you will take in live soul music and dancing. Monday nights, are Motown Mondays and there's sure to always be a great dance party going on then. The Monday night Motown dancy party is so popular that it is recommended to arrive early before it fills up and gets too packed. Prepare to be packed in on the dance floor where everyone really lets loose.
In addition to hosting dance parties on these nights, the bar also invites local singers and songwriters to perform live on a regular basis.
back to top
7. Silverados Dance Hall & Saloon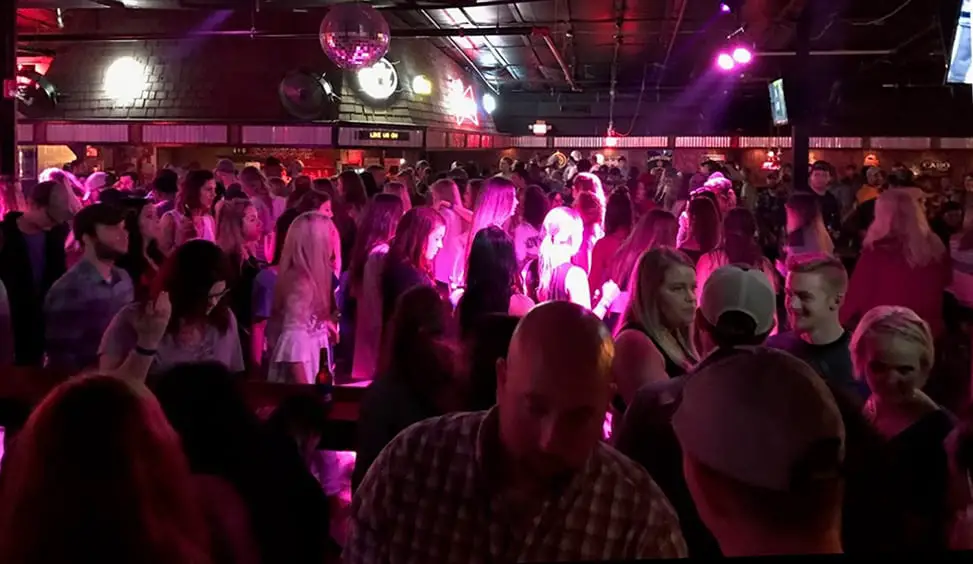 At just 15 minutes out of Nashville, Silverados Dance Club & Saloon is a great option to go do some country dancing, be it line dancing or partner dancing. With the relatively few good places in Nashville, no wonder Silverados is packed Friday and Saturday nights!
Speaking of dancing Silverados has line dance lessons at 7:30 pm both nights it is open (Friday & Saturday). But there's also partner dancing. The DJ will play appropriate country music and call both Two-Step dances as well as the Sweetheart Schottische (a great favorite in any country dance hall).
There is a real authentic country saloon vibe at Silverados. The free beer from 7-11 pm is a great thing to mention. Also, there is $1 wine and for the ladies no cover charge 'til 9!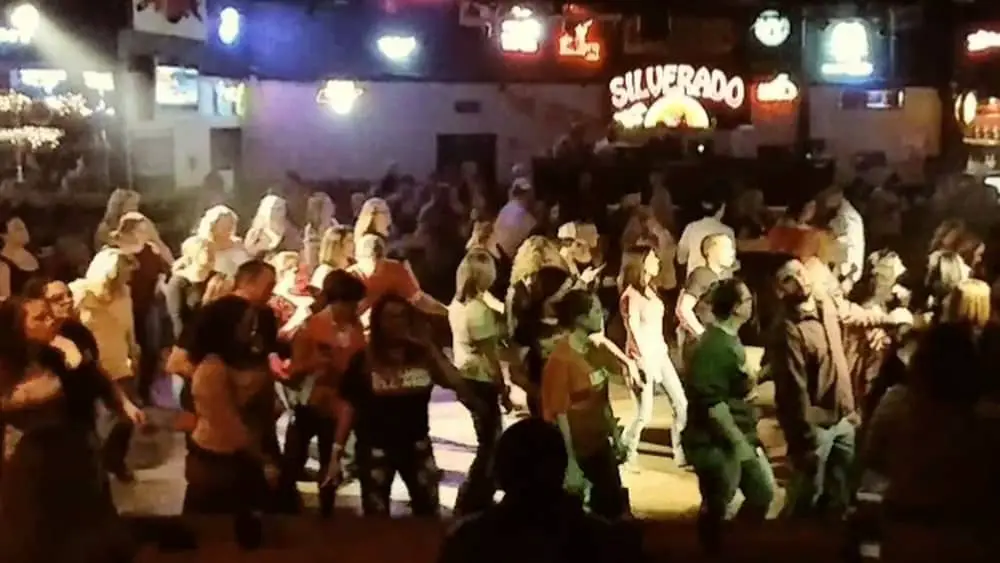 back to top
8. Cahoots Dance Hall and Honky Tonk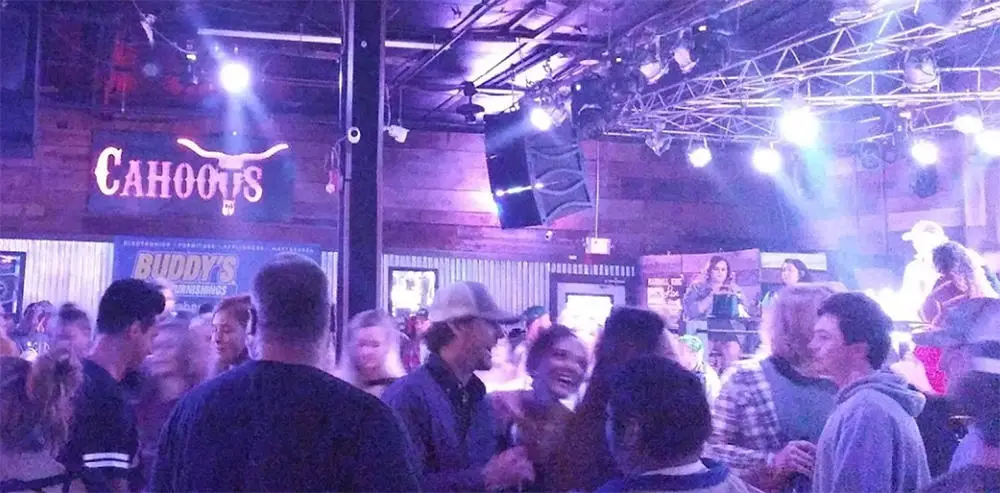 At about 30 minutes east of Nashville to the east is the next country dance haven in Middle TN. Cahoots Dance Hall & Honky Tonk is another great place to find country dancing.
Just head out east on I-40 and then north on the 231. Then a right on Tennesse Blvd. and a right on Highway 266 and you'll find Cahoots behind the Office Max.
Cahoots gets mixed reviews, but really compared to some of the tiny honky tonks in downtown Nashville, this is a great dance hall to come out to. It is big with plenty of seating. The dance floor big enough for those that want to dance. And, like Silverados they also offer free beer on Thursdays from 7-11 pm. But they go further with free wine also being served.
But on to the dancing: Friday nights are best for country line dancing. The DJ plays country music and you can line dance the whole night. Thursdays opens the bar to an 18+ crowd, so depending on what you're looking for either be happy or be forewarned its a younger crowd.
Thurdays also mixes up the music more, starting off with some country, but giving over a lot of the night to top 40 hit radio club music. If you're a die-hard country fan hit up Cahoots on the weekend.
One thing pretty cool about Cahoots is their live music. They bring in some pretty great live country acts. Some to note are The Hootz, Jon Wolfe and Mark Chestnut (of Bubba Shot The Jukebox, It's A Little Too Late, and Brother Jukebox).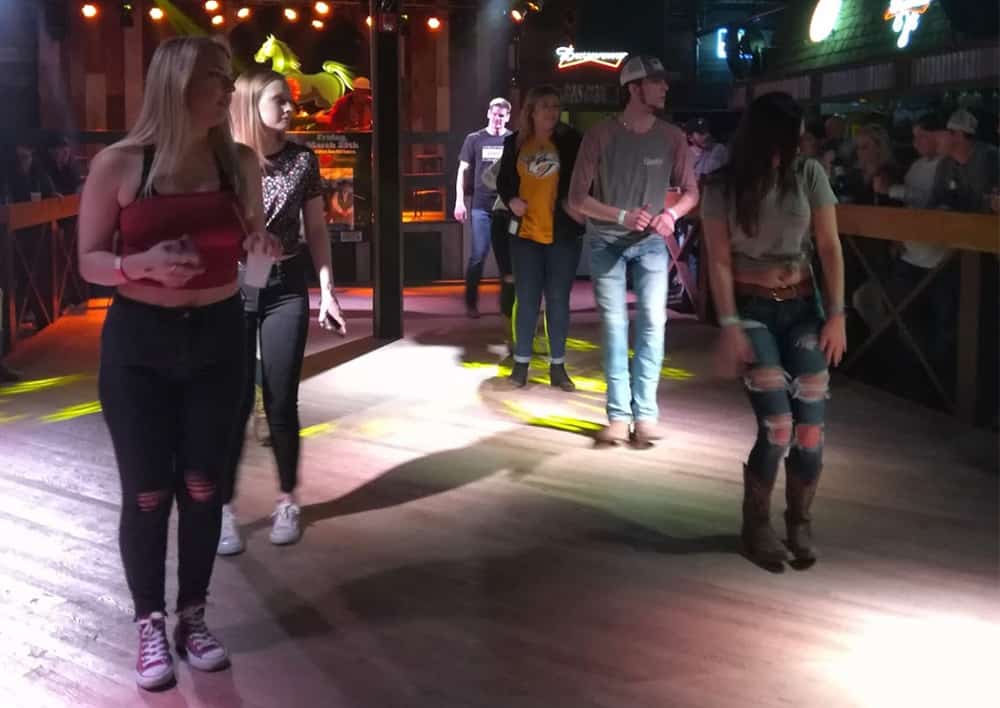 back to top
9. Whiskey Dix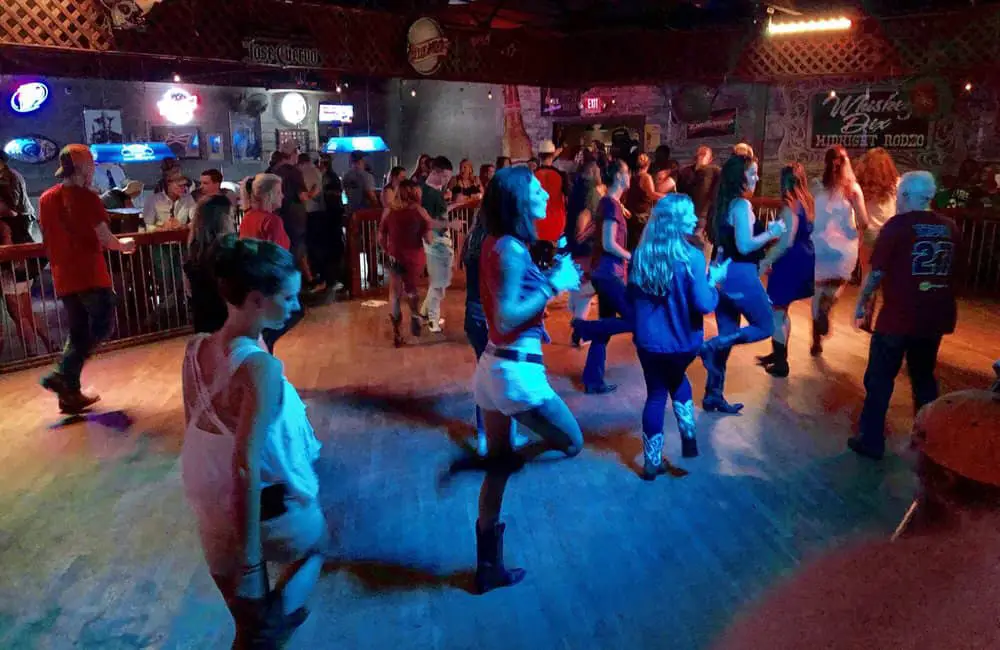 A little farther out and down to the southeast of Nashville is Whisky Dix Saloon. If you're looking for a good line dancing place Whisky Dix is loved more than most of the options in Middle Tennessee!
There's a great friendly community of dancers here. If you are new to line dancing and still learning, no worries! Regulars are very willing to help you out so you feel included. Also, it's a little different, but the DJ is known for playing different songs for the same line dance, which can add some fun variety.
If you are not that much of a country fan there is a separate room where there's a hip-hop dance floor.
Generally, the bar is full of very friendly people, including the servers. A fun relaxing vibe where you can bring friends, whether they dance or not. There's live music played, cheap pool, free darts, and even free beer!
One thing to note is that some have reported some bad experiences with people around the bar, so be careful to always stay together and stay safe!
back to top
10. Wild Country Dance Hall

To get to Wild Country Dance Hall, if you're in the Nashville area, you'll have to travel west about 30 miles on highway 70. One thing to know about Wild Country Dance Hall is that it isn't a honky tonk. Wild Country is truly just a dance hall. It is open just two nights a week (Thursday and Saturday). Saturday nights feature live music for the dancers.
Wild Country Dance Hall is available as a venue to rent for special events or parties. It's a great place for your big family reunion, a big birthday bash, a special anniversary celebration, or a wedding.
Thursday nights are the night to come to take some dance lessons. Becky Zook is a great teacher and gives both line dance lessons as well as partner dance lessons. The lessons are from 7:30 – 9:30 and are 5.00.
People really enjoy the large wood dance floor, (the biggest in the area) and the really talented musicians that play there Saturday nights. If you like these kinds of dance venues (non-bar), the next one is similar.
back to top
11. Wagon Wheel II Dance Hall
The Wagon Wheel II Dance Hall is about 42 miles southwest of Nashville out on highway 46. The Dance Hall is behind the Tidwell Tires in the old 46 Auction Building.
The Wagon Wheel II Dance Hall, like the Wild Country Dance Hall, is also not a bar. It is a dance hall that welcomes all ages and is a great place for families in the community to come, gather, and listen to some good live music, and dance. Since it is a family-friendly environment there is no alcohol or indoor smoking allowed.
The Wagon Wheel II is open 3 nights a week with Thursday night being Karaoke night. Friday and Saturday nights feature live music and dancing.
One thing to note is that previously there were some confederate flags displayed in the dance hall, but they have all been removed. There were mixed feelings and opinions, but in the end, it was what they wanted to do as a positive change going forward.
back to top
12. The Electric Cowboy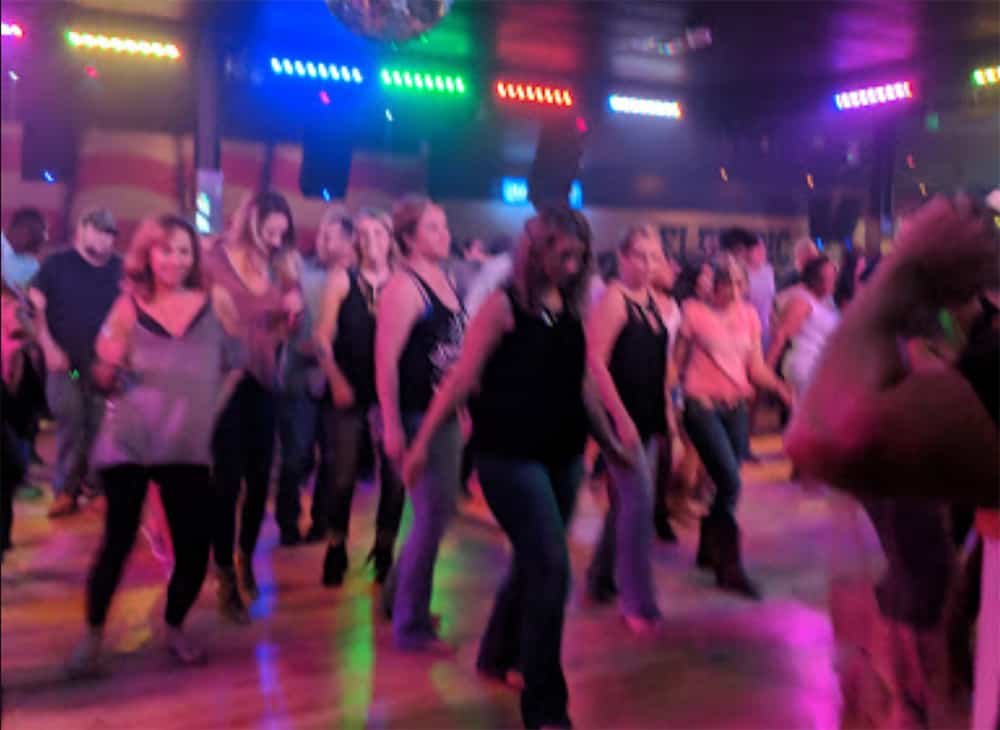 The Electric Cowboy is a chain of 9 country bars with other locations in Texas, Arkansas, and Kansas. The Electric Cowboy has mixed reviews from people. Barely holds onto a 3-star average.
Generally, people aren't too happy with the service, the fact that they allow smoking inside, so be aware that that may happen! Also, while there is a good mix of country music and radio hits, there are too many slow country songs played.
But you can be assured there is some line dancing going on here 5 nights a week. There are free line dance lessons on Wednesdays. Also, while there are mixed reviews, as one person said it's actually okay when you realize you're in Clarksville!
Extra! If you are traveling near the Dallas-Fort Worth area and are a fan of the Electric Cowboy dancehall franchise there are two of them you can check out. I've covered some of the details of those 2 venues (Forth Worth and Lewisville). Check it out!
back to top
13. Cowboys Dance Hall and Saloon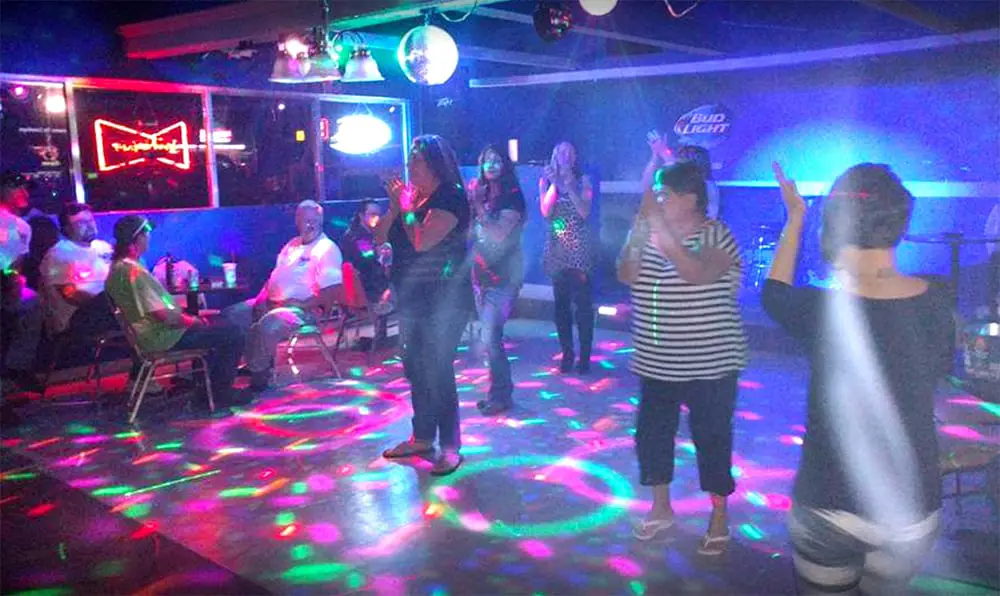 People really love to come and relax and unwind at Cowboys. It is open 4 nights a week. It's an all-cash bar with 6 large screen TVs, billiards, inside smoking. And occasional live music.
At Cowboy's, it's really about Karaoke! People love it. There is a small dance floor and there is also line dancing beneath the crazy fun disco lighting.
back to top
14. Mommas Country Dance Club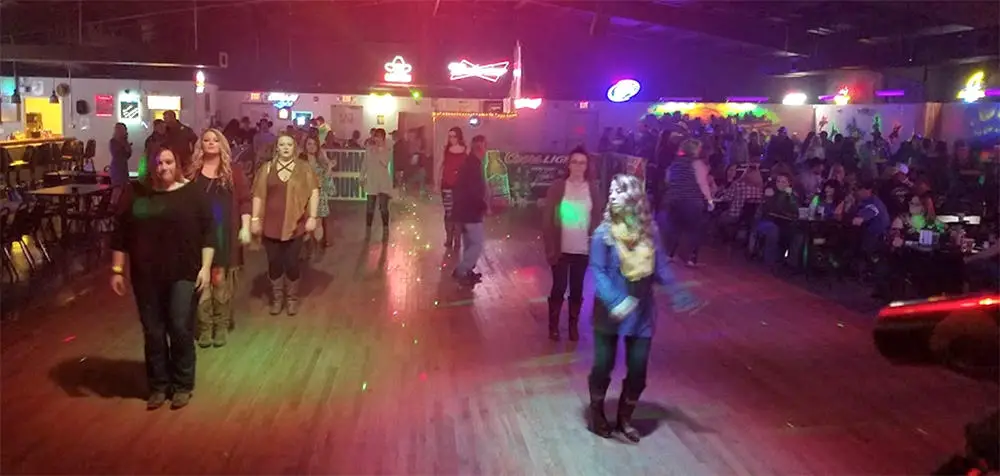 Whew! You made it to the end (or almost). Or you just popped down here with a click! Either way, I'm glad you're still reading! I've saved two of the best spots for country dancing 'til the end. Momma's Country Dance Club, while, quite a ways out of Nashville at 51 miles to the south is a great place to listen to live music and be part of a great two-stepping & line dancing community.
Momma's claims to have the biggest dance floor in middle Tennessee and the regulars know their dances and how to use it. It's a big club with a big stage to go with the big floor. Check out the great promotional video below. In the video, you'll see people doing among others the Power Jam line dance as well as the contra dance: Black Velvet. And if it's the partner dancing (cha chas, two-step, etc.), there's a lot of that going on too!
back to top
15. Revolver Dance Hall & Saloon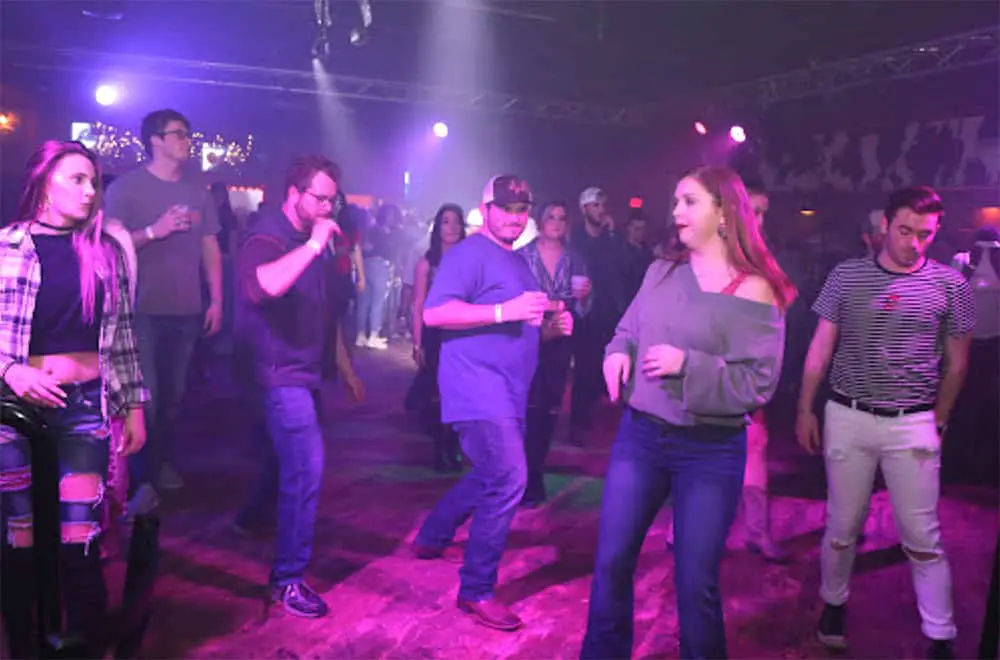 Okay, now you are at the end! Here' my last country dancing venue! This bar also has a big dance floor and if you live out east from Nashville here's one of the options for you! Revolver Dance Hall & Saloon is about 79 miles east of Nashville out off I-40 in Cookeville.
Revolver is a very hopping place in Cookeville, particularly during the school year. There is a bit of a younger crowd, but it depends on the night. Thursday night is College night, Saturday is Ladies Night.
For dancing, there are times when both dance floors (yes, there's 2!) are empty, but other nights where it's packed. The DJs (Cliffy and Reed) will play both country music as well as some Rap. This is a place to do some line dancing and learn some dances.
Check out their Facebook and you'll see some great videos they've posted of their virtual line dancing that took place while they were shut down during the Coronavirus pandemic. You'll see them really enjoying the Tush Push in one among other really popular, fun line dances.
There may be more! Please explore Tennessee and find your place to go. That's the main thing. Find a good spot and make new friends and do some country dancing!
back to top
What about the Other Nashville Honky Tonks? Also Visit these 12.
You may wonder about the many Broadway honky tonks that didn't make this list! So, quickly here they are listed in their order as you walk south away from the river.
I've also added one extra very iconic honky tonk (The Bluebird Cafe) that is famous for the legendary country artists that got their start there and the haven that it continues to be for songwriters and yet to be discovered new musical talent. The Bluebird Cafe, like the 5-Spot, was also featured often in the primetime ABC hit drama Nashville-how cool is that? So, be sure to visit the Bluebird, but you'll have to travel the farthest for it. It is located 9 miles south off of highway 431 (Hillsboro Pike). Be careful, you might pass it right up with the little strip mall it's in (see below).
These are the bars that are really tight and crowded and are really about the bands, the drinks, and the food. Check them out for sure, they are a big deal and an important part of the whole Nashville experience. Many of these honky tonks are quintessential Nashville bars. Enjoy them, just don't expect to see much two-stepping or line dancing. Not that you won't be able to dance in these places, just know if there's dancing it's more of a tight sardine free-for-all!
And if you visit the Bluebird, be prepared to be anything but rowdy! Here it's about the intimacy of listening to the heart of a new songwriter pouring out their soul in the open mic setting.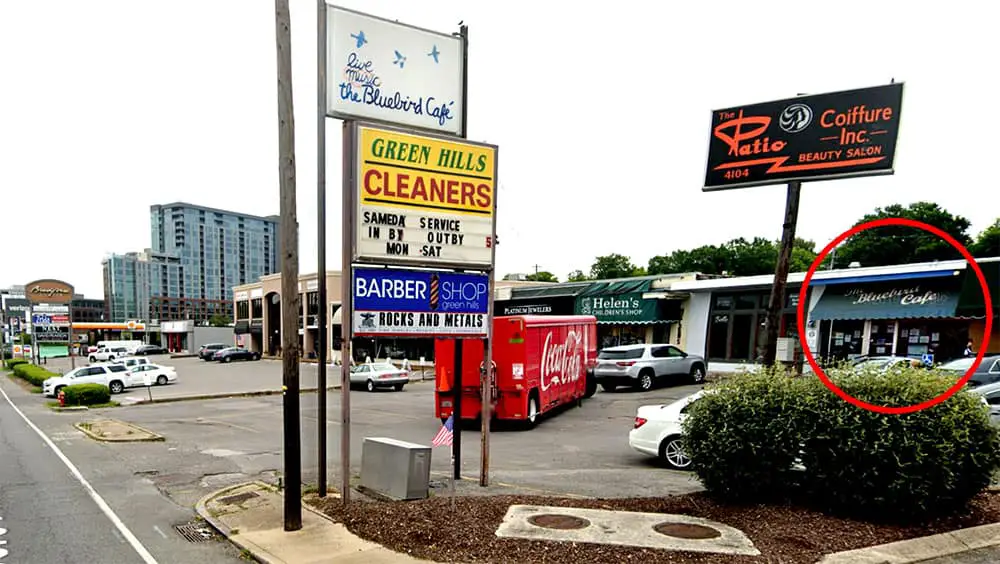 What about Parking to Visit the Broadway Honky Tonks?
If you're local to the area or visiting and staying at a local hotel, navigating your way around downtown Nashville isn't too tricky. There are many ticketed lots and parking garages if you're driving. And, if bar-hopping by foot, there's no lack of a consistent stream of taxis readily available on Broadway. There are taxis as well as many Uber and Lyft drivers within range. Getting around is the least of your worries. Focus on exploring! Get to as many spots as you can, meet new people, take in new music and of course, dance your ass off!
back to top
Address: Apt. 739 65237 Fahey Land, Farrellville, NV 80219-5379
Phone: +389 555.865.6819
Website: https://momadvicehub.com
Facebook: https://facebook.com/momadvicehubcom
Twitter: @momadvicehubcom
Copyright © 2023 | Design by Mama Knows Best