Empowering mothers with knowledge
Fall is the best time of the year, and here in Charlotte that is no exception! There are so many fun fall activities in Charlotte, North Carolina that you won't want to miss! From pumpkin patches and hayrides to fall festivals and college football games, there's always something going on, and it's the perfect time to connect with friends and neighbors.
Fall is a very popular season in Charlotte so plan early, as some of these activities have limited dates.
My guide to the best fall activities in Charlotte is divided into 3 sections
Fall Activities in Charlotte
Fall Events in Charlotte
Fall Road Trips near Charlotte
Fall Activities in Charlotte, NC:
Windy Hill Orchards
Windy Hill Orchards is the most popular Fall Activity in Charlotte, NC (well, technically outside of Charlotte). Windy Hill Orchards is a hard cider orchard that offers all of your favorite fall classics: apple picking, hard cider flights, fried apple donuts, live music, and so much more! It's a must-do fall activity near Charlotte!
The Orchard is technically about an hour away from Charlotte, but it is the closest orchard and makes for a great day trip with friends!
Pro Tip: Order a Cider Fight so you can taste the varieties of ciders they make!
Location: 1860 Black Highway York, SC 29745Hours: Open Thurs-Sun (check times)
Scarowinds
Enjoy a night out in Scarowinds – the Halloween-themed adventure by Carowinds theme park. Scarowinds is a fun event for all ages who enjoy getting spooked! You can ride the rollercoasters in the theme park or enjoy some of the Halloween activities!
They have a few haunted mansions to walk through as well as haunted areas throughout the park.
Pro Tip: Go early in the season (September) to avoid massive crowds. Lines can get really long for the Haunted Houses in late October.
Location: 14523 Carowinds Blvd, Charlotte, NC 28273Hours: Fri-Sun from 7PM-12AMPrice: $45+ per person (tickets)
Amazing Maize Maze @ Rural Hill
Visit one of the largest Corn Mazes in the southeast and test your ability to solve a lifesized puzzle! The Amazing Maize Maze at Rural Hill is over 7 acres and the perfect way to get out and about this fall season!
They're currently open Tues – Thurs for timed entries of 10AM or 4PM (advanced tickets required). They're also open Fri-Sun from 10AM – 5PM, and you can enter anytime throughout the day. In October, they have Late Night Mazes from 6:30PM – 9PM.
Pro Tip: Purchase your ticket in advance to ensure availability!
Location: 4431 Neck Road, Huntersville, N. C. 28078Hours: Tues-Sun from 10AM to 5PM (late night hours also available)Price: $10-$17 per person (tickets)
Pumpkin Picking
It wouldn't be a fall season without a trip to the pumpkin patch! Charlotte has a handful of pumpkin patches nearby that are worth a visit! I've listed a few of the pumpkin patches near Charlotte, NC, and listing some of my favorites below:
Bush-N-Vine Farm
Simpsons Produce
Phil Simpson Pumpkin Lot
Hunter Farm
Spring Farm Market
Black's Peaches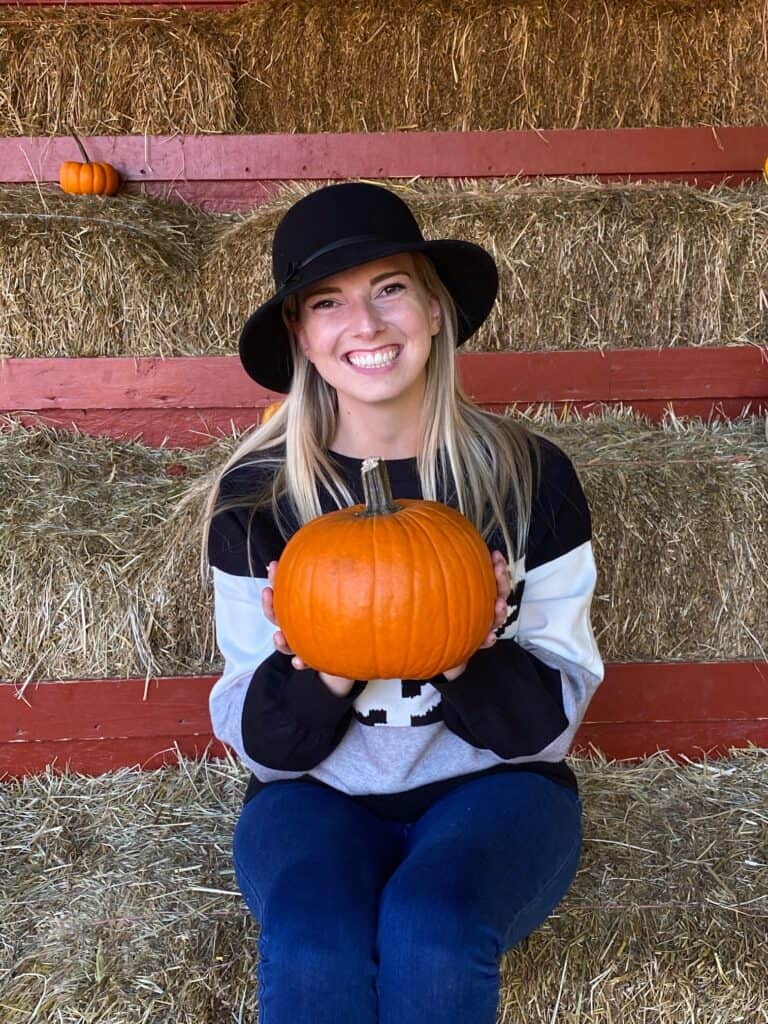 Ghost Tour
The fall season often brings a sense of nostalgia and a willingness to embrace the supernatural, making it an ideal time to delve into the unknown and embrace the thrill of the spectral. So, if you're seeking a unique and spine-tingling adventure, the fall season is the perfect backdrop for a hauntingly good time on a Ghost Tour in Charlotte, NC!
Scarecrow Hollow
Spend the afternoon walking through Daniel Stowe Garden and their Scarecrow Hollow exhibit. This annual exhibit features handmade scarecrows designed by locals in the community! They're all themed and unique! It's one of my favorite fall activities in Charlotte and is so underrated!
Location: 6500 South New Hope Road, Belmont, NC 28012Hours: 10AM to 4PM (closed on Tuesdays)Price: $14.95 per person
Renaissance Festival
Travel back to the Renaissance age by visiting the "Village of Fairhaven". This festival brings to life the magic of the Renaissance with jousting knights, arts and crafts, Artisan markets, fairies, mermaids, dragons, and so much more!
This festival is hosted on the weekends from September 30th to November 19th. It's a rain or shine event and can get fairly crowded.
Pro Tip: Arrive early – you can honestly spend the entire day here with all of the shows and events, so take advantage of the entire 8-hour window!
Location: 16445 Poplar Tent Road Huntersville, NC 28078Hours: Saturday & Sundays from 9:30AM to 5:30PMPrice: $32+ per person (tickets)
Panthers Football Game
Football & Fall go hand in hand, so it makes sense to experience a Panthers Football game this fall! The Panthers play at the Bank of America Stadium which is in the heart of Uptown Charlotte. Enjoy the beautiful skyline views as you cheer on your favorite Carolina football team.
The 2022 Panthers Football Schedule is provided below (games in blue are here in Charlotte, NC):
Location: Bank of America Stadium (800 S Mint St, Charlotte, NC 28202)Price: $50+ per person (tickets)
Scarrigan Farms
Carrigan Farms transforms their 275 farm to a Haunted Trail in October that is perfect for those who enjoy a good spook! This isn't for the faint of heart, as it is designed to be scary!!
Reservations for this event are required, so be sure to book this in advance!
Location: 1213 Oak Ridge Farm Highway, Mooresville, NC 28115Hours: 7:30PM (select nights in Oct & Nov)Price: $25 to $45 per person (tickets)
Fall Events in Charlotte, NC:
The events below are only hosted for a few select days, so be sure to plan ahead! Events below are in order by start date and range between September to November.
Yiasou Greek Festival (Sept 8-10)
The Yiasou Greek Festival is always a highly anticipated event each year hosted by the Greek Orthodox Cathedral in the Dilworth neighborhood. Locals absolutely love the authentic Greek food, dancing, shopping, and more!
Entry into the festival is $5, but you're almost guaranteed to purchase lots of food while you're there so budget accordingly.
Mecktoberfest (Sept 15-17 & Sept 22-24)
Olde Mecklenberg Brewery (OMB) is a German Biergarten located in south Charlotte. Each year, they host a "Mecktoberfest" in honor of Oktoberfest in Germany.
The star of the show is the Märzen lager — according to OMB, "it's the original Oktoberfest Bier: rich, malty and super smooth courtesy of Munich malt, noble hops and a yeast strain from the oldest brewery in the world".
They're hosting TWO Mecktoberfest weekends this year (dates below). This event does not require tickets or paid entry – you can visit anytime throughout the day!
Weekend 1 – September 15-17, 2023
Weekend 2 – September 22-23, 2023
Location: 4150 Yancey Road, Charlotte, NC 28217Hours: Fri-Sun at 11AM – 11PMTickets: Free Entry
Halloween Bar Crawl (Oct 28)
Dress up in your favorite costume for a night out on the town! Rich & Bennett's Halloween Bar Crawl is one of the most iconic events and sure to be a good time!
This bar crawl is in Uptown Charlotte and includes entry to dozens of participating bars that offer drink specials.
Tickets: $10-$25 per person (tickets)
Biketoberfest (Oct 22)
Biketoberfest is an annual bicycling event in South End / Uptown Charlotte. It is designed to showcase how easy it is to get around the city on a bicycle. Event participants are given a passport to stop along the way at various vendors and restaurants.
Tickets: $35 per person
Thanksgiving Day Parade in Charlotte (Nov 22)
The Thanksgiving Day Parade in Charlotte is a fun tradition that dates back to 1940s. This parade is presented by Novant Health to represent family friendly fun.
Fall Road Trips from Charlotte
NC State Fair
I love a good State Fair experience. Unfortunately, the NC State Fair doesn't come to Charlotte – but it's only a 2 hour drive away to Raleigh! This two week event is from October 12-22, 2023 and it will be the 155th N.C. State Fair!!
Road Trip to Western North Carolina
This is arguably my favorite thing to do in the fall season! Seeing the leaves change in the Blue Ridge Parkway is a magical and breathtaking experience! I personally love hiking and camping around western North Carolina.
Linking a guide for great tips on driving the Blue Ridge Parkway in the fall. You can also opt to purchase a Self Guided Audio Tour for the Blue Ridge Parkway.
Guide to some of my favorite western NC towns are below:
Blowing Rock, NC
Bryson City, NC
Grandfather Mountain
Tiny House Cabin In The Woods
Looking for an isolated retreat where you can enjoy the fresh air in nature? Getaway tiny cabins are the perfect place for you!
I fell in love with my weekend getaway here in this tiny house cabin. It's a "glamping" experience that allows you to wake up in the woods in the comfort of a bed, cook food over the fire, and roast marshmallows.
Use code WANDERLUSTLISA to get $20 off your stay.
Visit the Biltmore
The Biltmore Estate, located in Asheville, is a beautiful place to visit in the fall. The estate's sprawling gardens and iconic architecture seemed even more enchanting, framed by the brilliant hues of red, orange, and gold that adorned the surrounding trees.
The Biltmore House itself, with its stunning interiors and timeless elegance, felt like stepping back in time to a bygone era of grandeur. Exploring the estate's meticulously landscaped gardens, I was captivated by the changing of the leaves around me!
Location: One Lodge Street, Asheville, NC 28803Hours: Open DailyTickets: $85 to $109 per person (tickets)
Final Thoughts on Fall Activities in Charlotte:
In conclusion, visiting Charlotte in the fall is an enchanting experience that combines the vibrant colors of nature with the rich cultural tapestry of the city. Whether you're exploring the stunning foliage along the Blue Ridge Parkway, or immersing yourself in the diverse range of festivals and events, Charlotte offers a cornucopia of autumn delights.
So, as the leaves change and the air turns crisp, don't miss the opportunity to create unforgettable memories in Charlotte during the fall.
Disclosure: Some of the links in this guide on Fall Activities in Charlotte are affiliate links, meaning, at no additional cost to you, I earn a commission if you click through and make a purchase. This helps me keep the content on my website free, like this guide featuring fall activities in Charlotte.
Looking to explore Charlotte during other times of the year? Check out my Seasonal Charlotte guides below:
Other Related Posts:
Other Fall Things to Do:Fall Season in Georgia
Other Charlotte Things To Do:Charlotte, NC City GuideBest Wall Murals in Charlotte, NCFree Things to do in Charlotte, NCTop 10 Breweries in CharlotteBest Date Nights in CharlotteRoad Trips from Charlotte, NC
Sharing is Caring
Share this post on all of the Best Fall Activities in Charlotte, North Carolina:
If you're looking for fall things to do in Delaware, we've got it covered in this article, and you won't have to look hard; there are events all season long in all three counties. While most of the autumnal…
Celebrate fall in Northern Virginia with the best fall festivals plus scenic drives, outdoor activities, foliage finds, and Autumn getaways full of seasonal fun. It's fun to celebrate fall in Northern VA because the season brings cooler days, beautiful…
Address: Apt. 739 65237 Fahey Land, Farrellville, NV 80219-5379
Phone: +389 555.865.6819
Website: https://momadvicehub.com
Facebook: https://facebook.com/momadvicehubcom
Twitter: @momadvicehubcom
Copyright © 2023 | Design by Mama Knows Best