Empowering mothers with knowledge
2. Argos Farms – Forked River
Head to Argos Farms for summer activities like blueberry picking, sunflower picking, the wooden obstacle course, jumper pillow, and more. Come back in the fall for pumpkin picking, the corn maze, wagon rides, games, a zip line, and more. And don't forget to visit Santa here in December.
RELATED: Family-Friendly Vineyards and Wineries in New Jersey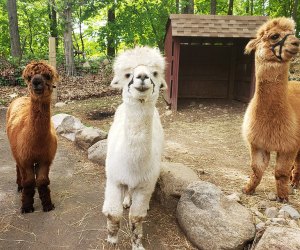 Adorable alpacas and more furry friends await at Abma's on-site petting zoo.
3. Abma's Farm – Wyckoff
This farm caters to families with its petting zoo, where kids can meet goats, sheep, alpaca, donkeys, ponies, bunnies, pigs, and more. Check out the goat walk, duck pond, and "Bunnyville." In the fall, enjoy hayrides to the pumpkin patch, fall story time sessions, and pumpkin decorating events. And, in the summer, kids ages 5-10 can learn more about farming and nature at farm camp. Abma's Farm offers several pick-your-own events throughout the growing season.
4. Conklin Farm U-Pick – Montville
If large spaces and big crowds overwhelm your little one (or you, for that matter), Conklin is a smaller, more intimate venue that still packs a lot of fun. Come during the fall season for pumpkin picking, a corn maze, train ride, barnyard animals, and weekend hayrides (even a haunted hayride for your older, braver kids), but at a less frenetic pace. Plus, a snack shack with hotdogs, hot cider, candy apples, and warm, homemade doughnuts keeps everyone happy. On weekends, kids can take a chance at winning a 100-plus pound giant pumpkin during the pumpkin slingshot game.
Visit the goats and llamas at Demarest Farms.
5. Demarest Farms – Hillsdale
This kid-friendly farm is like an oversized backyard bursting with fresh produce and some farm animals, too. After your crew has filled its baskets with u-pick peaches, apples, or pumpkins, set the little ones loose to play. They'll have fun petting the pigs, sheep, goats, and chickens; playing in the colorful wooden playhouses; and enjoying the photo board cutouts that are set up around the farm. Swing by for a Halloween Light Show in October and the Orchard of Lights with Santa in December.
6. Happy Day Farm – Manalapan Township
You can't help but have a good time at a farm called Happy Day. One of the largest corn mazes in the state is spread out over 10 acres here. The annual apple and pumpkin festivals celebrate the best of the fall harvest, while u-pick raspberries and blueberries are the highlights of the summer Family Fun Festival. Your little one will love wandering through Timmy's Town Zoo. The cash-only facility sells bags of feed to share with the pigs, goats, chickens, and other animals. There's also a Kids Corner where little farmers can take a run through the hay maze, climb the giant tires, play corn hole, ride pedal carts, and explore the rustic, wooden train. Burgers, chicken fingers, funnel cake, and other goodies are available for purchase on festival weekends, and there's always honey for sale, harvested from the farm's own beehive. Be warned: It's cash-only.
RELATED: Best Apple Picking Farms in NJ With Kids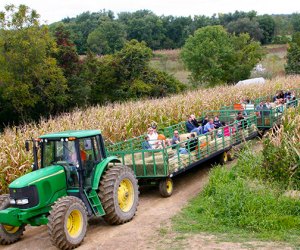 Heaven Hill Farm is home to the popular Great Pumpkin Festival.
7. Heaven Hill Farm – Vernon
Billed as the largest fall festival in Northern New Jersey, Heaven Hill's Great Pumpkin Festival offers more than 40 family-friendly activities, including a themed corn maze, a hay maze, duck racing, pedal carts, and barnyard sports. Gem mining, sand art, and carnival rides are available for an additional fee. After your little ones are done playing, wander over to the farm store for wine tastings from NJ's own Balic Winery. Pick out the perfect Christmas tree in December, and be sure to come back in the spring for a massive Easter egg hunt. While you can't pick your own produce here, the farm store is stocked with locally grown fruits, vegetables, honey, and jams, plus fresh-baked pies and bread ready to take home. Open weekends September 16 through November 5, 2023.
8. Johnson's Corner Farm – Medford
There's so much to do at this family farm that it's hard to know where to start. We suggest making a beeline for the Discovery Barnyard. After paying an entrance fee, kids find an EVOS Pathfinder, which offers a zillion different ways to climb, spin, hang, and slide, and the Space Net, a triangle-shaped climbing contraption that looks like a spider's web. There are also three age-specific play areas for toddlers to big kids, pedal go-cart tracks, and an obstacle course. The splash pad is open during the summer, so don't forget your swimsuits! Hop on a hayride to the field for u-pick strawberries, blueberries, apples, and pumpkins, or visit the animals at the farm's second location, Johnson's Locust Farm. Popular Fall Festival Weekends include live music, a corn maze, a moon bounce, and a food tent with food hot off the grill. Bundle up during the holidays for a magical musical light show, hayrides, and s'mores around the fire pit. No visit here would be complete without a stop at the ice cream window for soft-serve ice cream mixed with Italian ice, a tasty Jersey treat. Note that customers must reserve their Fall Festival tickets first, then upgrade to the Sunflower Stroll, Corn Maze, and Discovery Barnyard. The Sunflower Stroll and the Corn Maze are only available on weekends.
RELATED: See Baby Animals and More at Family-Friendly NJ Farms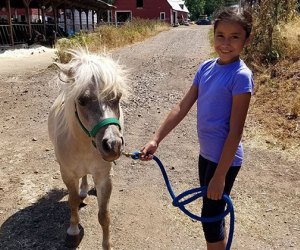 Norz Hill Farm is an animal lover's dream with both typical farm animals and a few exotic residents, like a peacock and emu.
9. Norz Hill Farm – Hillsborough
Do your kids constantly ask you where milk comes from? For answers, you can start at Norz Hill, home to about 60 Holstein cows. Even though the farm is no longer in the business of milking, kids will delight in seeing the black-and-white herd grazing in the fields as you drive up to this picturesque farm. In addition to the cows and traditional farm animals, Norz Hill is also home to a few exotic residents, including an alpaca, peacock, zonkey (a hybrid of a zebra and donkey), and even an emu. Pumpkin picking and hayrides are part of the fall festivities at Norz Hill, open seven days a week. Don't forget to try the 5-acre corn maze, which boasts a new design each season. The market stand is always open with apples, cider, doughnuts, and gift baskets. The fall Scare Farm is perfect for big kids, featuring a walkthrough creepy corn trail, and haunted hayrides.
10. Oasis Family Farm – Robbinsville
Your family can easily spend an entire day at this amazing agritainment farm. In the fall, the Fun Zone is open on weekends and admission includes tons of play options, including pedal cars, basketball hoops, a 50-foot tube slide, a tire swing, a zip line, and more. Check out the mini golf, gem mine, and gold rush attraction to search and sift for treasure, and get up-close-and-personal with a live bee observatory and ant colony. Festival weekends celebrate a wide variety of locally grown produce, from strawberries and corn to watermelon, pumpkins, and apples. Additional FREE kids' activities such as wagon rides and games are also available on these weekends. Halloween-themed egg hunts and a haunted house helps get kids in the spirit for their favorite holiday. Monster truck weekends—where kids can ride in the cab of an actual big-wheeler—are held twice a year.
RELATED: Gorgeous Sunflower Fields and More Pick-Your-Own Flowers in NJ
Ride the cow train at Ort Farms.
11. Ort Farms – Long Valley
This scenic 400-acre farm offers fresh fruit and vegetables, beautiful flowers, delicious baked goods, giant pumpkins, and a fun corn maze. Kids can participate in the Storytime on the Farm program (which includes a story, a craft or activity, and visiting the animals) spring through fall, or Mommy & Me Mondays in the fall, which includes cider and a doughnut, a visit with the farm animals, and a hayride. Meanwhile, the Fall Festival days are the perfect time to snag the perfect pumpkin, pick apples, enjoy the corn maze, and check out the monster trucks. Come back to the farm in December for u-cut Christmas trees.
12. Stony Hill Farms – Chester
Love a good corn maze? In the fall, Stony Hill is home to a giant 10-acre corn maze that will keep you busy for a while. Don't worry if you're hopelessly lost; maze masters are on-site to help. Aside from the corn maze, there are a host of fall activities like a mini corn maze, a rope maze, a tile maze, hayrides, a playground, and more. Visitors can pick apples and pumpkins, too.
RELATED: 20 Pumpkin Picking Farms in New Jersey For Families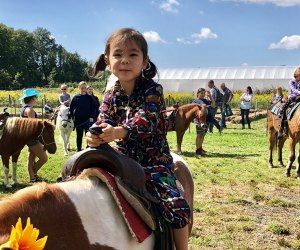 Take a pony ride at Terhune Orchards. Photo by Janet Bloom
13. Terhune Orchards – Princeton
With barnyard animals, a half-mile farm walking trail, and pony and tractor rides, there's plenty to do for the kids after you've had your fill of apples, strawberries, and cherries at this sweet farm. With more than 30 varieties of apples growing in the orchards, you're bound to find a new family favorite. Fall Family Weekends invite kids to visit the cornstalk and hay bale maze, meet and feed the barnyard animals, and enjoy face painting and pumpkin decorating. Other annual events include the Bunny Chase, Kite Day, and Firefly Festival.
14. Von Thun's – South Brunswick
This five-generation farm has a bunch of pick-your-own options like apples, strawberries, peas, blueberries, blackberries, and pumpkins. Fall Festival Weekends include 20+ activities like hayrides, a 6-acre corn maze, pedal karts, mini golf, pumpkin tic-tac-toe, pumpkin bowling, rocking horses, and more. Come to the farm on fall evenings for moonlit mazes and campfires. There's also a farm store packed with baked goods, produce, and more.
RELATED: Amazing Corn Mazes Near New Jersey at Family-Friendly Farms
Wander the orchards at Wightman Farms for the chance to pick your own apples.
15. Wightman Farms – Morristown
Family-owned and operated for more than 90 years, Wightman Farms is tucked away off a quaint stretch of Route 202, just minutes away from downtown Morristown's shopping and dining district. Weekend attractions include scenic hayrides with amazing views of the orchards and a corn maze. There's even a corn-filled sandbox that's popular with little ones. Before leaving, try some freshly squeezed apple cider, pressed from apples picked right at the farm, and pick up homemade pies, apple butter, and cider doughnuts to take home. Food stands around the farm also sell freshly roasted corn-on-the-cob and giant pickles-on-a-stick.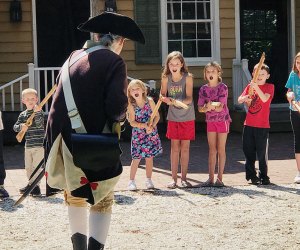 Visitors to Historic Cold Spring Village can see the Homespun Era (1789-1840) brought to life.
Historical Farms in NJ
16. Fosterfields Living Historical Farm – Morristown
This 200-acre National Register Site offers a full immersion in turn-of-the-century farming methods and life. Fosterfields is a working farm that uses the tools, techniques, and materials of an early 20th-century farm. Staff dressed in period attire act out the lives and roles of Foster family members and farm laborers by performing a daily regimen of chores, and raising livestock and crops using historical methods. Kids can help with activities such as feeding the chickens or churning butter. Educational programs and special events are scheduled frequently throughout the year.
17. Historic Cold Spring Village – Cape May
More than just a farm, Historic Cold Spring Village is an Early American open-air living history museum with 26 restored antique buildings on more than 30 acres of land. The Village brings to life the day-to-day activities of South Jersey residents during the "age of homespun" (1789-1840), with interpreters available to educate visitors about the lifestyles, trades, and crafts of long ago. An activity area allows kids to try on costumes, participate in hands-on crafts, and play historic games. Stop by the Village Country Store for books, housewares, and wooden toys, or visit the Ice Cream Parlor for a delicious treat.
18. Historic Longstreet Farm – Holmdel
Longstreet Farm recreates the sights, sounds, and smells of rural Monmouth County in the 1890s, right down to the breeds of animals and crops raised at that time. Like other living history farms, interpreters in period dress demonstrate both daily and seasonal agricultural and domestic activities, including sheep shearing, spring planting, and ice cutting. Visitors can pitch in with weekend activities such as milking a cow, grinding corn for animal feed, and wood-stove cooking. There are multiple festivals and seasonal events planned throughout the year as well. Longstreet Farm is located within beautiful Holmdel Park, which features playgrounds, picnic areas, and hiking trails. FREE admission.
19. Howell Living History Farm – Lambertville
Head to Howell to experience first-hand what farm life was like circa 1900. There's plenty to see and do here—tour the 130-acre grounds and check out the sheep barn, chicken house, hog pasture, and more. Kids will love running around and getting their hands dirty! Visit on Saturdays to take part in special events such as an Old Time Baseball Game, Maple Sugaring, or Wheat Harvest & Ice Cream Party. Free admission, but a fee may apply for some programs.
Unless noted, photos courtesy of the farms
Farms Near Me for Kids to Visit We just love visiting farms. Both of my kids love animals, Kevin in particular. There are many local farms and animal farms to visit with children in Pennsylvania. I think I have…
Are you looking for farms near Louisville for family fun? There are many options for exploring farms this fall so you can enjoy the beautiful scenes of the bluegrass, learn about these farms, and take home some goodies! 10.…
Address: Apt. 739 65237 Fahey Land, Farrellville, NV 80219-5379
Phone: +389 555.865.6819
Website: https://momadvicehub.com
Facebook: https://facebook.com/momadvicehubcom
Twitter: @momadvicehubcom
Copyright © 2023 | Design by Mama Knows Best