Empowering mothers with knowledge
There's nothing quite like farm fresh produce at the dinner table and lucky you for calling Tampa Bay home because there are a ton of farmers markets near you can pick up farm to table fruits and veggies. And what better way spend a day in the fall than enjoying the beautiful weather walking around a local market?
Whether you're seeking locally grown vegetables, locally made honey and baked goods lovingly prepared in kitchens or freshly caught local seafood, this guide to our favorite local farmers' markets will help you dive into close-to-home cuisine around Tampa Bay.
Don't forget-some u-pick farms in Tampa Bay also offer a small farmer's market on site as well, so be on the look out for that.
*Always check with each farmers market's social media and website since hours and offerings can change
Our Favorite Tampa Bay Area Farmers Markets
Boyette Family Farms in Wesley Chapel
Location: 6715 Boyette Road, Wesley ChapelHours: Open Tuesday through Saturday from 9am-6pm (10am-4pm on Saturdays) This is a sweet family owned farmers market and farm that features locally grown produce and other local goods like seafood, beef, and more. They usually hosts food trucks as well if you want to stay for lunch!
Keystone Farmers Market in Odessa (pictured at top of story)
Location: 12615 Tarpon Springs Road, OdessaHours: Open daily from 8am-7pm The Keystone Farmers Market grows some of the produce it sells right on site like kale, chard, herbs and more! They also sell produce from other parts of Tampa Bay and the country along with mushrooms, locally made honey, candles, farmfresh eggs, locally made pasta, and so much more. It's a great spot to support local businesses. You can also pay $3 to feed their sweet cows which we highly recommend doing! The kids will love it.
Bearss Groves in Tampa
Location: 14361 Lake Magdalene Blvd, TampaHours: Tuesday-Sunday from 9am-7pm Bearss Groves has history in Tampa, serving local families as a farmers market for a century and it's still at it today. The market says it offers a variety of pesticide-free produce, farm-fresh fruits and vegetables, pants, grass fed beef, plus a large selection of local goods, treats, and beverages.
Beasley Farms in Brooksville
Location: 10137 Preston Road, BrooksvilleHours: Open Sunday-Wednesday from 8am-5pm Beasley Farms' farmer's market is usually stocked with produce, flowers, plants and more! They'll usually offer a produce box for $10 which gets you a nice variety of farm fresh veggies, so check their Facebook page for updates to see what they have in stock before you go.
JG Ranch in Brooksville
Location: 17200 Wiscon Road, BrooksvilleHours: Thursday-Sunday from 9am-4pm (Closed for the summer. Fall reopen date TBD). JG Ranch often offers u-pick strawberries, blackberries and blueberries in the springtime, but they also have a farm stand with fresh produce and local honey.
Meacham Urban Farm in Tampa
Location: 1108 E Scott Street, TampaHours; Open Saturdays from 9am-1pm, Sundays from 10am-1pm and Mondays from 3:30pm-7:30pm Meachum Urban Farm is a regenerative urban farm growing organic and affordable produce near downtown Tampa and Ybor City in the Encore area. It's a pretty incredible thing they've built, growing 35 different fruits and vegetables on 2 acres. They also have chickens for farm fresh eggs and even a honey bee hive! You can also join their CSA for regular produce pick-ups.
Sweetwater Organic Community Farm in Tampa
Location: 6942 W Comanche Ave, TampaHours: Open to public seasonally October-May on Sundays from 12pm-3pm Sweetwater Organic Farms offers a CSA program (community supported agriculture) where you pay a fee and pick up a box of organically grown produce each week, but they also open their Sunday markets to the public and even host classes so you can learn about organic agriculture.
Stalk and Vine on 39 in Lithia
14923 S County Road 39, LithiaHours: Farm stand open on weekends from 9am-3pm on Saturday and 10am-3pm on Sunday This is a fairly new farmers market and farm (while they've been farming for 10+ years, Stalk & Vine market is officially opened in 2019), growing seasonal veggies, herbs, peaches, flowers and more! Not only do they have their weekend market, but they also have a CSA if you'd like to join.
Dube's Farm and Market
Location and Hours: Pop up locations through the area Dube's Farm and Market is a cool concept connecting locals with local farms through a mobile market and a Wesley Chapel couple is making that happen. You'll want to follow them on their Facebook page to see where they will be next!(Link above)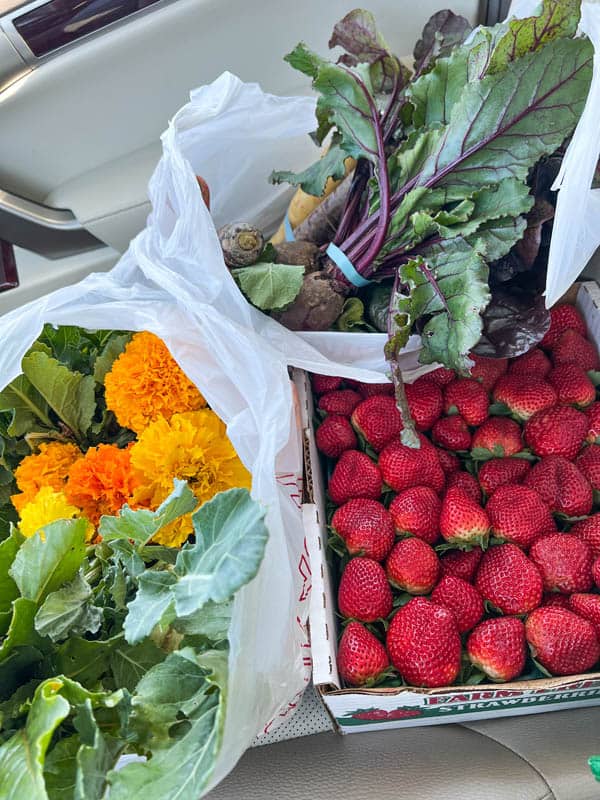 Strawberry Passion/ Passion Organics Farms in Thonotosassa
Locations: 11780 Tom Folsom Road, Thonotosassa and 12351 McIntosh Road, Thonotosassa (this field is currently open)Hours: Open seasonally Friday-Sunday (CLOSED for the season. Check back in the fall.) Stop by Strawberry Passion for u-pick organic strawberries and then stay for a milkshake and shop their organic farmers market. They usually have lots of greens, onions, tomatoes and more!
Life Farms in Clearwater (and local markets)
Location: 2759 Woodring Drive, ClearwaterHours: Farm store open Monday from 10am-6pm, Saturday and Sunday from 10am-3pm Life Farms can be found at local markets throughout the area, but you can also shop their farm store on certain days of the week. They sell organically grown produce and also offer a CSA program.
A Land of Delight Natural Farm and Nursery in Plant City
Location: 2514 Leaning Pine Lane, Plant CityHours: Open Monday-Friday from 10am-6:30pm and Saturday from 8am-5pm We love this sweet farm in Plant City! They also offer u-pick based on what's available, sell plants and trees to start your own edible garden at home, and sell locally made products in their market along with fresh produce. You can even take a class on Aquaponics here!
Dakin Dairy Farms in Myakka City
Location: 30771 Betts Road, Myakka CityHours: Monday-Friday from 9am-5pm and Saturday from 9am-2pm If you are looking for farm fresh milk, cream, and cheese curds then you need to make the drive to Dakin Dairy Farms! While you're there, you can even go on a farm tour to learn more about where milk comes from. Tours are $8 per person and are held Monday, Wednesday and Friday at 9:30am and 1pm.
Forbes Road Produce in Plant City
Location: 1608 Branch Forbes Road, Plant CityHours: Open daily from 8am-8pm This is a go-to farm stand right near I-4 if you're looking for in-season farm fresh produce! They also have plants, flowers, and other interesting produce picks!
Parkesdale Farm Market in Plant City
Location: 3702 W Baker Street, Plant CityHours: Open daily November, 2023 – March, 2024 This is a Tampa Bay favorite, especially during strawberry season where you can get the world's best strawberry milkshakes!! It also serves as a fresh produce market and a great spot to pick up plants as well!
Tampa Bay Farmers Market in Tampa
Location: 10001 North Armenia Avenue, TampaHours: Open daily, Monday-Saturday from 8am-6pm, Sunday from 8am-5pm Tampa Bay Farmers Market has called Tampa home since 1977, the market offers a variety of goods from local farmers and vendors. Fresh produce and herbs and spices come from local farms but also from other parts of the country and world. We've also seen a lot of pretty flowers, just in time for spring!
Sanwa Farmers Market in Tampa
Location: 2621 E Hillsborough Avenue, TampaHours: Open daily, Monday-Thursday from 4:30am-7pm, Friday and Saturday from 4am-7pm, Sunday from 8am-5pm A fixture in Tampa since 1982 as a wholesale business for restaurants, the owners of Sanwa Farmers Market expanded their selling base in 2001 to include retail consumers. Located at 2621 E. Hillsborough Ave., the market features vendors inside and outside. Expect a wide selection of seasonal fruit and vegetables, fresh herbs, fresh meat, international items, fresh seafood, and canned and dried goods. Buyers can expect very competitive prices when compared to grocery stores.
Hunsader Farms in Bradenton
Location: 5500 C.R. 675, BradentonHours: Open September through early June, Monday through Saturday from 8am-5pm and Sundays from 10am-4pm Hunsader Farms not only offers farm fresh produce, but you can also go out and pick your own depending on the time of year! They also offer u-pick flowers in the spring and fall months. This is a great spot to bring the kids too since they have a petting zoo and ice-cream shop on site.
Monthly Tampa Bay Area Artisan and Farmers Markets
Ybor City Saturday Market: every Saturday, year-round
Saturday Morning Market St. Pete at Al Lang Stadium: Saturdays Oct-May
Westchase Locale Market: 2nd Saturday of each month
Hyde Park Fresh Market: 1st Sunday of each month, year-round
Fresh Market at Wiregrass: 1st and 3rd Saturday of each month
Sunset Market at Midtown Tampa: 1st Thursday of each month, year-round
Sunshine Market at Midtown in Tampa: 4th Saturday of each month, year-round
Dunedin Market: weekly on Fridays November – May and year-round on Saturdays
Corey Avenue Sunday Market: Weekly on Sundays, year-round
Carrollwood Market: 2nd Saturday of each month, year-round
Seminole Heights Sunday Morning Market: 2nd Sunday of each month, October-June
Madeira Beach Market: Weekly on Wednesdays from mid-November through May
3rd Thursday in Tampa at Grand Central: 3rd Thursday of each month, year-round
Sunday Morning Market at Westshore Marina District: 4th Sunday of year month, year-round
Water Street Sunday Market: 3rd Sunday of each month, year-roundLearn more: TampaBayMarkets.com
*Written in partnership with our media partners at the TampaBayDateNightGuide.com.
Related stories we think you'll LOVE:
Where to pick blueberries in Tampa Bay
Meet Elisha Bixler of @howsyourdayhoney, Tampa Bay's honey bee queen!
Address: Apt. 739 65237 Fahey Land, Farrellville, NV 80219-5379
Phone: +389 555.865.6819
Website: https://momadvicehub.com
Facebook: https://facebook.com/momadvicehubcom
Twitter: @momadvicehubcom
Copyright © 2023 | Design by Mama Knows Best