Empowering mothers with knowledge
Gluten Free New York City: The Best Gluten Free Restaurants and Bakeries in NYC
We're going to get straight into it here. There's a bunch of amazing gluten free restaurants in New York City, so this guide is going to be a little long as is.
We do want to mention that we've been to almost every single gluten free restaurant and bakery on this list. If we haven't, we'll say so. We've done the work to ask about things to look out for, and have excluded a few places that we ultimately didn't think have what it takes to serve a consistently safe meal.
With things constantly changing, we do our best to keep these guides up to date. However, it's nearly impossible to check on every single restaurant at any given time, which is why we need YOUR help!
Have feedback – like a place that no longer has a dedicated gluten free fryer, or a new gluten free bakery that popped up? We'd love to hear from you! Leave a comment below and we'll make sure to make updates.
Dedicated Gluten Free Restaurants in New York City
There are a TON of dedicated gluten free restaurants in New York City, which is why we think it's at the top of the list of gluten free travel destinations in the USA. The sheer number of safe places to eat is staggering.
The best part? A bunch of them are dedicated gluten free! Which is basically heaven for gluten free foodies.
Modern Bread and Bagel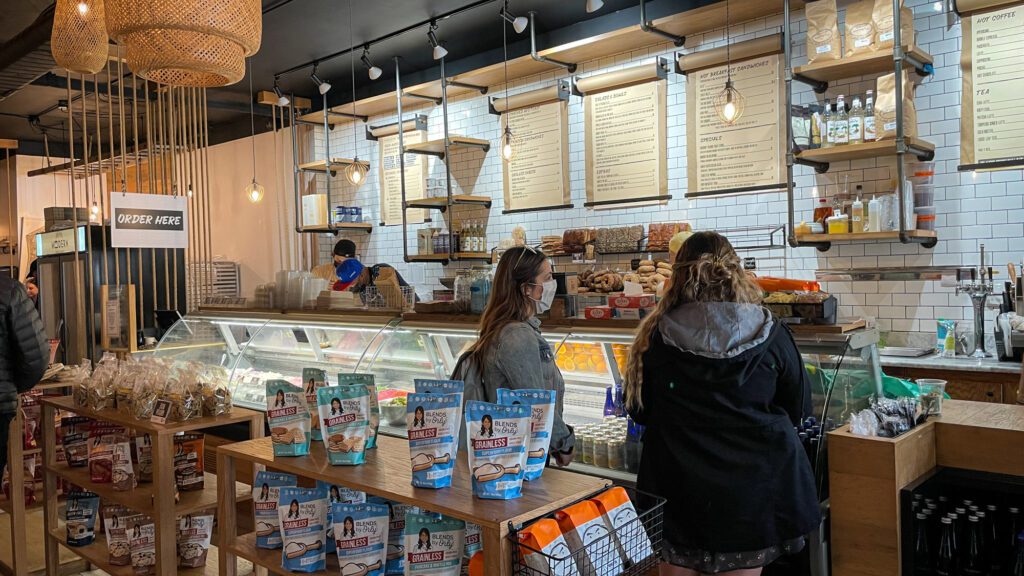 On our last trip to New York City, Modern Bread and Bagel opened literally two or three days after we left the city. It was TRAGIC.
After several years of seeing other Celiacs rant and rave about how good it is, we finally made it here on our latest trip… and we went back multiple times. It is no exaggeration to say that this is the best gluten free bagel I've ever had. EVER. I paid good money to check a bag on the way home just so I could bring back bagels.
And Alysha, who does not have Celiac Disease and has been sampling the bagel offerings in the Northeast for a couple of weeks, confirmed that she probably wouldn't have been able to pick out their bagels as gluten free.
There are a couple of things they have going on here.
First is the gluten free bagels, which you can get smothered in all sorts of fun toppings like a variety of cream cheeses, tomatoes and pickled onions, smoked salmon, and more. They have a couple of different bagel varieties to choose from (we're on team everything bagels all day, every day), and a couple of breakfast sandwiches too.
For what it's worth, we thought the straight bagel with cream cheese, tomatoes and pickled onions, and smoked salmon was FAR superior to the breakfast sandwich we had. Mainly because the sandwich was lacking heaps of cream cheese, which is basically the key to happiness in life, we're pretty sure.
Second is more lunch-y options like bowls and panini sandwiches. If you've been before, consider these as something new. If you haven't, we'd really encourage you to stick to the bagels, which are absolutely fantastic.
Last is the baked goods. There are a ton of great gluten free bakeries in New York City (in fact, By the Way Bakery has a location like two blocks north on the Upper West Side), but Modern Bread and Bagel has some unique offerings that you should definitely try.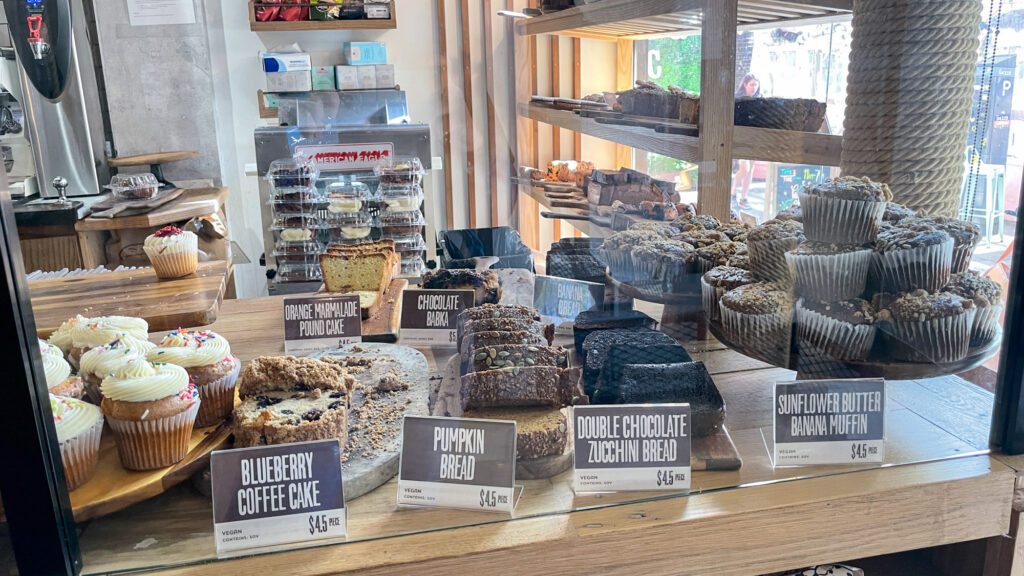 For example, the chocolate babka – which is a braided bread filled with, in this case, chocolate – was unique and delicious. It's a baked good that is common in Jewish communities in Eastern Europe. Here's a recipe to give you an idea of what it's like.
Or the rugelach, which is reminiscent of a filled croissant (ish) and is equally delicious – they had chocolate and coconut raspberry when we were there. They also have a range of other baked goods, like cupcakes, cookies, and banana bread, but we think those special treats that we've never seen at any other gluten free bakery are the highlight here.
The point is that you should definitely try a bagel and cream cheese, along with some of their more unique pastry offerings (particularly the ones inspired by the Jewish community).
Want to get their bagels at home? You're in luck! Though shipping is mind-numbingly expensive to the west coast, you CAN get their bagels vacuum packed and shipped straight to your door. Or bread. Or pastries. Pretty much anything they make, really, aside from perishable items (no cream cheese).
Are their bagels expensive? Yes. It costs around $18 for a fully loaded bagel with cream cheese, tomatoes, pickled onions, and smoked salmon. Or $6 for a bagel and cream cheese.
Is it worth it? Also yes. I can almost guarantee that they'll be the best gluten free bagels you've ever had, and that is worth paying a little extra for.
Modern at Night: As of mid-2022, Modern had opened up a dinner time offering called Modern at Night. I managed to make it in, and while they were still figuring a few things out, it was equally as delicious as the bagels and breakfast / lunch offerings. The highlights for me were the loaded latke tots (with smoked salmon and dill) and the laffa (a flatbread rolled and stuffed) with zucchini and pea fritters. They also have fish and chips, which would be next on my list.
A note on expansion: Modern are in the process of expanding, both within NYC and in other cities in the United States (looking at you, Los Angeles). It's super exciting to provide more Celiacs the opportunity to try their amazing bagels, and I'll update this when those new locations open.
Senza Gluten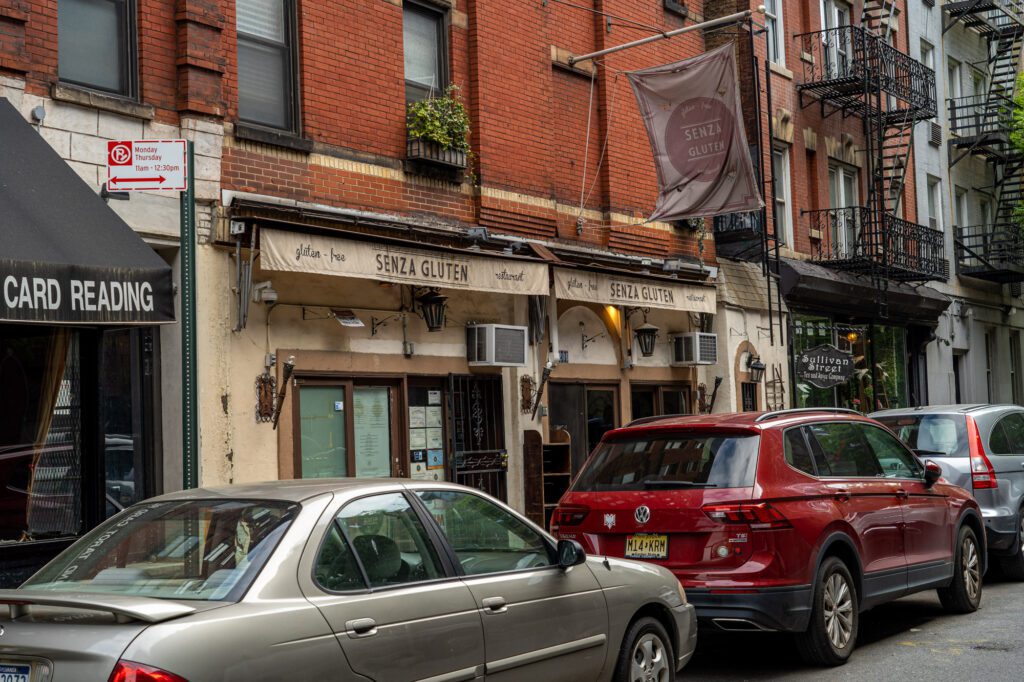 Interestingly, this dedicated gluten free Italian restaurant in New York City's Greenwich Village diverges a bit from the usual stories you hear from owners of famous gluten free restaurants, breweries, and bakeries.
Usually, the story goes something like "I (or someone I care about, like a daughter or spouse) was diagnosed with Celiac Disease, loved *insert food or drink item* before the diagnosis, and all the gluten free options sucked, so I made my own."
At Senza Gluten, which opened way back in 2014 at the beginning of the proliferation of gluten free options across the country (and world, really), the story is completely different.
The chef, Jemiko Solo, is Georgian – the country, not the state – and doesn't have Celiac Disease, or have a close family member who has Celiac Disease. Instead, he went and opened the first 100% gluten free Italian restaurant in New York City… out of the goodness of his heart?
Well, sort of. This is where the story gets a little similar to the usual one. He had friends with Celiac Disease who missed things like pasta and pizza, and started making gluten free versions for them.
He saw firsthand the stress and anxiety that can come with dining out when a crumb of gluten can make you sick for days, and set out to create a welcoming, safe space for Celiacs to dine out.
Here's an interview he did that's worth reading, if you have a few extra minutes.
We went here for Alysha's birthday a few years ago, and enjoyed it both as an experience, and also thought the food was good. This time we opted for the cafe – more on that in a second – but if you're looking for a nice, cozy Italian joint for a gluten free dinner, this should be at the top of your list.
Plus, order the tiramisu, which is divine!
Important note: They only take cash and American Express, so make sure to come prepared!
Senza Gluten Cafe & Bakery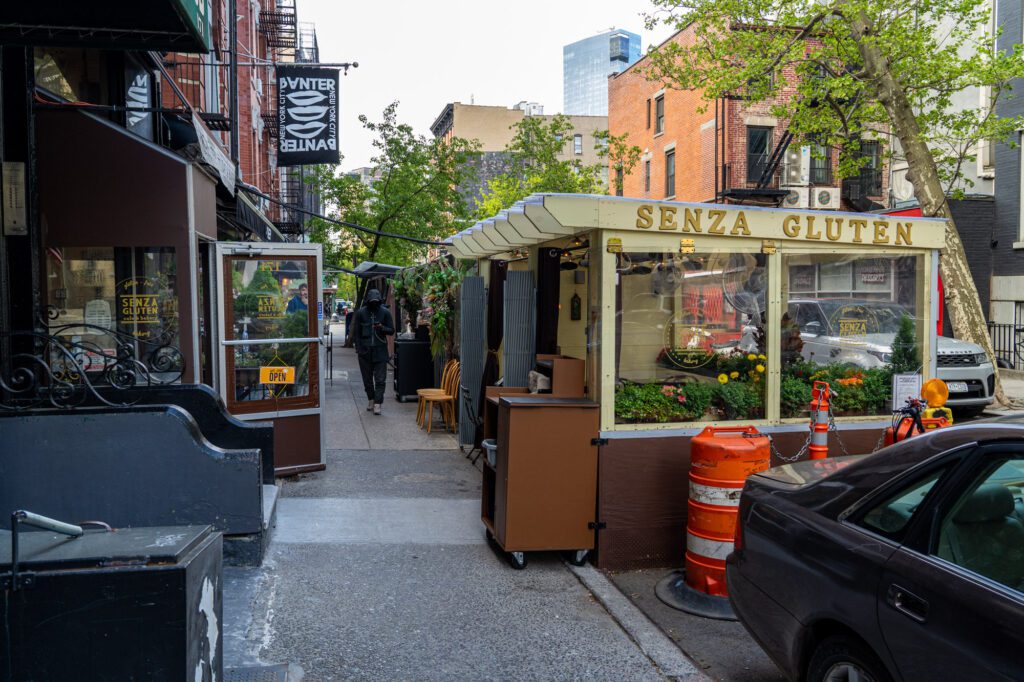 The owners of the famous 100% gluten free Italian joint that's just a block away, which opened in 2014, expanded their gluten free empire in Greenwich Village with a second location – Senza Gluten Cafe and Bakery. This one is more of a cafe, focused on baked goods rather than dinner, and has a robust lunch menu that uses its excellent breads as a base.
The standouts for us were, well, all the things we tried.
The flatbread pizza is excellent, though we'd avoid the vegetarian flatbread, not because it wasn't delicious, but because the veggies make it a little watery.
The "Chef's Favorite Cheese Bread" – a recommendation from Erin at Gluten Free Globetrotter – was, essentially, chowder in a bread bowl. Except, instead of being filled with chowder, it's filled with multiple different kinds of cheese. Like a cheese fondue bread bowl.
The owners are from Georgia (the country, not the state), and this is a specialty of theirs that they wanted to share. We can confirm that it is, in fact, as delicious (and rich) as it sounds.
We were so full by this point that my desire for baked goods had taken a serious hit, but we knew that the bomboloni – a filled Italian donut that we fell in love with in Italy – was basically a must-eat, so we got one to take home.
Important note: They only take cash and American Express, so make sure to come prepared!
Nami Nori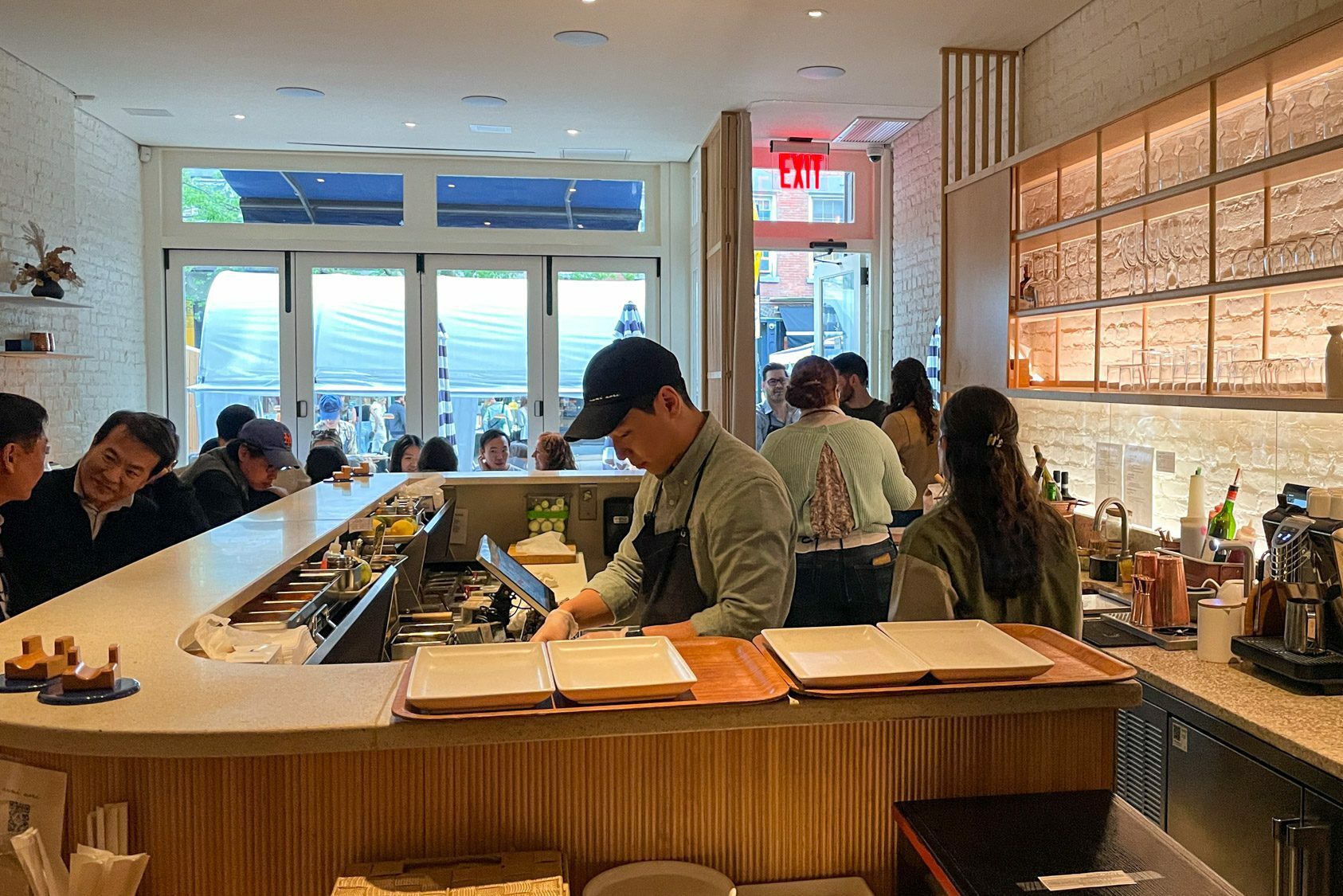 Some places are fun to eat at, and this is definitely one of those places. We ended up here after a personal recommendation from Erin over at Gluten Free Globetrotter, and Alysha took one look at the menu and said "we have to go!"
We got super lucky at Nami Nori, because we showed up at 7:00 pm without a reservation, got a table outside, and within five minutes there were exactly zero spaces left inside or outside. It's a popular spot, so if you want to eat here, make sure to make a reservation!
The owners here are veterans of high-end sushi joints, but the approach to sushi here is slightly different and less…stuffy. Plus, it's entirely gluten free. They put a lot of care and craft into their hand rolls, and the presentation is exquisite, if not a little complicated. They have instructions on how to remove them from the wrappers on each table, which we found funny.
Their rolls are served "open-style," which means that it's a little bit like a taco in that the roll is open on the top. Like I said, it's a fun way to eat sushi.
They have a range of Japanese-inspired appetizers and small plates to start – we liked the furikaké fries with the tomato tonkatsu – and the star of the show is the temaki. Temaki is a style of sushi that, at its most basic level, is a one serving hand roll rather than a bigger roll cut into smaller servings.
Rather than eating it with chopsticks, you pick it up and eat it like a taco (remember the golden roll of eating tacos here – you always bring your mouth to the taco, not the other way around).
We split both of their samplers – the signature and the vegan – though you can also customize the selection, if you're feeling adventurous. Far and away, our favorite was the coconut shrimp with green curry and lime. But the avo toast and the spicy sea bass weren't far behind.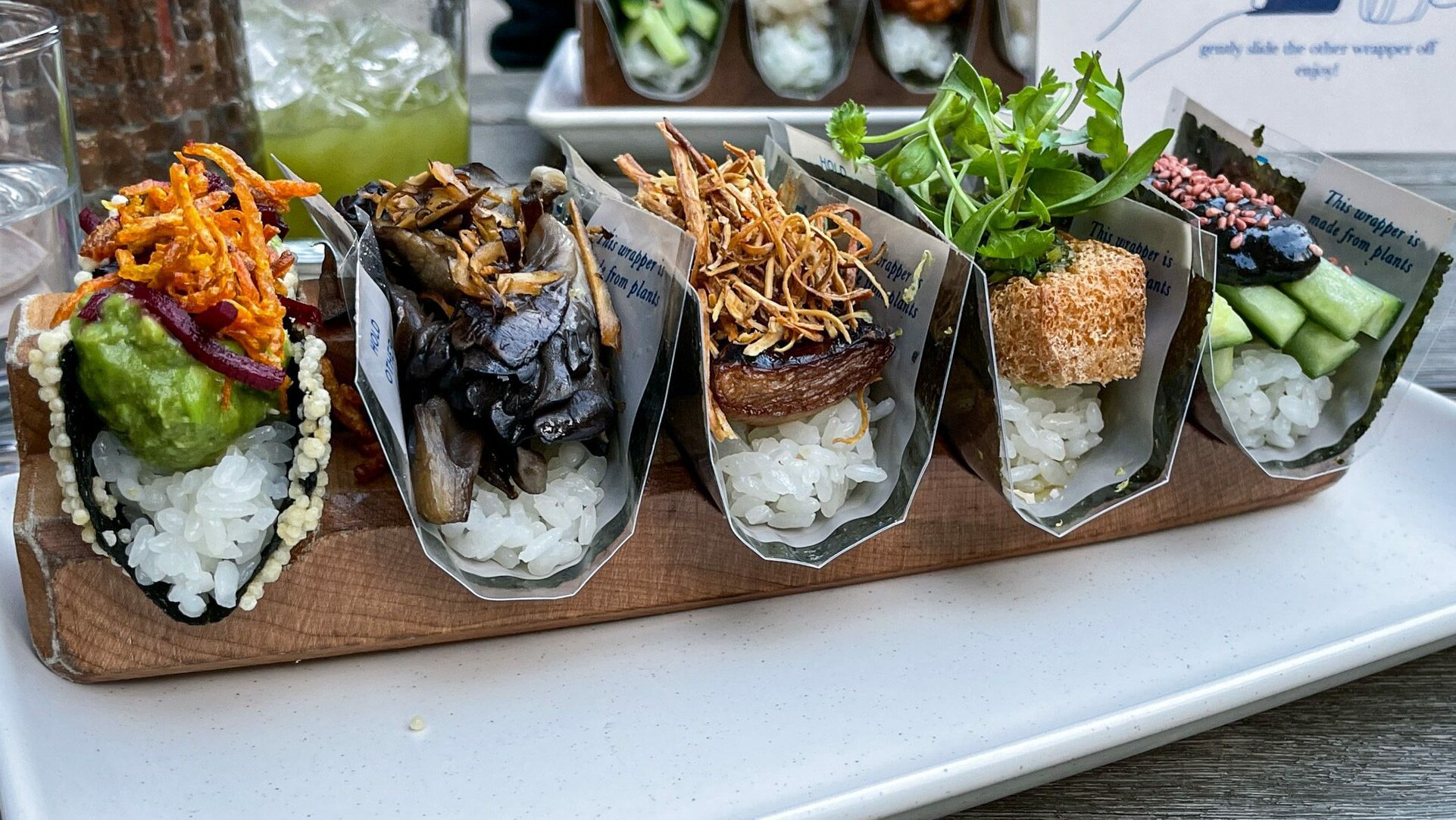 They have locations both in the West Village, which is where we ended up, and across the East River in Williamsburg. They are now open for lunch and dinner at both locations, too!
Little Chocolate Apothecary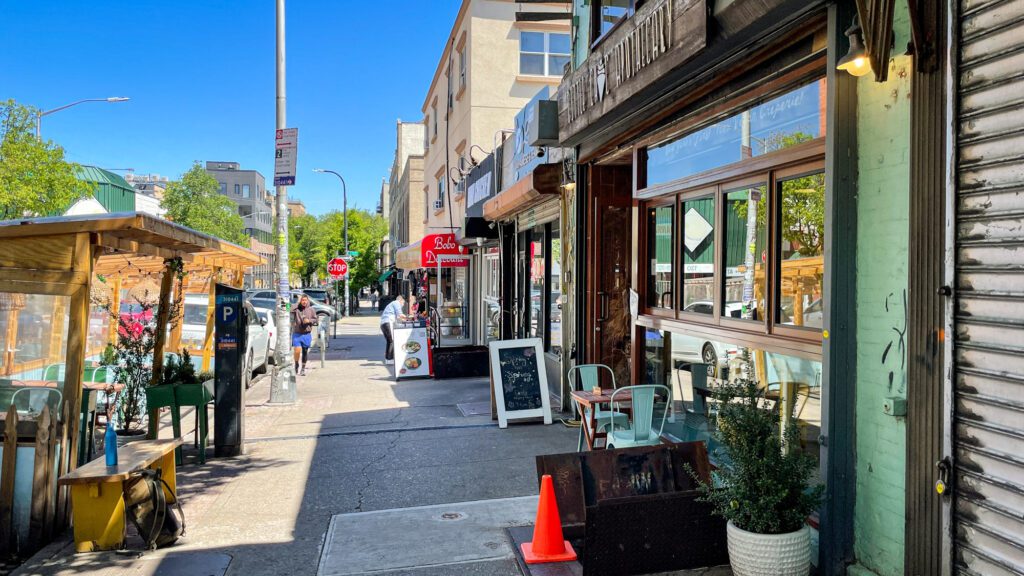 A dedicated gluten free spot in Brooklyn, let's get this out of the way first – this is not a chocolate shop. It is, however, a great place to get gluten free and vegan crepes in a dedicated gluten free facility.
I wasn't sure what to order – though I knew I wanted something savory – because everything looks delicious. I asked the staff and a couple of them conferred amongst themselves (I love that the majority of the communication was non-verbal, because there were only a handful of words spoken between them) and came back with a recommendation – the burrito crepe, provided I was hungry (spoiler: I'm always hungry).
This place is vegan, but I'd hardly have known that. The most interesting part of that crepe is the coconut bacon, which doesn't sound like it would work (and, to be honest, if you go into it expecting real bacon, it probably doesn't deliver) but I found that it added a nice sweetness that really made the dish more interesting.
The other crepes that we had our eyes on were the BBQ pulled jackfruit crepe and the pizza crepe, along with the sweet versions, which are more build-your-own style.
The other cool part here is that they have gluten free afternoon tea, which I only really learned about after visiting, otherwise Alysha would have certainly been into it.
Great happy hour, too, with 2-for-1 cider and gluten free beer (from Ghostfish from Seattle!).
Claro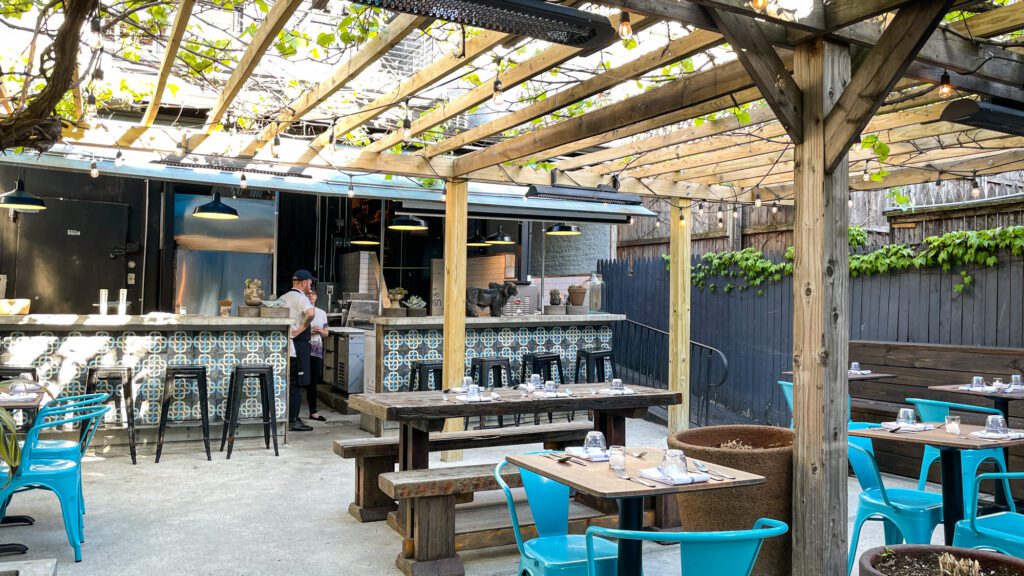 We love Claro. We've been twice, and while it's not the cheapest option on this list (it has a Michelin Star, if that tells you anything), it has been our favorite food experience on both of our last two trips.
Claro is over in Brooklyn, which can be a little bit of a trek from Manhattan, but we've done it twice and think it's definitely worth it.
The thing that makes Claro special is that everything – stone ground corn, cheese, and sausage included – is made in-house, which means they're able to control what goes into everything they serve. It's all gluten free!
The concept here is NYC-meets-Oaxaca, with more modern takes on traditional Oaxacan food (like the tlayuda, which is our favorite form of cooked masa). The chef – T.J. Steele – lived in Oaxaca, and built friendships and partnerships with local farmers, which is where he gets important ingredients like corn to this day.
They also have an extensive mezcal menu. If you've never tried mezcal OR you think mezcal is just smoke smoke smoke, I'd encourage you to ask your server to help you find one that's more fruity or floral, which I never believed was possible until our trips to Mexico City.
Their menu, at this point, is a tasting menu with several courses. As you might imagine, the menu is seasonal and changes throughout the year, so what we ate might be different from what you get to eat.
The highlights, for us, were the aguachile de fresas (strawberry aguachile) which was equal parts sweet and spicy. You could have put the juice in a cocktail glass, added some tequila (and probably removed the fish, I hope), and served it to me as a cocktail and I would have been a happy camper.
The mushroom memela and the garnachas were also great (in the second course), as were the churros with dulce de leche. Although, I will say that the chocolate mole cake is fantastic too, which we had on our previous visit.
They also have Ghostfish beer – my favorite gluten free beer brand in the country from my hometown of Seattle – if you're looking to try some good gluten free beer.
It's reservation-only, so you'll want to make your reservation as soon as you know your dates for visiting New York. They do dinner throughout the week and brunch on Friday, Saturday, and Sunday.
Brunch is slightly more affordable, if you're looking to try their food but the price tag of dinner made you a little nervous. Another good option if budget is a concern is to show up for drinks and snacks on their back patio, which is currently from 2:00-4:30 pm Monday through Thursday, and 3:30-4:30 pm Friday through Sunday.
Those days and hours might change, so make sure to check here to see their current offerings.
If you have a chance and the weather is cooperating, check out their excellent back patio!
Risotteria Melotti
Full disclosure, we haven't been to the Risotteria Melotti location in New York City, but we HAVE been to their location in the heart of Rome, which we enjoyed enough to recommend it here too.
We spent more than a month in Italy last year, and got intimately familiar with the different regional cuisines (particularly in Rome, Tuscany, Sicily, and Emilia-Romagna).
The focus here is on northern Italian cuisine, which features a lot more rice than other parts of Italy, primarily in the form of risotto. Their family business is actually growing rice in Verona – which is undoubtedly one of our favorite cities in all of Italy – so they know their rice.
The menu at their NYC location is equally expansive as the menu in Rome, and features their staple risotti and some antipasti and desserts.
It's all gluten free, and we'd recommend the gorgonzola risotto (and, if they have it, the pistachio risotto). Please, do not under any circumstances order a burger or steak here – go for the risotto!
Little Beet
Little Beet is a fast-casual restaurant with a bunch of locations in NYC (and in New Jersey and even one in Washington D.C.). It's kind of like Chipotle, but without the Mexican focus.
There are two ways to order – pick from one of their chef-designed bowls, or build your own bowl by choosing a base (rice, quinoa, greens), a protein (they have plenty of veggie options), and two vegetable sides. Plus, a sauce.
It's very healthy and wholesome (or at the very least, it feels like it is!), and I like this place as a quick and easy lunch option. They've got locations near Bryant Park and Battery Park, which are good if you're in New York City for work and need a quick option near the office / your meeting.
Important Note: They also have more of a table service location called Little Beet Table, which is NOT 100% gluten free (though it used to be at one point). Only the fast-casual versions are dedicated gluten free.
Inday
Inday is a fast-casual spot with a couple of locations in New York City mostly focused on Midtown and the Times Square area. Which makes sense, because they're very much a lunch spot that would be perfect if you work nearby.
We stopped by for an early dinner one night, and took it to nearby Bryant Park to eat it in the warm New York sun – the first spring-y day of the year!
Their menu is 100% free of gluten… except when it's not? They have a location in Lower Manhattan that serves two items (including naan) with gluten, so I'd completely avoid that location if you can.
For the price, we really enjoyed this place. We got the chicken tikka masala, which was great, and the beet salad was also a pleasant surprise (be careful – those serrano peppers will get you!).
Important caveat: While most of their locations are 100% gluten free, they DO serve items that contain gluten at their location in Lower Manhattan. Stick to the locations in Midtown to avoid any chance of cross-contact!
TAP NYC
If you've never had a tapioca crepe before, we'd implore you to go to TAP for lunch while you're in New York City.
It's a Brazilian specialty, made up of tapioca balls that, when cooked, meld together like glue and form a crepe, which is then stuffed with all sorts of fun goodies (avocado, cheese, smoked salmon, etc).
And if you've never experienced the delight that is Pão de Queijo – a Brazilian cheese bread made with tapioca and cheese – you should probably try that too while you're here.
Most of their tapioca crepes are savory – though they do have a couple of sweet versions – and they have a couple of locations around the city, including on the Upper West Side, Midtown, and the Lower East Side.
Dedicated Gluten Free Bakeries in New York City
We've already covered a couple cafe / bakery hybrids above – like Modern Bread and Bagel and Senza Gluten Cafe and Bakery – but here are even more gluten free bakeries in New York City to get your sugar fix in NYC!
Posh Pop Bakeshop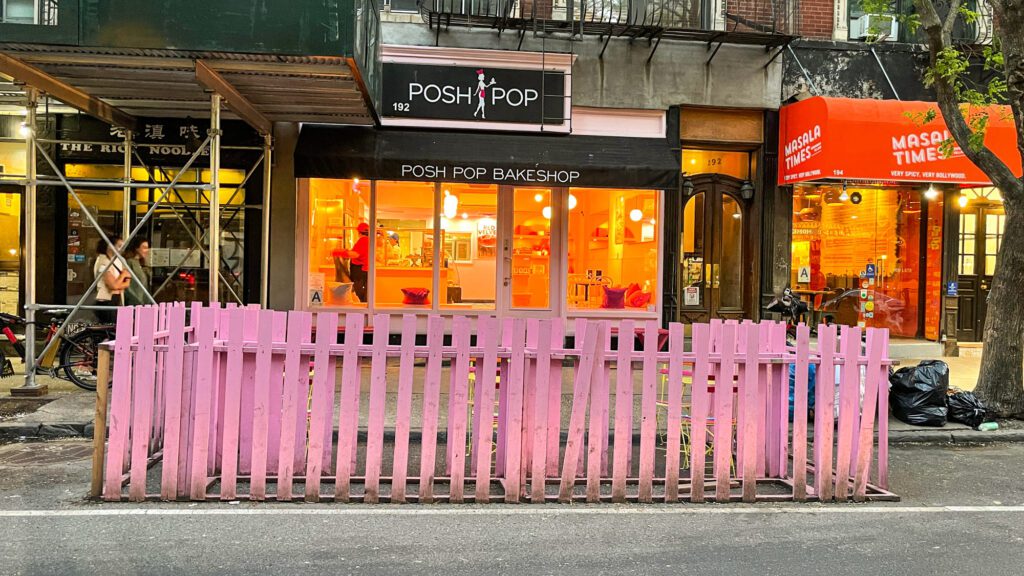 Posh Pop Bakeshop is a DREAM for Celiacs who have a sweet tooth. The selection here is staggering – cakes, cupcakes, cookies, cookie bars, and more. It's SO decadent.
This is the place to go for dessert, rather than the place to go for baked goods like bread and bagels. They're the queen of gluten free desserts, and they're always coming up with all sorts of fun new creations.We first stopped by for a post-dinner treat, and were overwhelmed by the number of choices. Usually, in that situation, my impulse is to over-order, but Alysha talked me off the ledge and we settled on a S'mores cookie bar, which is essentially a graham cracker base, a chewy chocolate chip cookie layer, and marshmallow cream on top.
YUM.
They had donuts too, which we have a particular proclivity for, so we also stopped by a second time to try them. For science, of course.
Unfortunately, the donuts weren't the highlight here. In addition to our proclivity for gluten free donuts, we have an equal and opposite annoyance with gluten free donuts that are really just gluten free cake in a donut shape. Which these definitely were.
If you're looking for the crunchy outside, fluffy inside kind of donut, this isn't it. However, I will say that I really enjoyed the chocolate frosted donut – the frosting was super chocolate-y, and the texture of the frosting is just about perfect.
By the Way Bakery
We had the pleasure of staying on the Upper East Side for part of our first trip, which happened to be just a few blocks away from By the Way Bakery.
What does the name mean? Something like this:
"This [baked good here] is SO GOOD!" "Glad you like it! By the way, it's gluten free!"
The owner and founder, Helene Godin, was a lawyer for 22 years before she decided she wanted to pursue a passion project and take on the challenge to make amazing gluten free baked goods.
With little to no experience in baking, she quit her job and dove into trying to make the best gluten free baked goods around – and I'd say she's well on her way to achieving that goal!
Their entire facility is gluten free, and they are recommended by the Celiac Disease Center at Columbia University.
By the Way makes a combination of smaller treats, like the "Amy Cake" in the picture below (basically a mini bundt cake with frosting and sprinkles), a variety of muffins, scones, cookies, and pastries, and larger cakes for special occasions. Like staying in on a Tuesday night.
They have four locations, with two in New York City on the Upper East Side and Upper West Side. This gluten free bakery in NYC is a must-stop for Celiacs exploring gluten free New York City.
Noglu
I've been to the Noglu in Paris, but I actually had no idea they had a location in New York City. I vividly remember Noglu being one of the first places abroad that reinforced the idea that gluten free food can be amazing.
While I was planning my first trip to NYC, I came across Noglu, and when I mapped it out, it happened to be just a few blocks away from where I was staying on the Upper East Side. SOLD!
It's a dedicated gluten free bakery in NYC's Upper East Side that makes everything from little apple tarts, to breads of all shapes and sizes, a range of cookies, muffins, cupcakes, scones, and… CROISSANTS.
Since being to NoGlu in Paris 6 years ago (2022 Update: we spent a full week in Paris last year – read about our gluten free escapades here), I don't actually think I've had a croissant. It's not that I don't like croissants, it's more that I never see them made gluten free.
Go for the croissants, stay for the cupcakes, tarts, baguettes, sandwiches, crepes, toast, and the rest of the gluten free goodies they have to offer. Well worth a trip out of the way – you can hit Noglu and By the Way in one (DELICIOUS) trip – they're a handful of blocks away from each other.
Head to this gluten free bakery for breakfast or lunch, then hit the nearby Met, take a stroll through Central Park, or just wander.
Erin Mckenna's Bakery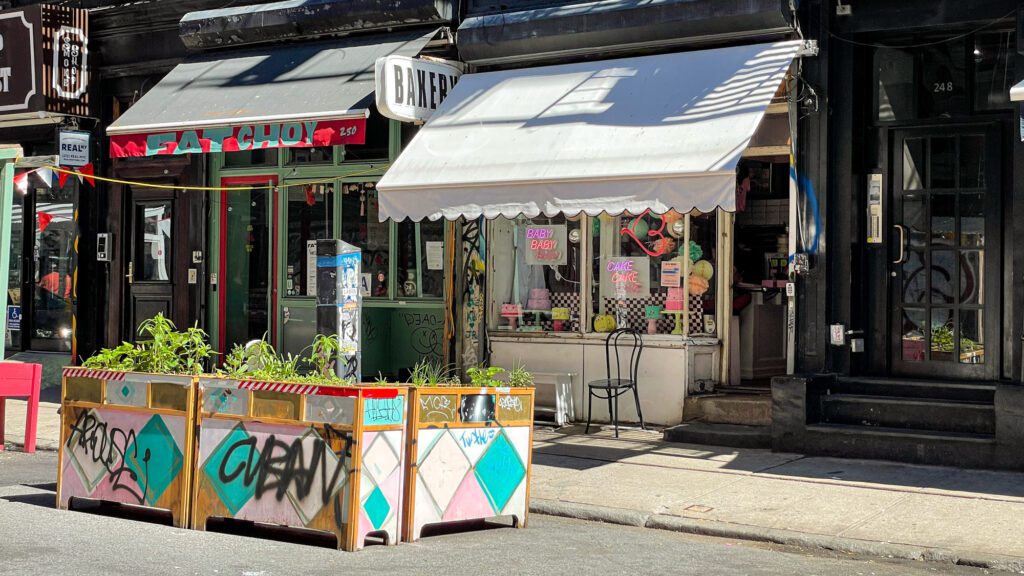 This place isn't our fave. We've been to their bakery in Los Angeles, and it wasn't particularly impressive.
They're one of the OG gluten free bakeries in New York City, but they use oats in a high percentage of their baked goods (sourced from Bob's Red Mill, which aren't purity protocol), which is a little complicated.
On top of that, when I stopped by on my way through the Lower East Side, their ingredient lists didn't match the actual ingredients. I had asked about whether the savory scones had oats in them, and the ingredients said no, but the baker who had just made them said "yes."
"We really need to update these lists" the person helping me said to her counterpart.
Yes, yes you do.
Anyway, the donuts are oat-free as of 2022, and I love donuts. So I went with a chocolate frosted donut. First, the texture was great. I don't think they actually fry their donuts (which means they're closer to cupcakes than real fried donuts, like Kane's in Boston), but this was about as good as it gets for baked donuts.
However, the flavor was a little off. It tasted like they accidentally used the lemon batter in this batch, and frosted it with chocolate. It was really odd, and I'm not sure it was purposeful.
I hate to say it, but I really think you can do better in New York City.
Other Celiac-Friendly Restaurants in New York City
Here are some other restaurants in New York City that, while not 100% gluten free, have protocols and processes in place to ensure that they can serve you a safe meal.
The usual caveat about eating out gluten free applies here – it's on you to communicate your needs to the server and restaurant, and your experience may be different than mine.
Let's be honest, things change all the time in kitchens, and service largely depends on the luck of the draw in terms of which server you end up with, which line cook is working that day, and things like that which are largely out of your control.
As always, eating out comes with an inherent risk. You need to clearly communicate your needs to staff everywhere, but it's especially important here. Make sure to:
Always let the server know that you have Celiac Disease and need to eat gluten free. Some people use "gluten allergy," which seems to work too, but I'm skeptical that places who don't even know what "Celiac" means have any processes to minimize cross contact anyway.
Ask them (very nicely) to help you figure out what is safe for you.
Confirm with the server when the food arrives that your meal is in fact gluten free.
Kesté Pizza & Vino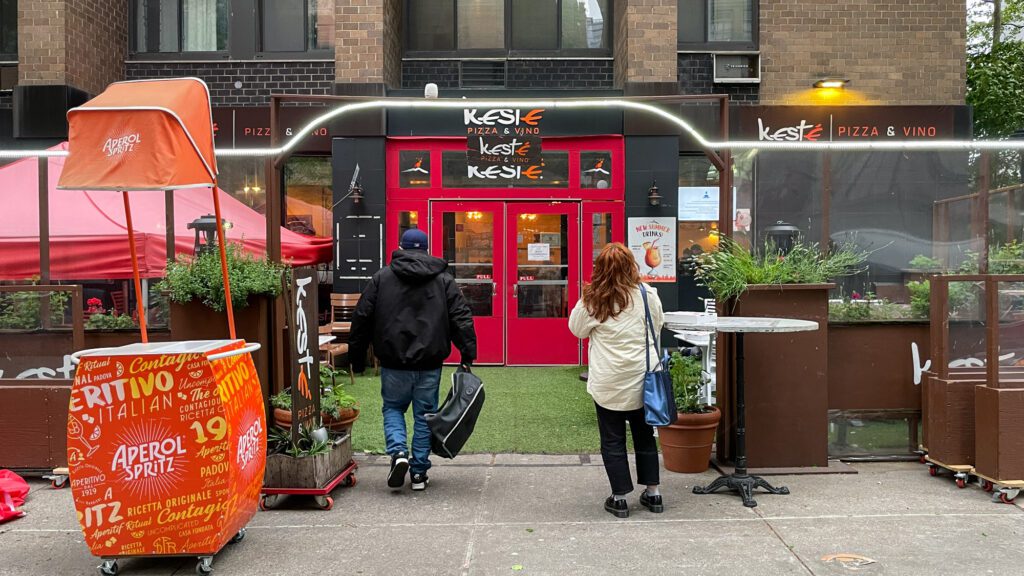 If you're looking for authentic Neapolitan-style gluten free pizza in New York City, this is the place to go. Roberto Caporuscio moved from Italy to the Northeast in the early 2000's, and opened Kesté in New York City in 2009 as a love letter to Naples.
Now, I actually stayed away from this place for a long time because I'm always skeptical of pizza places that do both gluten free and gluten full pizza. There's just no way to avoid cross-contact in a kitchen where flour is flying all over the place.
Unless, of course, you have an entirely separate kitchen and pizza oven.
Fast forward to me picking up the phone and calling the restaurant. Imagine my delight when I started asking the (very friendly and helpful) host all sorts of annoying questions like "do you have a dedicated gluten free pizza oven?" and "are they prepared in the same space?" and the answer was "we have an entirely separate kitchen area to prepare the gluten free pizzas".
Music to my ears!
Any pizza can be made gluten free, as can a handful of the antipasti. There is a $4 upcharge for gluten free pizza, which I think is worth it given the care that they take (remember: extra space and staff costs money!).
We loved their pizza, and the crust was bubbly like some of the pizzas we ate in Rome! Although not quite as bubbly as the gluten-full versions we saw other diners eating, but still better than 92% of other gluten free pizza crusts. It's not a cracker with toppings on it, that's for sure.
Where does the pizza at Kesté rank in our book?
Somewhere between the best gluten free pizzas we ate in Italy, and the two pizzas that are tied for best in our book – New Cascadia Traditional in Portland, and Little Nonna in Paris. In other words, they're near the top, and they're definitely worth a visit if you're craving pizza.
Important note: As soon as I saw this pizza, which is not a cracker-like crust, but is fluffy and bubbly, I knew they must use gluten free wheat starch. And I was correct. First of all, if you have a wheat allergy, you should not eat here. If you're a Celiac, it gets a little murkier. Theoretically, it's safe, but there are issues with testing. You can read about gluten free wheat starch here and here, and make a decision for yourself.
Cosme
I've now been to Cosme on two separate occasions, and both were fantastic experiences from the greeting at the front door, to devouring dessert (more on that in a second).
Cosme is an Enrique Olvera restaurant in the Flatiron District in New York City that serves up inventive food using a blend of local ingredients and traditional techniques from Mexico.
As of 2021, it was ranked the 22nd best restaurant in the world. So it's not a cheap place to eat by any means, but it is a great place to celebrate a special occasion in New York City.
The best food-related experience we've ever had was at Pujol, Chef Enrique Olvera's restaurant in Mexico City that consistently ranks inside the top 20 restaurants in the world (in 2021, it was sitting at number 9).
For Alysha's 30th birthday, we spent 4 days in Mexico City with Pujol as the food highlight. Everything was superb – from the food and drinks, to the service, to the ambiance. The best part? The majority of the menu is gluten free (though it changes regularly, so be sure to check!).
One of the things I loved about the experience is it forced me, and I'm sure countless others, to reconsider how I thought about Mexican food, which to me is the mark of a great artist.
"That's great, but what the heck does that have to do with Cosme?" is what you're probably asking right now.
Cosme is Chef Olvera's NYC outpost, serving up the same lovely inventive Mexican food that I remember from Pujol in Mexico City. This time, the entire menu is 100% gluten free (though some of the desserts are not), which makes it a great place for those of us with Celiac Disease to celebrate a special occasion in New York.
On my first visit, I was sans Alysha, and the highlights of the menu, at least for me, were the Cobia al pastor (fish with a delicious pineapple spread on the side to make tacos out of), and the Duck Carnitas with tortillas and a variety of salsas (perfect for sharing). The duck carnitas are a specialty, and are their signature dish.
The second time, I had made a reservation as soon as we knew we were heading to NYC, because I knew Alysha would love this place as much as I did. The second meal was equally tasty, and the tlayuda (a giant corn pizza, sort of) and the corn husk meringue were the highlights.
Especially the corn husk meringue, which is a mixture of textures and flavors unlike anything we've ever experienced – the sweet corn custard-ish topping is amazing.
While the entire menu was gluten free last time we were there, it does change and rotate with the seasons, so make sure you double check with the servers. Our server was more than happy to help, and knew exactly what I was asking as soon as I said "Celiac Disease."
Bistango
Bistango was the second restaurant on our list of three must-try gluten free restaurants in New York City.
While it's not a dedicated gluten free facility, they have a robust protocol for accommodating people with Celiac Disease – when I asked if the gluten free bread to start would be toasted, the waiter quickly let me know that they actually have a separate toaster for gluten free bread. I was flabbergasted.
The entire menu can be made gluten free.
We tried the flat bread, arancini (first time I've had gluten free arancini in… ever?) and gluten free butternut squash ravioli. All of it was fantastic, and I almost went back a second time later in the week, but wanted to make sure to try something new.
They have a location at the Kimberly Hotel, and it's a perfect spot for a romantic dinner with that special someone, or a casual get together with friends.
Friedman's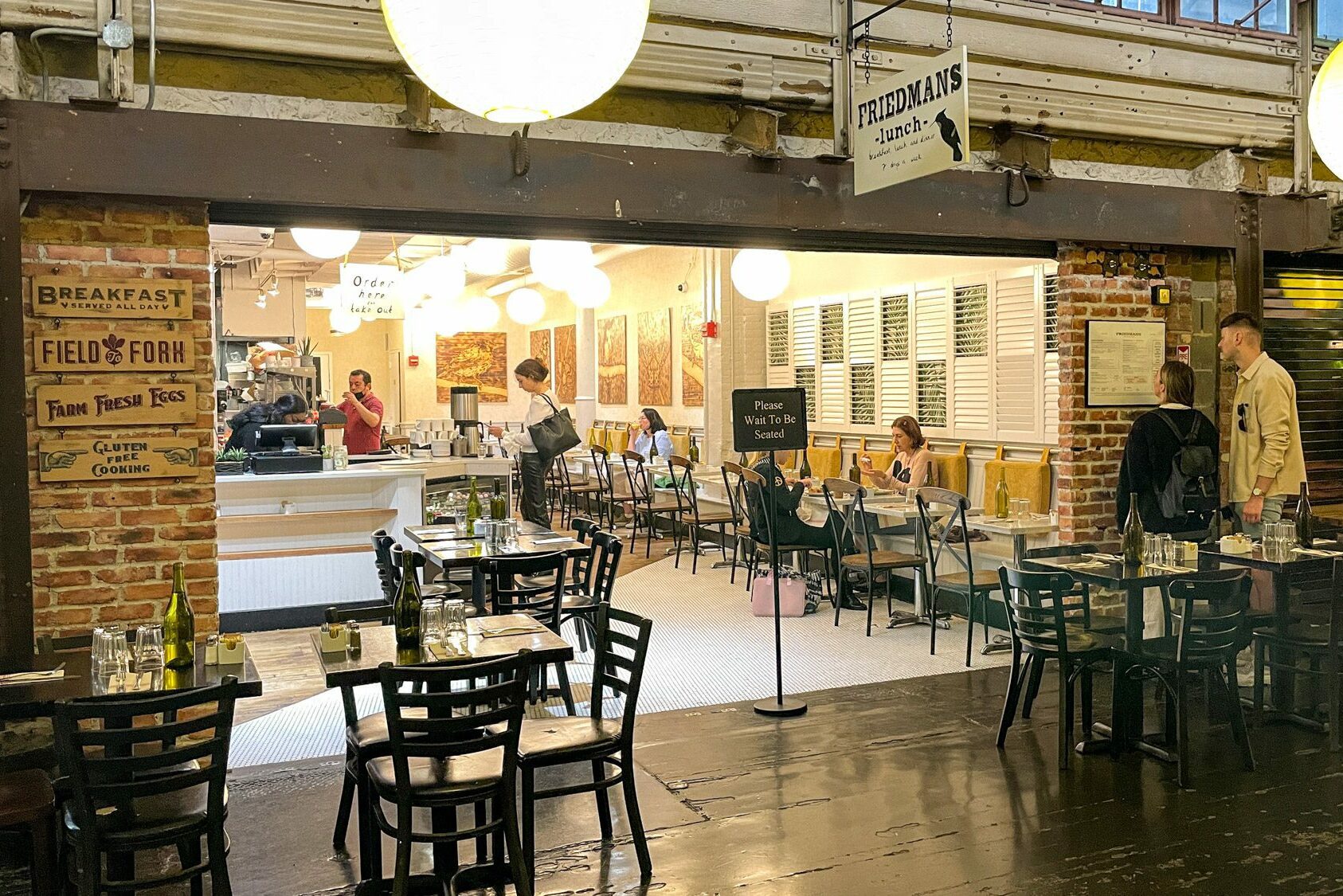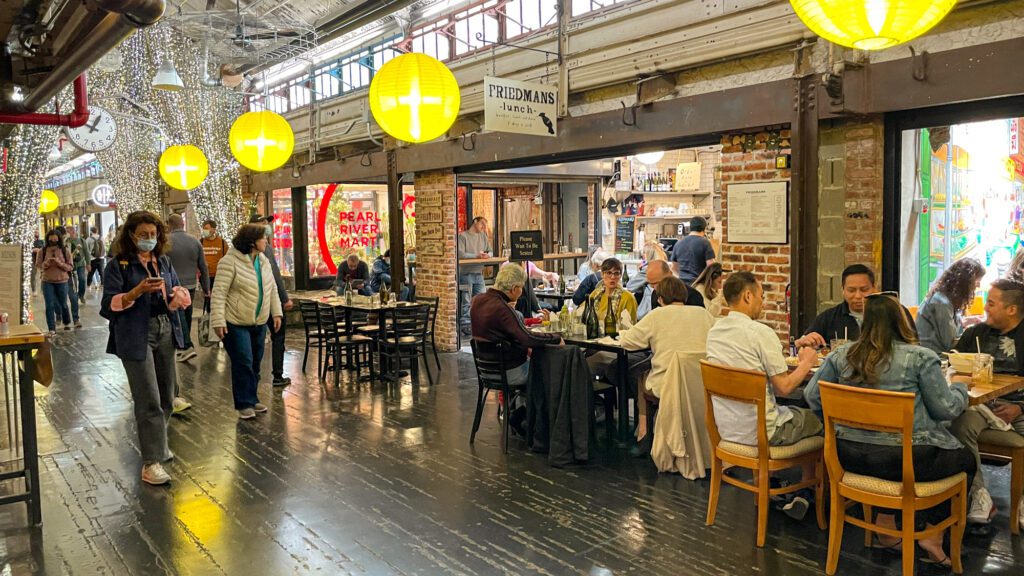 Where to start with Friedman's? They check all the boxes when it comes to restaurants with mixed kitchens serving Celiac-safe meals. It actually reminds me a lot of the way they do it in Italy at restaurants that are accredited by their Celiac Association.
When you sit down, the server will ask you if there are any allergies / if you need to eat gluten free, which is your invitation to advocate for yourself and ask questions. Then, when your food comes out, it will have a little toothpick in it that marks it gluten free (if it doesn't, make sure to double check and confirm with your server!).
In addition to those precautions, the food is really good. It's American food – which basically just means sandwiches and burgers, brunch items like pancakes and French toast, and the star of the show, chicken and waffles.
The best part? A huge portion of the menu is naturally gluten free (the pancakes, fried chicken, and waffles are all inherently gluten free), and the main thing to watch out for is bread, which they can make gluten free for a $2 upcharge.
They have nine different locations in New York City, with the original location at Chelsea Market being the most popular. There are a bunch of options in and around Midtown, and it's a great spot for a casual lunch or dinner.
Get the chicken and waffles or the pastrami sandwich!
Caracas Arepa Bar
If you've been following along on our travels over the past few years, there's one thing you definitely may have picked up on. We absolutely love arepas. Specifically, the Venezuelan kind, which are cut in half and stuffed full of delicious goodies (as opposed to Colombian-style, where the toppings are piled on top).
So when we discovered Caracas Arepa Bar over in Williamsburg, we were all in!
Unfortunately, one of our favorite parts about any arepa place is fried sweet plantains. THERE IS NO DEDICATED FRYER HERE, which means that you can't have said plantains (or anything else that comes out of the fryer).
Still, the thing I do appreciate about this place is that the menu is labeled clearly, and the items labeled gluten free are also free of cross-contact (or as free as they can be in a shared kitchen).
For example, all of the arepas that include fried sweet plantains are not labeled gluten free, which gives me confidence that they have some idea of what they're talking about.
They're in Williamsburg, where they have a nice little space with a lovely back patio. We were on a tour-de-Williamsburg-gluten-free-food, so we got it to-go and made a little picnic of it.
We really liked both arepas that we shared – the Los Muchachos, which is chorizo and cheese with spicy peppers, and the hot queen, which is pulled chicken with green sauce and avocado.
They also have fun cocktails with a focus on rum.
Even MORE Safe Gluten Free Restaurants in NYC
Here are EVEN MORE places to eat gluten free in NYC, but we didn't make it to these.
Bogota Latin Bistro: Arepas in Park Slope! They're focused on Latin American cuisine, with a lean towards Colombian flavors and techniques. They have great drinks too, and their menu is clearly labeled with what is gluten free. They have two dedicated gluten free fryers, which means fried sweet plantains are safe for Celiacs here! They do serve a bunch of non-gluten free things, like flour tortillas and flour empanadas, so you need to double and triple check with your server that everything is gluten free, and ask them to help you minimize cross-contact in the kitchen.
Palenque: More arepas! Only this time, they're Colombian-style, which means the toppings go on top, rather than inside the corn cake. They have arepas with various toppings, and bigger plates, including the bandeja paisa, a traditional platter of meats and sides from Medellín (an excellent part of any Colombia itinerary).
Coast and Valley: A cute little wine bar in Greenpoint with small bites and plates that are all gluten free. Their big focus is wines – specifically, wines from the west coast – and that's probably the biggest draw here. The food feels like it's meant to compliment the wine, rather than stand on its own as a dinner spot. If you're not into the wine, you probably should eat elsewhere.
Bar Verde: Everything at this Mexican restaurant in the East Village is 100% gluten and soy free and vegetarian (with some vegan options). We have our eyes on the tlayuda (essentially a big Mexican pizza) and the cauliflower al pastor tacos.
Address: Apt. 739 65237 Fahey Land, Farrellville, NV 80219-5379
Phone: +389 555.865.6819
Website: https://momadvicehub.com
Facebook: https://facebook.com/momadvicehubcom
Twitter: @momadvicehubcom
Copyright © 2023 | Design by Mama Knows Best