Empowering mothers with knowledge
Ahh, Detroit! Motorcity, Motown….. Gluten Free Heaven?! After spending years growing up and living in Michigan, I finally made it to Detroit (twice in the last month!). It's definitely a city that gets under your skin and keeps you wanting to come back. The huge variety of gluten free Detroit options may have had something to do with that!
Right now is such an exciting time in Detroit – the city is bursting with innovative new businesses and social enterprises. I want to encourage you to move past the Detroit you often see in the media, and give this city a chance. And if you are gluten free Detroit is one of the best cities in Michigan to visit… here are my picks for safe place to eat! (As always, scroll to the bottom of the post for a map).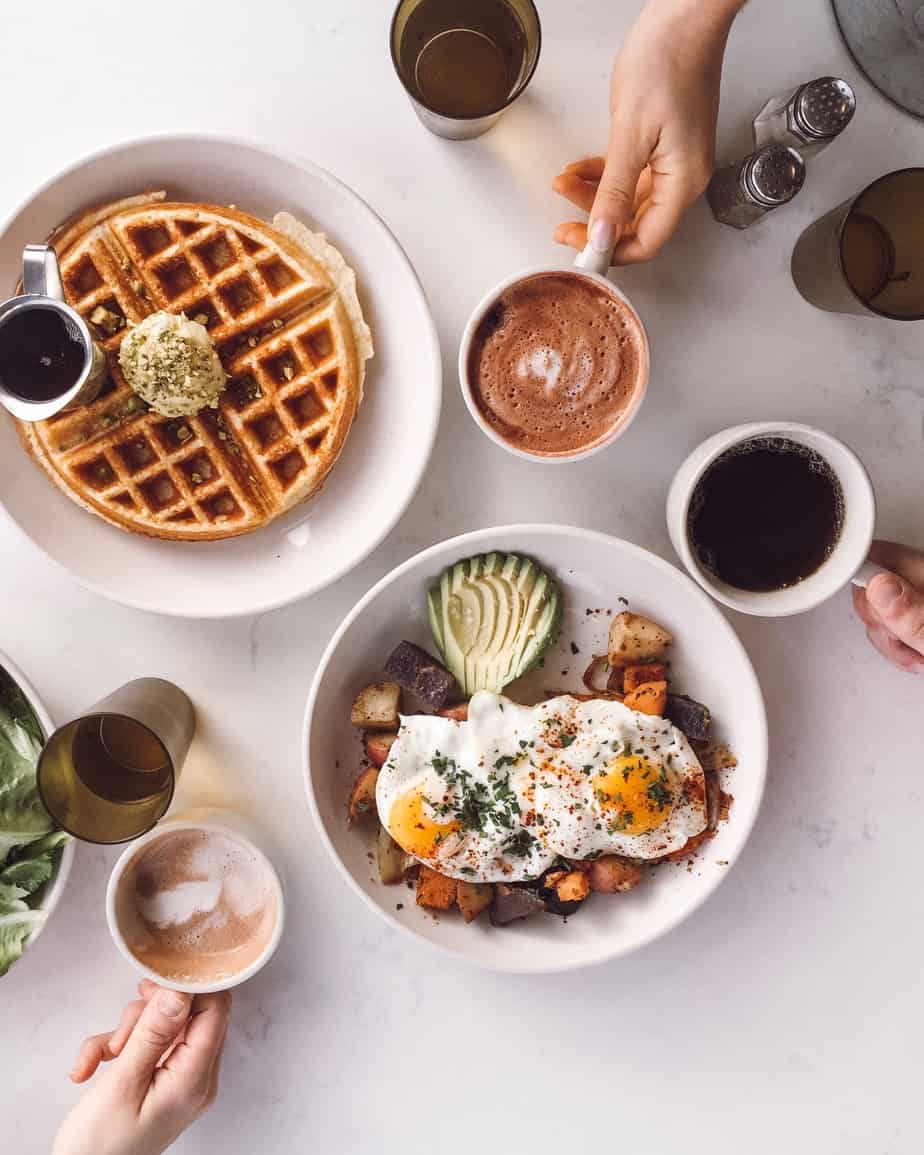 Where to stay for a gluten free Detroit trip
You all know that I believe where you stay can have a big impact on your trip, particularly for those of us with celiac, gluten intolerance, or other food allergies/restrictions. I always try to stay somewhere that has a refrigerator, kitchen area, or in-hotel restaurant (that has gluten free options, obviously!).
Airbnb is always a safe choice, and there are tons of cute Airbnbs in Detroit! You can use my code for $40 off your first booking! I stayed in an Airbnb in Detroit on my birthday weekend. It was so well-decorated and perfect for six of us. You can read more about our stay here.
However, this most recent visit Dan and I stayed at Trumbull & Porter, an artisan boutique hotel in Corktown. What a treat! We both loved this authentic Detroit hotel – so much so that I will be writing a separate blog post all about it! From a gluten free angle, though, Trumbull & Porter was lovely as we had an in-room refrigerator. It is also located walking distance from some must-visit gluten free restaurants you'll want to check out (FOLK, Slow's BBQ, Gold Cash Gold!). There is also the Red Dunn restaurant inside Trumbull & Porter, which we didn't get to check out on this visit, but has safe gluten free options.
Check out the best deals at Trumbull & Porter here…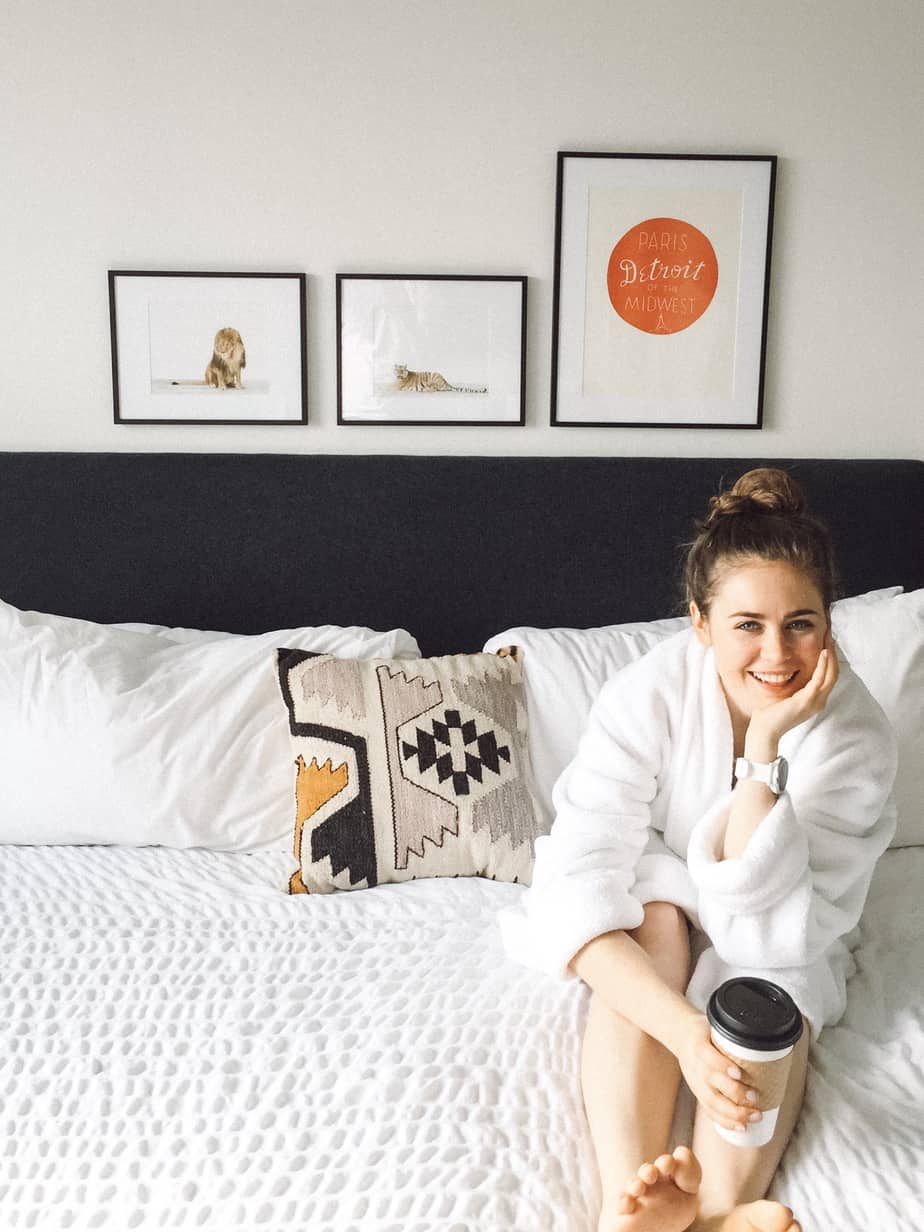 Best gluten free Detroit restaurants
Here are some of our favorite gluten free finds in Detroit! We've eaten at every one of the following restaurants and had a good experience and I had no reaction. I've also included information on each restaurant's cross-contamination procedures.
Hudson Cafe
Hudson Cafe is a must-visit gluten free Detroit breakfast/brunch destination…but it's also a well-loved establishment among the gluten-eaters too! Located downtown (perfect for a morning of exploring), be sure to visit Hudson Cafe early. It gets busy, particularly on the weekends after 10am (the first time I visited it was 11am on a Sunday and there was a 1.5 hour wait! We made sure to go back much earlier the next time). Hudson Cafe takes gluten free preparation very seriously and they have procedures in place to reduce cross-contamination, such as a separate kitchen prep area and separate pots and pans. Even better… they offer both gluten free pancakes and french toast! I ordered the Very Berry French Toast with cream cheese frosting and berry syrup… It was worth the hype (and the wait!).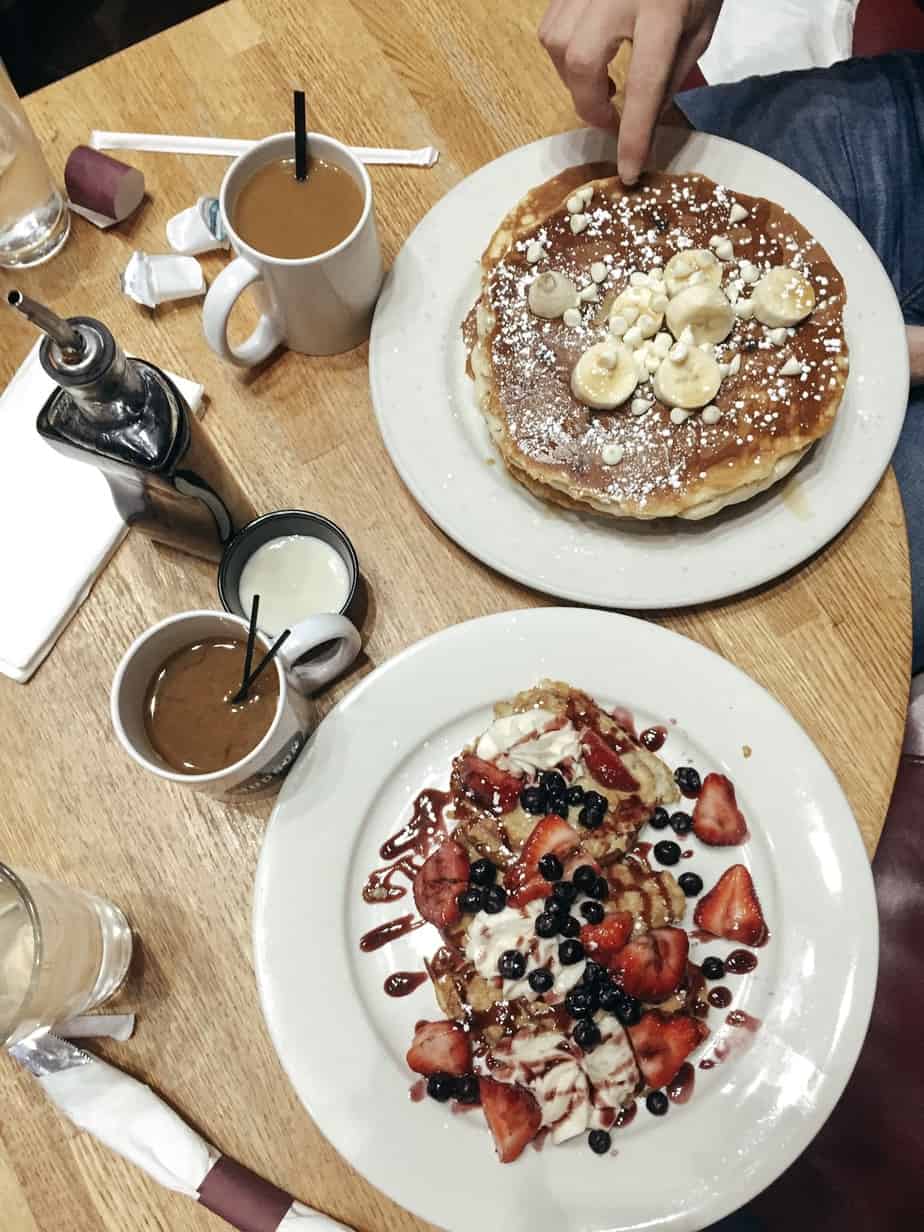 FOLK Detroit
We stopped by FOLK in Corktown on a snowy Monday morning. I'd heard really positive things about this small seasonal farm-to-table restaurant that recently opened (just three minutes walk down the street from our hotel Trumbull & Porter!). The clean aesthetic and modern vibes of FOLK are gorgeous, but secondary to the amount of safe gluten free options! The FOLK menu marks all gluten free items, but the star of the show is definitely the gluten free almond-flour waffles. The waffle maker is solely used on gluten free waffles so they are safe to eat. I got the classic gluten free waffle with pistachio citrus butter, Michigan maple syrup, and a rose milk latte…yum.
Related: 12 Best Coffee Shops in Grand Rapids, Michigan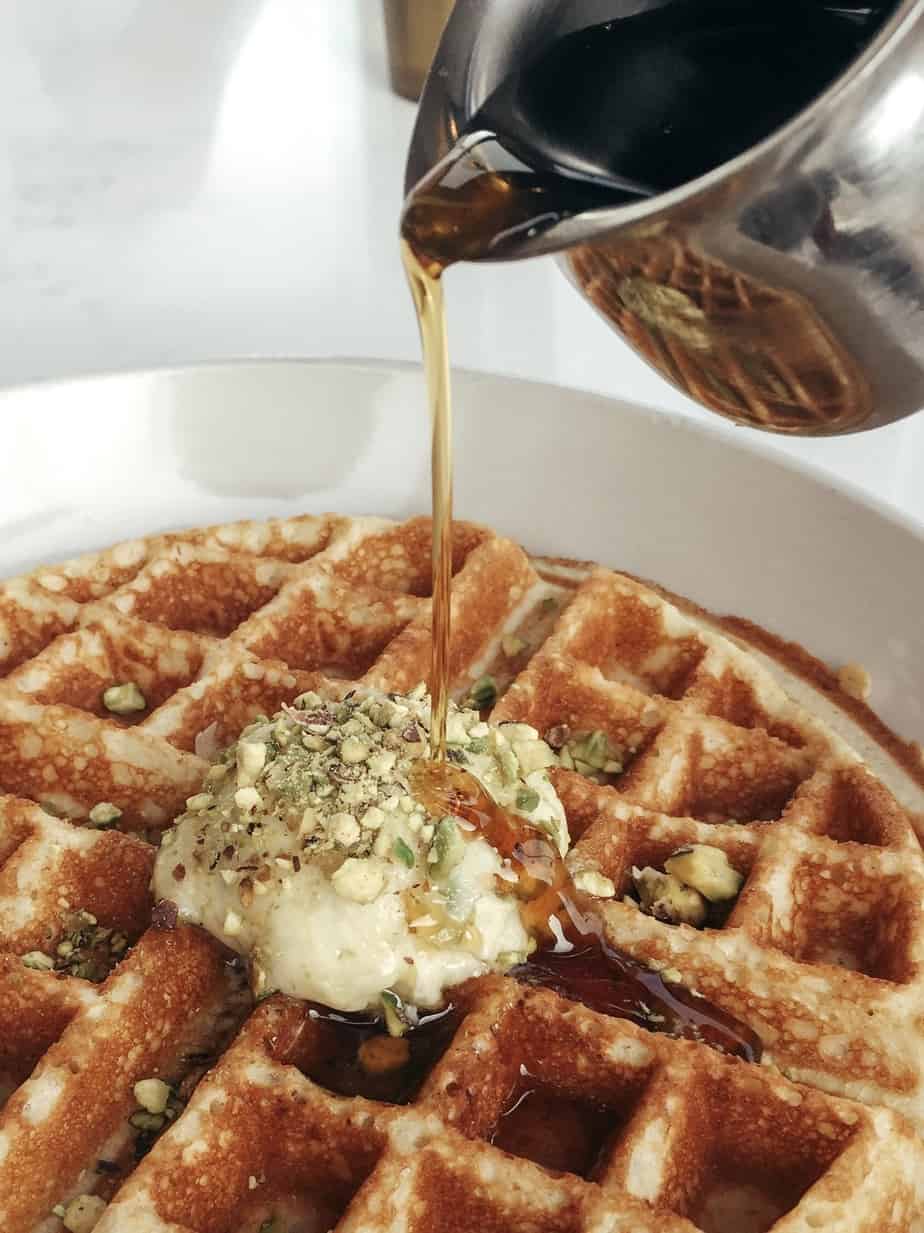 Gather
Gather is another farm-to-table, hipster vibe-y gluten free Detroit destination. To be honest, I love this atmosphere and have found that restaurants that consciously choose local foods are more likely to be aware of celiac and providing gluten free options. Gather is located a short walk from Eastern Market and offers Saturday brunch and daily dinners. There are also some really cute thrift shops next to Gather (which we had to hit up on my birthday weekend). As for the gluten free options… there are quite a few marked on the menu! No gluten free bread, pancakes, etc., but there are some super yummy and unique gluten free breakfast options such as chilaquiles (corn tortilla), steak and eggs, babaganoush/potato hash, pear crumble and more. There are also tons of vegan options. Gather has procedures in place to reduce cross contamination such as cleaning the pans thoroughly and switching gloves – be sure to tell your server when you order!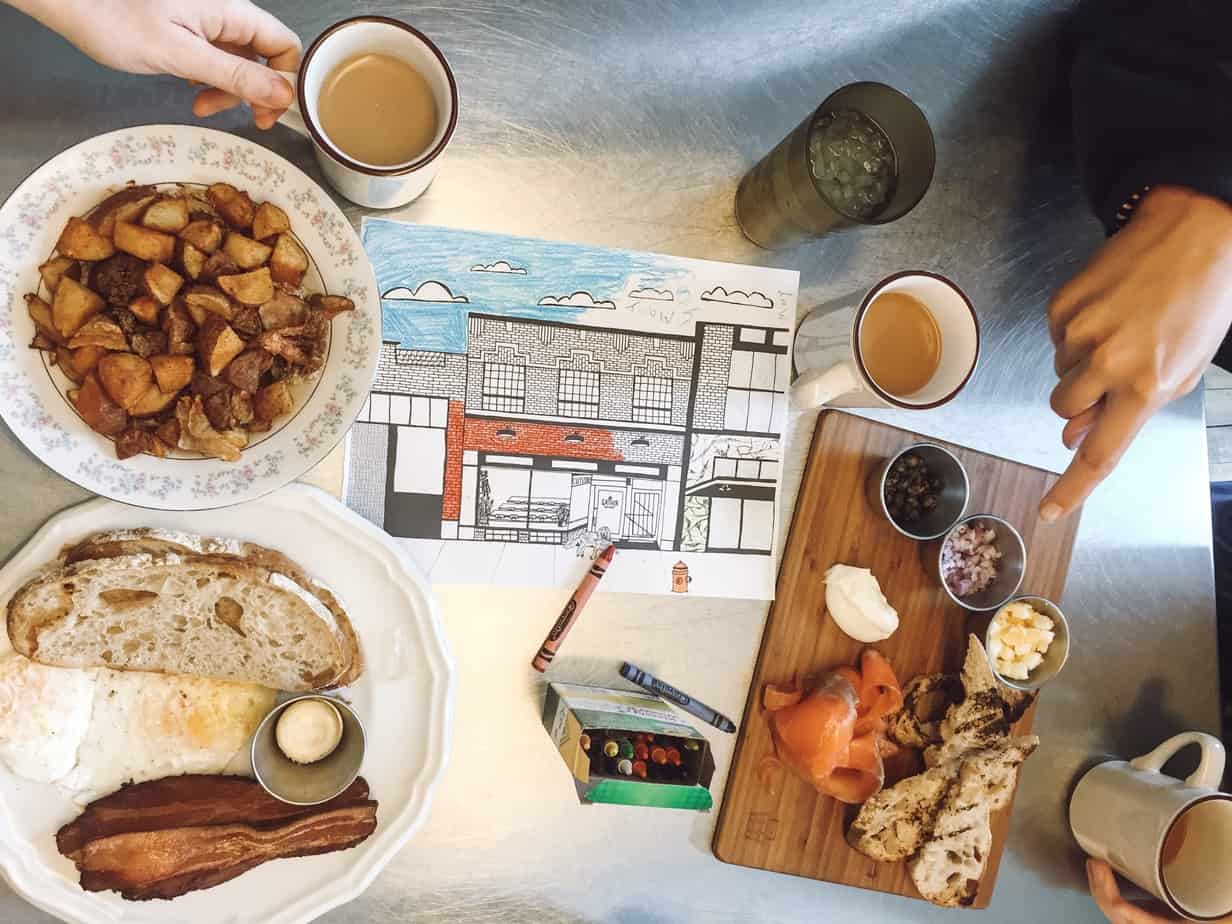 Seva
Seva is another gluten free Detroit restaurant that offers both brunch and lunch/dinner. It is also 100% vegetarian, but a place that even meat lovers will love, too! I love Seva and have eaten here safely multiple times (as well as in their Ann Arbor location). Seva has a lot of protocols in place to make their gluten free items safe for celiacs. For example, they use separate pans, separate kitchen space, and their fryer is 100% gluten free. There is a somewhat confusing note about this on the menu that I quizzed our waitress about, but she assured me the fryer is only used for gluten free items, although it does contain things like corn or soy and the note on the menu is for people who are sensitive to those. Additionally, they do not recommend ordering items cooked on the stovetop for celiacs, and instead make celiac food orders in pans. There is also a separate (and very extensive) gluten free menu. Can you tell how impressed I am by Seva?!? I love their crispy yam fries with spicy mayo (you NEED this in your life), and the pad thai. Seva also serves gluten free pancakes during brunch!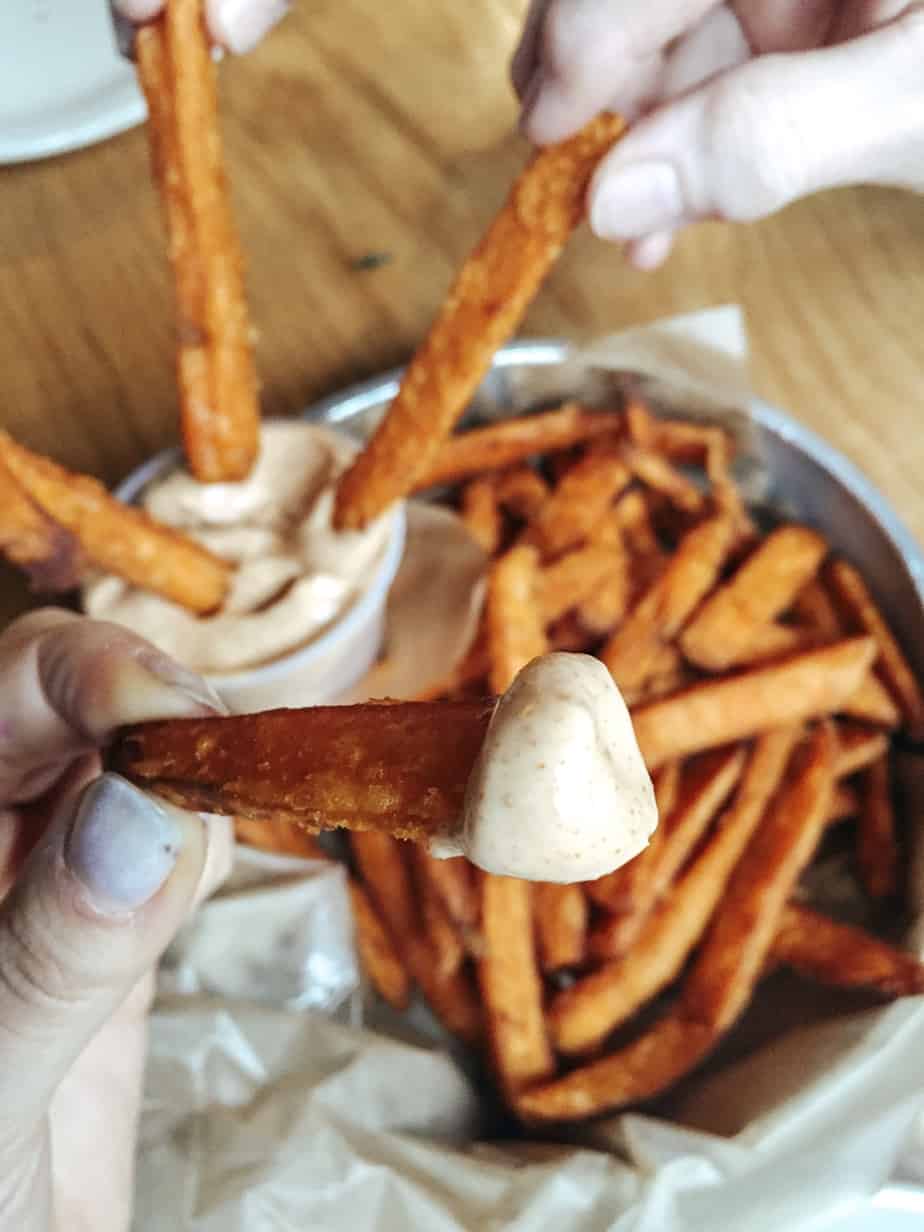 Buddy's Pizza
Did you know Detroit has its own unique style of pizza? Detroit style pizza is often voted one of the best regional pizza styles in the USA. It is made of a thick crust with a crispy outer layer and a soft inner layer, shaped in a rectangle. One of the absolute best places to grab Detroit style pizza (for gluten free and gluten-loving alike) is Buddy's Pizza. There are multiple Buddy's locations in the greater Detroit area. It's more of a home-spun institution than a franchise, though, I assure you! Buddy's Pizza has some great practices to reduce cross-contamination, such as cooking the pizza in a foil-lined pan, switching gloves, and cooking on the top shelf (as gluten free baked goods always should be!). I ordered the gluten free pizza with both 'old world' and new world pepperoni (under and over the cheese…. taking out the big guns). The first bite was absolute gluten free nirvana. The crust was perfectly crispy and chewy, the pepperoni spicy and flavorful, and the pizza the perfect size. I'm drooling a bit just thinking about it… I've had some pretty world-class gluten free pizzas in my time and Buddy's is firmly in my top three! I'm pretty sure I need to go on another Buddy's Pizza field trip soon!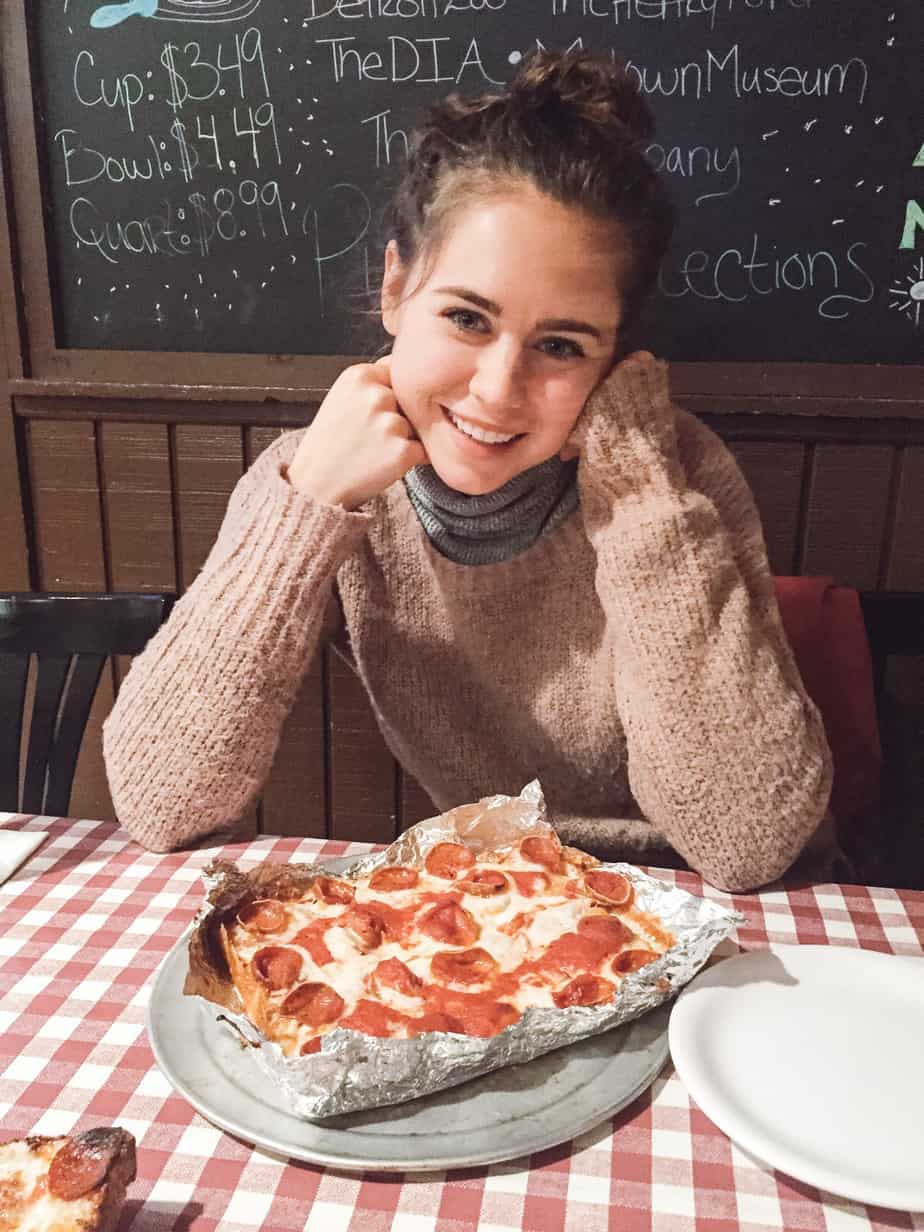 Slow's BBQ
Speaking of Detroit foodie institutions, any visit to Detroit should include a trip to Slow's BBQ in Corktown. This destination BBQ restaurant is said to have begun the revitalization of the Corktown neighborhood. I was a little nervous to visit Slow's based on some mixed reviews on the Find Me Gluten Free website. It sounds like some people have had incredible experiences at Slow's and other people haven't. Well, I decided to take a chance, particularly because Dan was with me and he loves BBQ. I made sure to cross-examine our waitress about gluten free options. Gluten free items are marked on the menu, and there are lots of gluten free beers and some ciders on the menu as well. Most of the meats are gluten free (although they don't have gluten free bread or buns), and some of the sides are, too. All of the sauces are gluten free but one. I ordered the pulled pork and a side of mashed sweet potatoes. The pork was tender and flavorful and I didn't have any reaction. Overall we had a great experience at Slow's BBQ but I would encourage you (as always) to question your server and ask to see the cook if you'd like clarification on gluten free prep.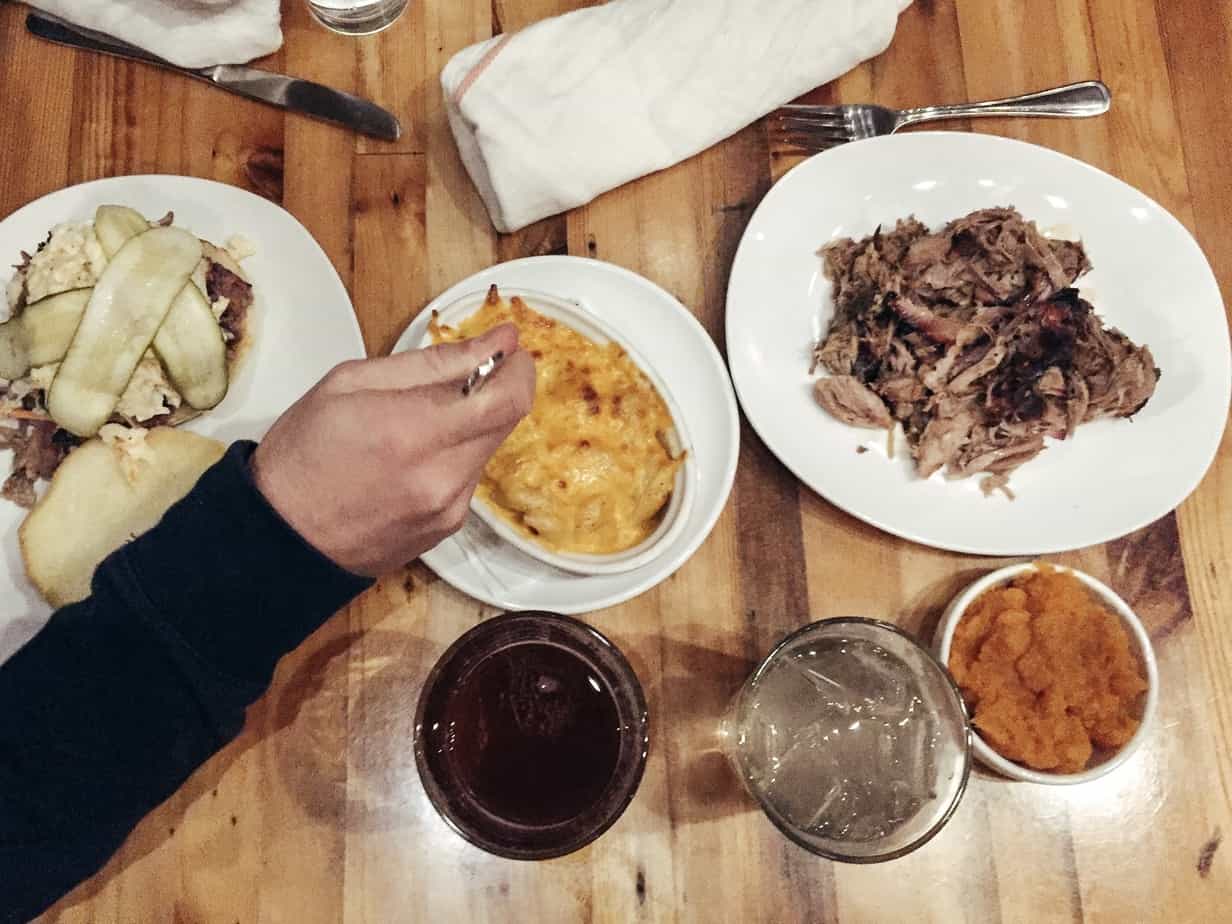 Pie-Sci
Quoting some (very wholesome) graffiti in its bathroom, I would describe Pie-Sci as 'hipster pizza.' Definitely the edgy, new-Detroit scene that can complement your more iconic Detroit-style Buddy's pizza. Why not visit both? There's never such a thing as too much gluten free pizza, right?! Pie-Sci is unique in both its decor and its approach to pizza. The perimeter of the room is lined in hundreds of test tubes and erlenmeyer flasks – decorations which mimic the experimental approach that Pie-Sci takes to pizza. The menu is divided into pizza elementary, pizza high, and university of pizza… each section with increasingly weird (and wonderful) flavor combinations. The gluten free crusts are sourced externally to reduce cross contamination, and cooked in separate pans. It is $3 extra for gluten free pizza (the unfortunate celiac tax), but it's worth it in my opinion! You can also pay extra for vegan cheese. I ordered the 'Fig Lebowski' which featured bacon, caramelized onion, figs, and honey drizzle. YUM.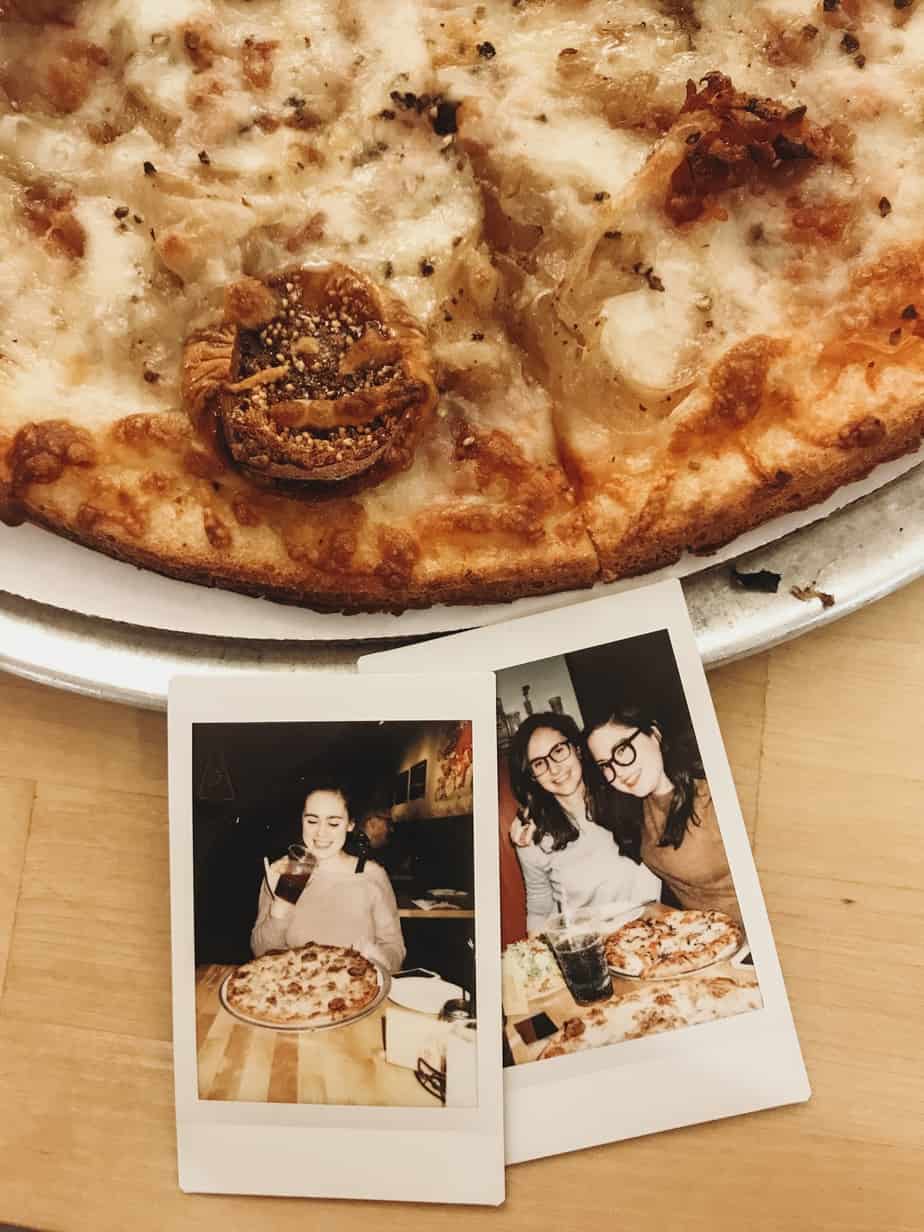 Other gluten free Detroit restaurants
Of course there are many more gluten free Detroit restaurants waiting to be discovered. What I love about this city is that it is changing and evolving, with new restaurants and businesses popping up all the time. Bearing that in mind, here are some restaurants that are on my list for next time. I cannot recommend any of these following restaurants based on my own experience, or ensure safe procedures at any of them. However, based on online reviews I think these are the ones that are worth looking into. I will update this post as and when I visit more gluten free Detroit restaurants!
Gold Cash Gold – Ensured me via Facebook message that they have procedures to reduce cross contamination
Renee's Pizzeria – 100% gluten free pizzeria in Troy outside Detroit
Street Beet – A vegan mobile business that has various gluten free pop ups such as gluten free donuts!
Mudgie's Deli – A deli/wine bar in Corktown that has gluten free bread for sandwiches. I've read very mixed reviews.
Parks and Rec Diner
Rose's Fine Food
Red Dunn – Inside the Trumbull & Porter hotel in Corktown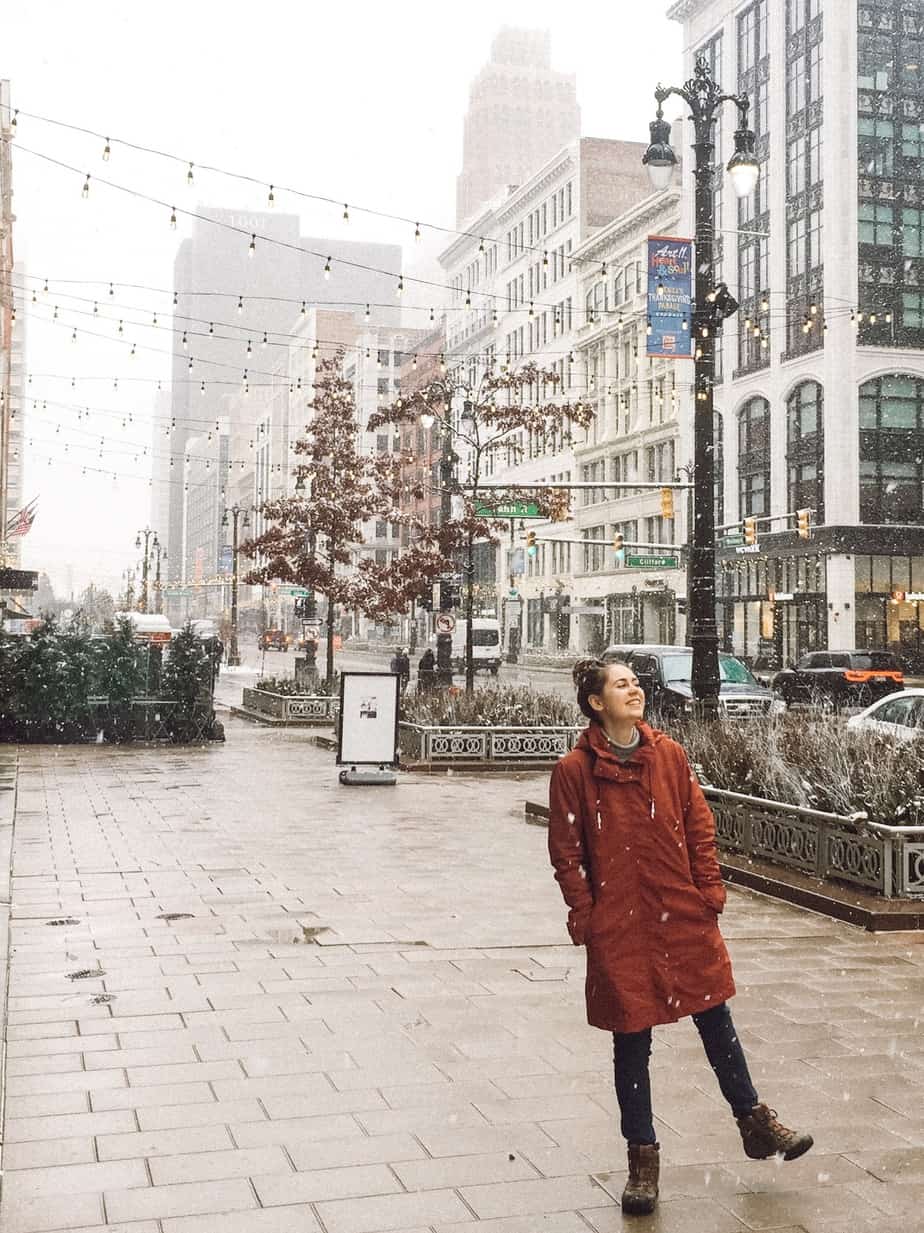 Gluten free Detroit map
Use this free Google My Map on your trip to Detroit. I've marked all gluten free Detroit restaurants mentioned in this post, plus some cool destinations, museums, coffee shops, and more!
Happy (gluten free) eating! And stay tuned over the coming weeks for some more posts about our time in Detroit.
Sarah xx
Pin it for later…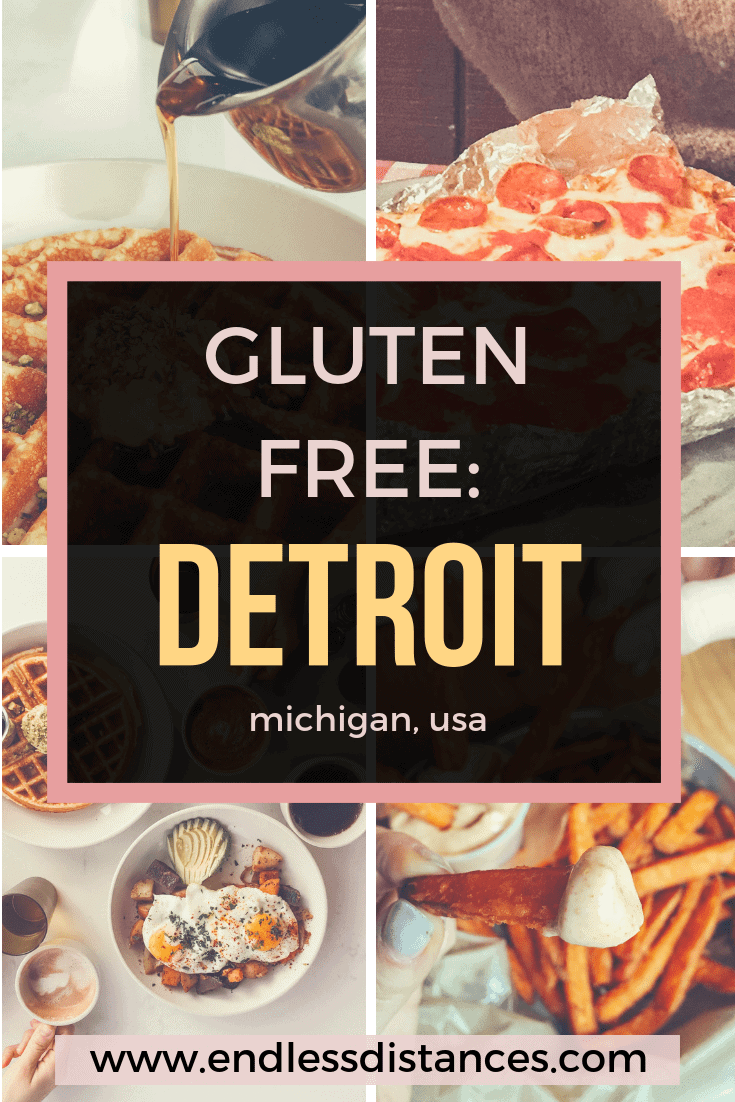 *This post may contain affiliate links. If you click on one of these links I may make a small commission, at no extra charge to you.
*We were hosted in Detroit by Visit Detroit. I have combined my Detroit eating experiences from that trip and from my personal trips to inform this post. We paid for our meals at all restaurants independently, apart from FOLK where we were hosted by Visit Detroit. All opinions are my own and I would never share a restaurant I did not feel comfortable recommending to other people who are celiac/gluten free.
*This post is now available as an app! You can download it here on GPS My City.
Address: Apt. 739 65237 Fahey Land, Farrellville, NV 80219-5379
Phone: +389 555.865.6819
Website: https://momadvicehub.com
Facebook: https://facebook.com/momadvicehubcom
Twitter: @momadvicehubcom
Copyright © 2023 | Design by Mama Knows Best