Empowering mothers with knowledge
I, Matt, found myself in Philadelphia as part of my first trip to the east coast outside of NYC, and was unsure of just what kind of gluten free scene awaited me in Philly. Would it be stellar, like the incredible gluten free scene in New York City? Or underwhelming, like I found eating gluten free in Boston to be?
The answer is somewhere in the middle. It's definitely more varied and interesting than Boston, but nowhere near the level of New York City. Which isn't surprising, because Philadelphia is a relatively small city, comparatively.
In Philadelphia, you'll be able to indulge in gluten free corn dogs and funnel cakes, freshly fried gluten free donuts, and gluten free tacos and churros. Plus, a 100% gluten free AND vegan restaurant.
In this guide, I'll take you through the best places to eat gluten free in Philadelphia – including gluten free restaurants and bakeries. Every single place featured in this guide is 100% gluten free (with the exception of one place that uses flour tortillas only for a specific dish for lunch, and they're kept separate in the kitchen).
Ultimately, this guide is intended to help you discover some new gluten free restaurants in Philadelphia to add to your list so that you can eat safely and deliciously while you're in town.
PS: Planning a trip to Philly? We've got some other super detailed travel guides you might find useful. Read our guide to where to stay in Philadelphia to find the right place to stay for your trip, and don't miss our take on exactly how to plan an amazing Philadelphia itinerary.
Disclaimer: Some of the links in this post, like hotel links, are affiliate links, meaning at no additional cost to you, we make a little bit of money if you click through and book. That being said, we would never recommend something to you that we don't stand behind 100%.
Gluten Free Philadelphia: Gluten Restaurants + Bakeries in Philly
Let's get right into the best places to eat gluten free in Philadelphia. I have Celiac Disease, so cross-contact matters to me, and I do everything in my power to avoid even a crumb of gluten.
With things constantly changing, we do our best to keep these guides up to date. However, it's nearly impossible to check on every single restaurant at any given time, which is why we need YOUR help!
Have feedback – like a place that no longer has a dedicated gluten free fryer, or a new gluten free bakery that popped up? We'd love to hear from you! Leave a comment below and we'll make sure to make updates.
An important note: This is not a list of literally every single place that could potentially serve you a gluten free meal in Philadelphia. There are probably places I missed, and that's okay! Instead, these are the places that I'm confident have processes and protocols in place to serve you a safe gluten free meal every time. There are a couple of popular spots – at least according to Find Me Gluten Free – that I reached out to, and was not confident in their answers to my questions for one reason or another. As a result, you won't find them on the list below!
Dedicated Gluten Free Restaurants in Philadelphia
Here are the dedicated gluten free restaurants in Philadelphia, which means that the entire kitchen is gluten free and the risk of cross-contact with gluten is relatively low. Still, you should make sure to confirm that your food is gluten free, just in case! Usually, my "everything is still 100% gluten free, right?" is met with a smile and a "yep! Everything!"
Fox & Son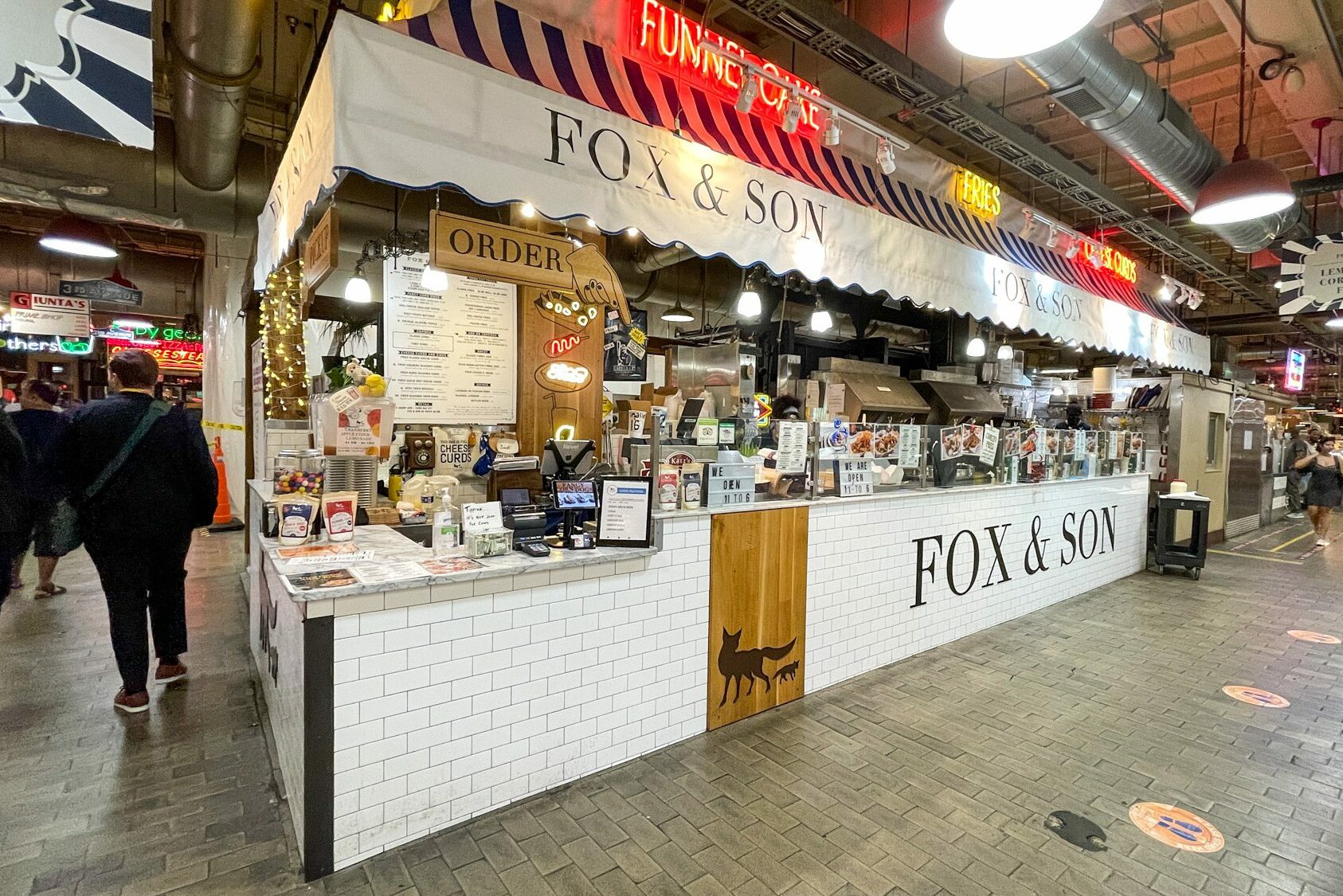 I mean, gluten free "fair food" is the best, is it not? Fox & Son is a great, dedicated gluten free option at Reading Terminal Market. They serve corn dogs, loaded fries, and funnel cake. ALL GLUTEN FREE. Keep in mind that they're more of a lunch spot, because they close at 6:00 pm.
When was the last time you had a gluten free corn dog? For me, it was at Honey Butter Country Fare in Portland, Oregon, but before that? It had been long enough that I can't even remember the time before that.
I stopped by after the lunch rush on a weekday, and while the market was still buzzing, I was one of only a few people in line to order (I've seen pictures of long, long lines on weekends, so be prepared!).
I got the sweet potato chorizo corn dog and the funnel cake topped with cinnamon sugar and, to be honest, I'd probably just get the plain corn dog next time. The corn dog was fantastic, but I'm not sure the toppings really added anything to it for me.
The funnel cake, as you might imagine, was incredible. Warm, fluffy, and tasty.
I enjoyed the corn dogs so much, I grabbed another one to have alongside my cider at Hale & True Cider on my last night in Philly.
The two things I didn't get a chance to try because I was eating solo and didn't have Alysha to help me, were the loaded fries (they have a wide variety of toppings for them) and the fried cheese curds (again, various seasoning options here).
I think that this is a must-visit for gluten free foodies in Philadelphia!
Real Food Eatery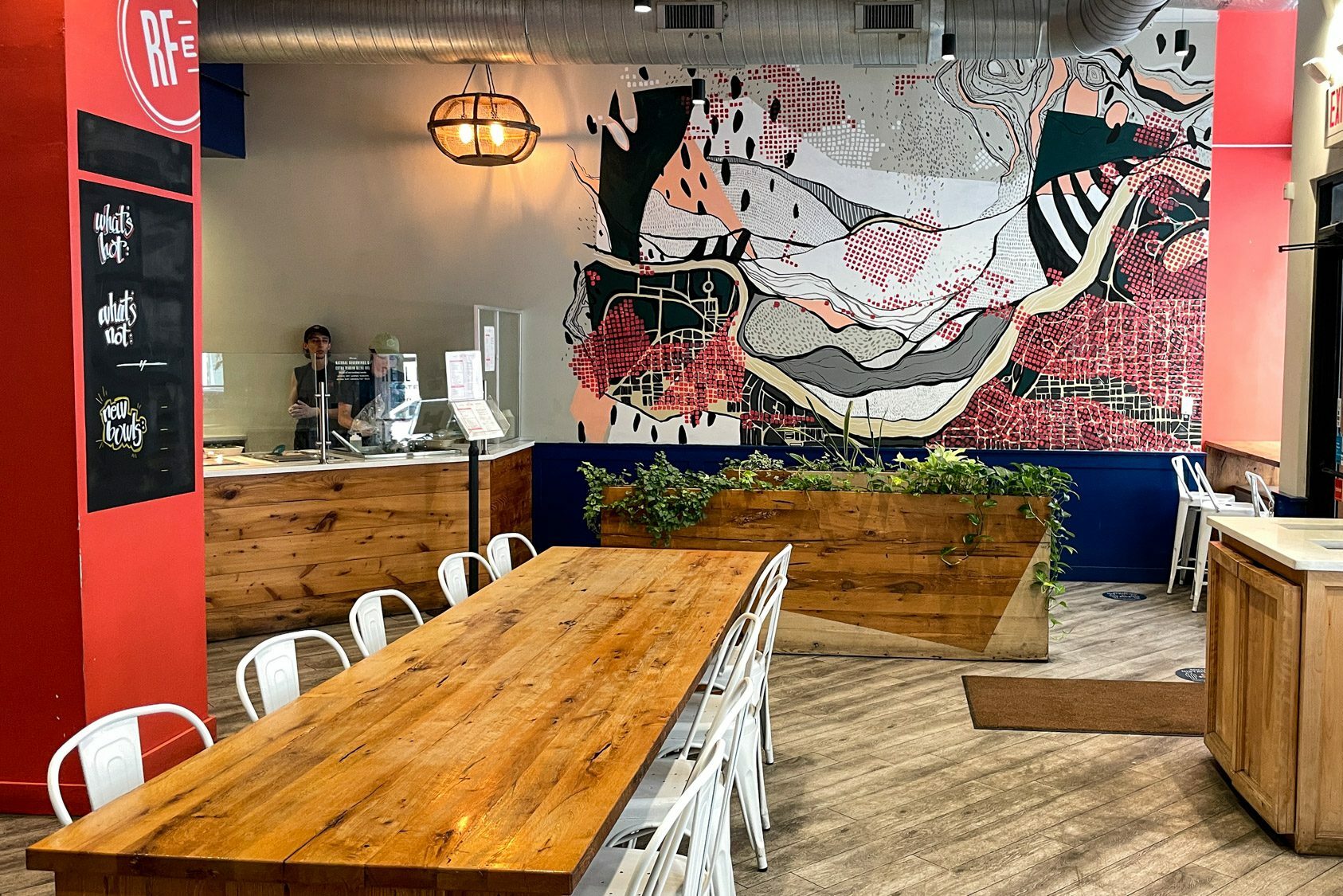 This fast-casual spot right near Rittenhouse Square was one of my more pleasant gluten free meals in Philadelphia, mostly because I was in dire need of veggies after a week of donuts and fried food. Also probably because I took it to go and ate it in the sun at nearby Rittenhouse Square.
In 2016, their founders set out to create a more mindful version of the fast-casual restaurants that had taken the country by storm (looking at you, Chipotle). And Real Food Eatery was born, with a mandate to bring farm-fresh foods in an accessible, easy, and affordable way.
You'll choose a base – greens, quinoa, or rice (or a combination), and then choose a protein and two sides, finishing with a sauce on top. I got the baked falafel, which I'd recommend, and the roasted sweet potatoes.
Overall, a solid 100% gluten free option in downtown Philadelphia, especially for a quick and healthy lunch. I would definitely go back again next time I'm in Philadelphia.
P.S. & Co (Gluten Free & Vegan)
First of all, I think you need to set your expectations for this place. Everything is 100% vegan, which definitely has implications for both the taste and texture of the food, but also for the price tag.
There's no getting around it – you're going to pay a little extra to eat here versus some of the other places on this list.In addition to the 100% gluten free and vegan ingredients, they also are using organic ingredients, paying their staff a fair wage and providing benefits, and giving back to the community. You can read about their ingredient sourcing here.
If you need to eat gluten free and choose to be vegan, then the price is likely well worth it to be able to order anything on the menu. Speaking as a Celiac who has been diagnosed for more than a decade and still gets giddy when the answer to "what can I eat here" is "EVERYTHING," I get it.
However, if you're not vegan, that might not be as unique and enjoyable for you.
So, with those more reasonable expectations, let's talk about Pure Sweets & Co (P.S. & Co for short).
I actually enjoyed eating here, though it was relatively expensive.
They have a breakfast / lunch menu that has a blend of more traditional items made vegan – caesar salad and pizza, for example – and some Burmese-inspired dishes like Mohinga noodle soup and Burmese chickpea curry, which are a nod to the owner's family, who immigrated from Burma.
Plus, a wide range of baked goods with a few staples, and a rotating cast of characters that features things like tiramisu, cake, and more.
I had the sweet potato pizza with mushroom falafel, which I thoroughly enjoyed. It's not going to be exactly like the pizza I usually eat, because it's a vegan crust and vegan cheese, but the mushroom falafel was surprisingly delicious. Plus, a thumbprint cookie made with almond flour that was also really good.
This is very much a breakfast and lunch spot, open roughly 10:00 am to 4:00 pm daily.
Heads up: They do use (gluten free) oats in a lot of their baked goods that are NOT purity protocol oats. Lucky for those of us avoiding oats, the ingredients are listed both in the cafe and on their website so that you can navigate the minefield that has been created by the proliferation of baked goods with questionable gluten free oats. For an articulation of the challenges with gluten free oats, you should read this piece by Gluten Free Watchdog, who does a fantastic job explaining a pretty complicated issue.
Moonbowls
Moonbowls operates slightly different than most restaurants, and it's worth setting your expectations once again before ordering from them.
They make Korean food that's gluten free, dairy free, and they have a bunch of great plant-based options to choose from (we're partial to the Impossible potstickers). For what it's worth, I don't think I've ever come across a 100% gluten free Korean spot in all of my travels.
The part that's different is that they are an exclusively pickup / delivery business. And the pickup option is generally from a commercial kitchen. So there's no restaurant for you to visit here, you'll need to order it to go (or for delivery).
A lot of online reviews mention that they were surprised about this, so I wanted to make it super duper clear.
That bit out of the way, we really like Moonbowls. They first launched in California (I think), and we've ordered it in both San Francisco and Los Angeles and have had generally good experiences. The hard part is that, like any delivery, it's often lukewarm by the time it gets to you, which is a bummer.
In particular, we're fans of the Impossible potstickers, which are stuffed with Impossible meat, the spicy avocado bulgogi (also made with Impossible meat), and the "Don't Cauliflower it a Comeback" (because the name is awesome).
I will also say that this is certainly not the most authentic Korean food you're ever going to find. The food is sweeter than it probably should be, and the cauliflower wings are distinctly American-feeling. But if you're looking for something a little different and aren't expecting the most authentic Korean food around, we like this place as an option.
While it is a commercial kitchen, they do have their own space and equipment. When I asked about the potential for cross-contact in the commercial kitchen setting, they replied with this:
"Hi Matt! Thanks for reaching out. Our kitchen is 100% gluten-free. We do not share our fryers or any of our kitchenware. I hope this answers your question."
For me, that answers the question.
Mission Taqueria (NOT 100% Gluten Free)
First, I want to make something very, very clear. Mission Taqueria has a claim on their menu that says everything is gluten free, BUT they do make burritos with flour tortillas (all tacos are made with corn) for brunch.
So everything else on their dine-in menu is gluten free, they do handle gluten in the kitchen.
With that out of the way, I really liked this place. Aside from the fact that they tried to tell me the burrito wraps were made from corn, which I later learned was false. To their credit, they have since updated the menu to reflect that.
I got the cauliflower tacos because of the peanut mocha salsa – which is always amazing wherever we order it – and I also got the churros. I was also eyeing the grilled short rib tacos with cashew butter, too, but ultimately chose the cauliflower (and they were delicious).
Because, y'all, the churros are GLUTEN FREE! Rejoice! And the two sauces they come with – dulce de leche and Mexican chocolate (chocolate with cinnamon?) – are both excellent.
Good salsas to start (with chips made in a dedicated gluten free fryer), good cocktails (mostly margaritas), and a cool space with high ceilings just a few blocks from Rittenhouse Square. What's not to like?
They also have great happy hour deals, which happens weekdays from 4-6pm (at the time of writing).
Dedicated Gluten Free Bakeries in Philadelphia
Unfortunately, I discovered the only gluten free bakery in Philadelphia on my last day as I was leaving the city. So I'll have to save it for next time (don't worry, I still wrote about it below because my mistakes shouldn't mean you miss out!).
However, I also discovered a gluten free donut shop in South Philly that was a little bit of a trek to get to, but was ultimately worth it for the piping hot, freshly fried powdered doughnut that was MAGICAL.
Okie Dokie Donuts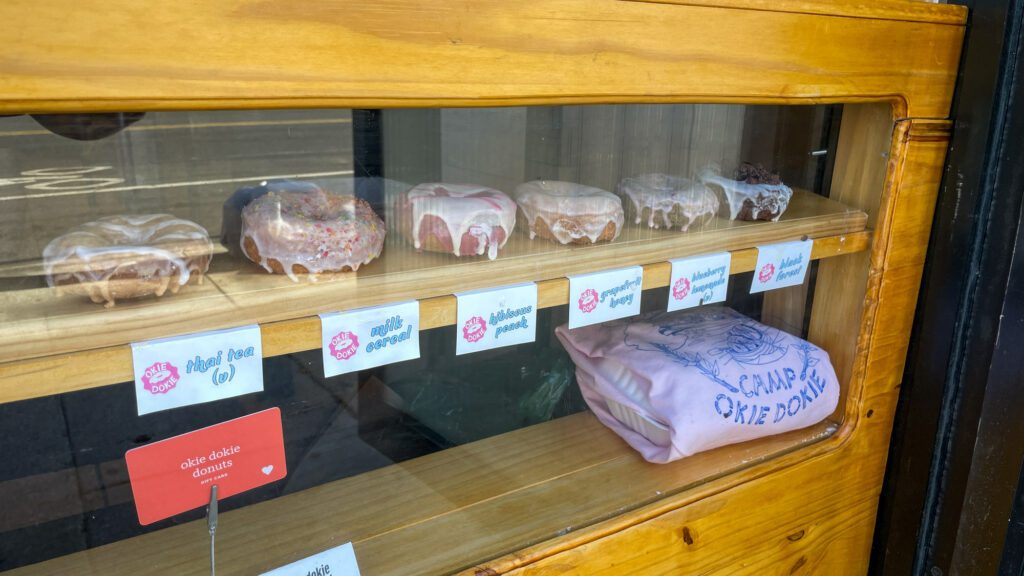 This is where I had the powdered doughnut, fresh out of the fryer, and it was as delicious as it probably sounds.
But let's take a step back for a second and talk about Okie Dokie Donuts a little bit.
They're a gluten free doughnut shop that operates out of a kitchen in South Philly, and they've grown from a small hobby side hustle into a full-fledged business. They distribute to a bunch of local coffee shops (including Rally, which is actually where I discovered them and was probably my favorite coffee shop in Philadelphia).
They're owned by Carol Ha, who brings the pastry-making background and knowledge, and Bill Kelly, who brings the operations know-how. Together, they've created an oasis of gluten free doughnut goodness in South Philly that I highly, highly recommend you visit while you're in town. It's worth the journey.
While you could totally go to one of their wholesale accounts, I'd actually recommend going to their storefront if you can swing it.
The reason? The raised doughnuts (also called "yeasted"). They're served warm, and it's worth the journey to experience the warm, gooey goodness.
In addition, they also have cake doughnuts, which are not served warm, but generally come in more exciting flavors (a couple of which are usually vegan). Don't worry! These are still fried, so you get that doughnutty texture (rather than a cupcake in the shape of a doughnut, which is not a real doughnut in my amateur doughnut connoisseur opinion).
Their flavors rotate monthly, and you can find their current offerings here. At the time of writing, they have fun flavors like sweet honey corn, mango sticky rice (which is vegan), and peach matcha.
If you love gluten free doughnuts like I do, I'd highly recommend you find your way down here (it's an easy subway ride from downtown), or find them at one of their many wholesale partners in the Philadelphia area (which you can find at the bottom of their homepage).
Flakely
Sadly, I discovered this gluten free bakery in Philadelphia on my way out of the city, and didn't get a chance to try their baked goods. But they're certainly at the top of our list for a return trip to Philly!
The story for Flakely might sound familiar to you if you've been diagnosed with Celiac Disease for a while. Founder (and chef) Lila Colello was diagnosed with Celiac Disease, and set out to make a gluten free version of one of her favorite food groups: French pastries.
She started experimenting with gluten free flours, and fast forward a few years and she's building a gluten free pastry empire in Philadelphia.
They have an ever-changing menu made up of everything from croissants to bagels, and a bunch of fun experimental stuff in between. They also donate 3% of sales to local organizations making positive changes in the community (either food scarcity or racial / social justice).
Right now, they're mostly a pickup-only or local delivery option, though they do ship their baked goods nationally (the shipping costs to the west coast are cost-prohibitive, at the moment). The locations are a little out of the way if you're visiting Philadelphia and staying in the city center, but it's probably worth the detour!
More information on how to get your paws on some of their croissants or pop tarts can be found here.
Address: Apt. 739 65237 Fahey Land, Farrellville, NV 80219-5379
Phone: +389 555.865.6819
Website: https://momadvicehub.com
Facebook: https://facebook.com/momadvicehubcom
Twitter: @momadvicehubcom
Copyright © 2023 | Design by Mama Knows Best